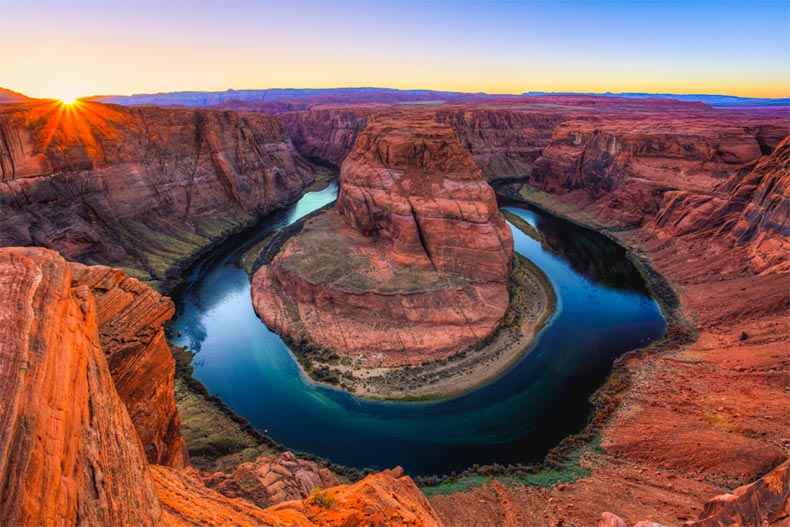 Northern Arizona is home to a number of popular retirement cities, including Flagstaff and Prescott. What residents love about living in this area is its easy access to some of the state's best outdoor recreation options. From world-famous destinations to lesser-known spots, we're sharing some of the best ways to enjoy the great outdoors in Northern Arizona.
Go Cross-Country Skiing at Arizona Nordic Village
While Arizona might not seem like a top destination for skiing, its high-elevation mountains are perfect for winter sports. Arizona Nordic Village, which is nestled in Coconino National Forest, is only 15 miles away from downtown Flagstaff. This popular winter spot offers more than 25 miles of pristine trails that wind through aspens and pine trees. There are trails designed for cross-country skiing, snowshoeing, and even snow biking.
Since Arizona Nordic Village is perched at higher than 8,000 feet, the area enjoys multiple feet of snowfall during the winter months. For those who feel like making it a weekend trip, guests can rent yurts and cabins in the backcountry to spend the night.
Walk Through Flagstaff's Famous Lava Tube
The Flagstaff area is home to a remarkable lava tube that was formed about 700,000 years ago and was the result of an ancient volcanic eruption. As the top, sides, and bottom of the lava flow cooled first, it formed a tube and allowed the lava to continue flowing out. What's left is now a mile-long tunnel of rock that visitors can walk through. A hike through the lava river cave offers a glimpse back in time, and ripples of previously molten rock can be seen throughout.
Visit Petrified Forest National Park
Arizona's Petrified Forest National Park is another top attraction for those who want to explore some incredible geology. The park is known for having the largest amount of petrified wood in the world.
About 225 million years ago, fallen trees in this area were quickly washed downstream due to floods or lava flows and were then buried by ash and silt. Organic material on the logs was replaced with silica and other inorganic materials. This process fossilized the logs and produced the sparkling pieces of petrified wood that guests can see today.
There are many trails that take hikers through the stunning land formations and fossilized wood. In addition to its geological attractions, the Petrified Forest offers traces of the first inhabitants of the area with petroglyphs at many sites throughout the park.
Hike to the Highest Spot in Arizona
The beautiful San Francisco Peaks are well known to those who reside in the Northern Arizona area. With forests full of evergreens and aspen groves, this volcanic mountain range provides a much different scene than what typically comes to mind when picturing Arizona. The San Francisco Peaks are also home to Arizona's only alpine tundra.
There are many popular trails in this area, including the Humphreys Trail, which takes hikers above the tree line to the highest point in Arizona. The Inner Basin Trail is another popular hiking spot, and it is known for its scenic aspen groves. It's especially popular during fall when the aspen leaves turn brilliant shades of yellow and orange.
Explore the Grand Canyon
No list covering Northern Arizona's outdoor recreation is complete without mentioning the Grand Canyon. Popular among tourists and locals alike, the Grand Canyon is one of the top destinations in the entire country; it draws more than 5 million visitors every year. At well over 1,200,000 acres, the Grand Canyon is truly immense, but this well-established national park has a connected system of shuttles to make the most of the experience.
While it's impossible to see everything in a single trip, there are some top spots that visitors should check out. The South Rim is one of the most developed areas of the park, so it's a great option for visitors seeking conveniences such as bus services and water stations. The equally beautiful North Rim is a better choice for those who prefer to avoid the crowds.
Another popular spot is the Bright Angel trail, which is a well-maintained hiking trail that offers breathtaking views and rest stops with drinking water. The Skywalk is also a must-see. This glass bridge 4,000 feet high above the canyon floor extends 70 feet out from the rim, allowing visitors to see straight down to the canyon below.
To learn more, visit the Northern Arizona community page for additional information about the area and available home listings.