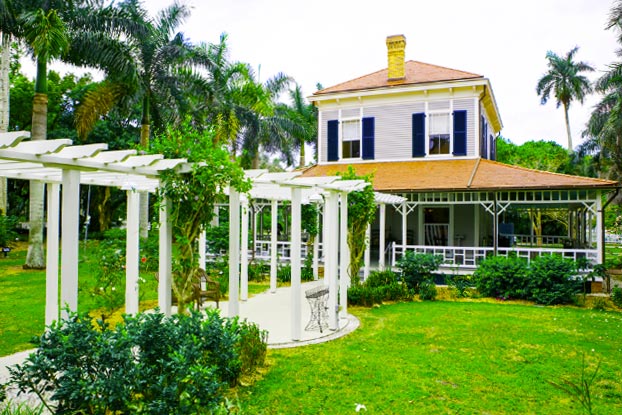 One thing is for sure, you won't run out of things to do in Florida's Fort Myers and Cape Coral area. Located on the state's southwest coast, this region's sunny forecast and warm climate provide for year-round fishing, swimming, boating, and golf. There's also a great deal of history and nature to explore.
With so much to do, visiting may not be enough. If you decide to become a resident, you'll have more than 25 age-restricted communities to choose from when it's time to buy. Communities range from the 2,500-home Pelican Preserve in Fort Myers to the River Towers condo complex in Cape Coral with plenty of options in between.
While you're touring model homes and deciding where to settle in, be sure to check out some of the coast's most interesting attractions.
Winter Like the Wealthy
The Edison and Ford Winter Estates in Fort Myers offer a glimpse of what it was like to be affluent in the early and middle parts of the 20th century. The homes of Thomas Edison and Henry Ford cover 20 acres of gardens, historical buildings, and museums. Don't miss the award-winning Moonlight Garden, and consider a tour so you can get a feel for how these business moguls shaped the Fort Myers area.
Root, Root for the Home Team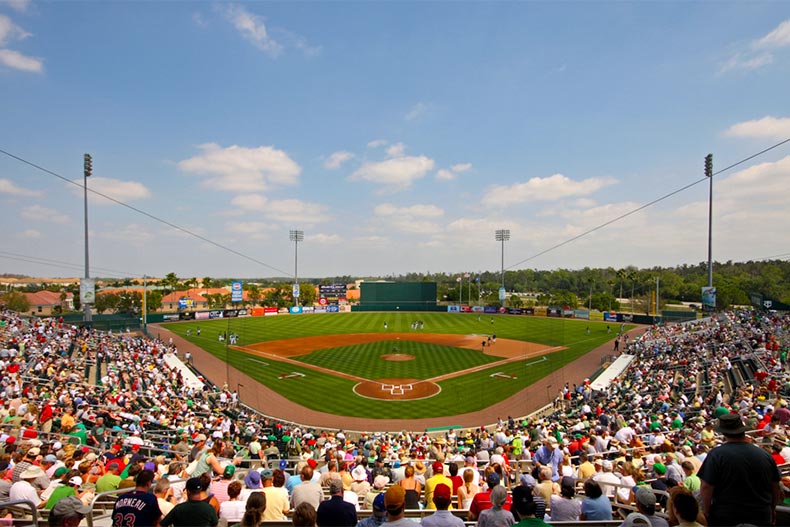 Hammond Stadium in South Fort Myers has been the spring training home of the Minnesota Twins since 1991.
The Boston Red Sox have a spring training facility in Fort Myers. JetBlue Park holds more than 11,000 fans and hosts over 20 home games every March and April. You can also cheer on the Minnesota Twins in spring training, who have played at Hammond Stadium in South Fort Myers since 1991. When the big leaguers aren't in town, you can attend a minor league game and get to know the up-and-comers.
Visit the Great Florida Birding Trail
Lakes Regional Park in Fort Myers receives its name from the 158 acres of lakes spanning the park. It's also part of the Great Florida Birding Trail. Whether you walk along the boardwalk or stroll through the shady nature trails, you're sure to see some year-round wading birds and migratory species. Visit the cactus gardens and the fragrance gardens that grow aromatic herbs like lavender and rosemary. The Charlotte Harbor Preserve State Park Birding Trail in Cape Coral will give you a glimpse of cardinals, catbirds, warblers, and water birds like the roseate spoonbill, egrets, and herons.
Tee Off Like a PGA Pro
The Cape Royal Golf Club in Cape Coral offers 27 holes of public golf, and perfect for any skill level. Local residents can participate in the club's full calendar of social events or sign up for golf lessons. The Eagle Ridge Golf Club in Fort Myers has a challenging and satisfying course as well as a list of clubhouse amenities to make your day on the links a pleasant one.
Sample Some Seafood
A barrier island off the coast of Fort Myers, Sanibel Island provides plenty of beach for sandy strolls. Gather some shells or look for manatees. When you're ready to eat, sample some seafood at The Island Cow's raw bar or The Sandbar, which attracts customers for its seafood and specialty cocktails. The Sunset Grill is great for any meal, but you'll especially enjoy their Key Lime Pie French Toast for breakfast. It's like starting the day with dessert.