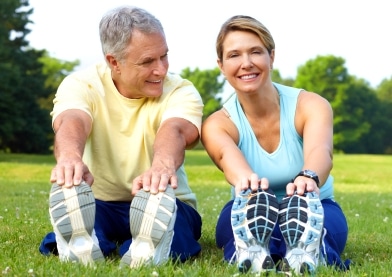 Staying active is an important part of a healthy lifestyle. Visiting a fitness center is a great place to start, but it isn't the only way to add some more low-impact activity to your day. Here are 55 great ideas to get you moving in a healthy and low-impact way, wherever your day takes you:
At the gym
1. Elliptical training – Take the stress off your knees by skipping the treadmill and opting for 30 minutes on an elliptical machine.
2. Stair stepping – A stair stepper gives you a tough lower body workout without the jarring motion of running.
3. Weight lifting – Whether you use free weights or strength-training machines, weight lifting builds muscle and bone density.
4. Resistance band training – Mix up your strength training by adding in a variety of resistance band exercises.
5. Calisthenics – Simple repetitive movements like jumping jacks, sit-up squats, and push-ups build strength while raising your heart rate.
6. Isometrics – Use your own body weight to build strength by holding static or stationary positions designed to provide steady resistance.
7. Indoor rock climbing – If your gym has a rock wall, strap into a safety harness and enjoy the sensation of climbing high above the ground.
8. Stretching – Increase your flexibility by working some simple stretching routines into every workout.
In fitness classes
9. Low-impact aerobics – Get your heart rate up with aerobics classes specifically designed with low-impact movements.
10. Step aerobics – Adding a step to your aerobics routine amps up your workout, burns more calories and builds a strong body.
11. Pilates – Strengthen your core and tone your whole body with regular Pilates classes.
12. Hatha yoga – A blend of strengthening and restorative postures make Hatha yoga a great workout for any body.
13. Vinyasa yoga – To really work up a sweat, this "power yoga" approach balances faster transitions with strongly held postures.
14. Zumba – Give your workout some Latin flavor with this popular dance fitness class. Zumba Gold classes make the same fun dance moves easier for older adults.
15. Spinning – Jump on a stationary bike and burn some serious calories with a high-speed spinning class.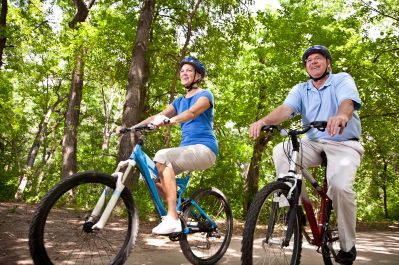 In the great outdoors
16. Walking or hiking – Strap on some comfortable shoes and explore a nature trail, a hiking path or your own neighborhood.
17. Kayaking or canoeing – Paddling in a river or lake works your upper body, back and core while also taking in beautiful scenery.
18. Cycling – Ride a bike on a scenic trail, to run errands or get around town. Bike riding is also a great activity to share with grandkids.
19. Rollerblading – Gliding around town on rollerblades is fun, easy on the joints and a great total-body workout.
20. Frisbee – Throwing around a frisbee is a great pastime whether you're visiting a local park or relaxing in your own backyard.
21. Cross country skiing – On a winter vacation, skip the slopes and try cross country skiing for a serious low-impact workout.
22. Snowshoeing – Walking in the winter becomes a whole new experience when snowshoeing across a blanket of white snow.
23. Ice skating – Break out your ice skates to stay warm and active during a cold winter day.
24. Horseback riding – Explore a bridle trail or local park with a day of scenic horseback riding.
25. Paddle boating – Paddle boats give your legs a workout as you cruise around a lake or calm harbor area.
26. Fishing – Whether catch-and-release fishing at a local lake or heading out for a deep sea catch, stay active with some angling.
27. Birdwatching – Grab your binoculars and notebook for a long walk to seek out your favorite feathered friends.
With some competition
28. Golf – Skip the golf cart and caddy to get even more of a workout while walking your favorite course.
29. Miniature golf – You don't have to be an experienced golfer to enjoy a day of putt-putt.
30. Pickleball – Give your joints a rest by switching tennis for a lower impact game of pickleball.
31. Bocce ball – Enjoy some friendly competition by joining a team or playing bocce ball solo.
32. Bowling – Head to your local lanes with your family, a group of friends or with a regular league for a day of bowling fun.
33. Softball – Local softball leagues are often available for players of any skill level, or you can start your own casual team.
34. Fencing – For something different, fencing builds skill and concentration along with physical fitness.
35. Croquet – Whether playing on a community lawn or in your own backyard, croquet is fun for players of all ages.
36. Horseshoes – A friendly game of horseshoes is a great addition to any picnic or barbecue.
At the pool
37. Swimming – Swimming laps is a great way to burn calories and strengthen muscles without the impact of exercising on land.
38. Water aerobics – Exercises in a swimming pool use water's resistance and buoyancy to increase your activity while lessening the impact on joints.
39. Water walking – If you don't want to swim, simply walking in the shallow end of a pool is great exercise. Amp up your workout by walking in a resistance pool.
40. Ai chi – Sometimes called water tai chi, ai chi combines Eastern and Western exercise to create a slow, graceful water workout that is great for body and mind.
In the day-to-day
41. Gardening – Tending flowers, planting trees and growing your own herbs and vegetables are great ways to work up a healthy appetite.
42. Cleaning – Make housework more active by playing some upbeat music and picking up the pace as you dust and vacuum.
43. Home improvements – From painting and installing shelves to grouting tile and repairing gutters, home improvement projects often keep homeowners active.
44. Wii Fit – Video games can keep you moving when you add active games like Wii Fit or Wii Sports to your collection.
45. Shopping – Whether window shopping or shopping sales, walking from store to store keeps you active. Indoor malls are also a great place to walk when the weather is cold or rainy.
46. Dog walking – Owning a dog offers many rewards, including a reason to take regular daily walks with a faithful companion.
47. Playing with grandkids – Visiting grandkids are full of energy and keeping up with their games is a fun way to stay in shape.
Studying martial arts
48. Tai chi – With slow, graceful movements, tai chi is a gentle martial art which is often used for daily exercise and meditation.
49. Qigong – Qigong is an adaptive martial art which can range from gentle tai chi style flows to more vigorous kung fu movements.
50. Aikido – Designed to turn the force of an attack against an attacker, aikido is a martial art that builds balance, strength and mindfulness.
At the dance studio
51. Ballroom dancing – Taught with a variety of styles, ballroom dancing is a social activity that keeps you moving to the music.
52. Line dancing – With easy to follow moves and no need for a partner, line dancing is a popular activity for many active adults.
53. Belly dancing – You can strengthen your core, improve your flexibility and express your artistic grace with this exotic dance style.
54. Swing dancing – For upbeat fun, swing dancing will definitely get your toes tapping and your heart rate rising.
55. Square dancing – Partner dancing, set to called movements, makes square dancing a favorite pastime for many active adults.