Today's retirement looks a little different from lounging poolside. Active adults are retiring earlier than ever and looking for 55+ communities that promote a healthy, fit, and adventurous lifestyle. The truth is that exercise becomes even more important as we age. Staying fit boosts cognitive function through muscle memory and keeps our bodies healthy. Ultimately, when active adults stay fit, they can continue doing the things they love longer.
Overall, a healthy lifestyle improves mental and physical wellness and sharpens our skills. Frequent exercisers were found to have better immune systems and more positive outlooks than those who led a more sedentary lifestyle. It's no wonder that many mature adults are prioritizing health and wellness as well as moving more.
One thing is certain: This ain't your mama's retirement. Take a closer look at the fun amenities 55+ communities have to offer. From nature to tennis courts, there's something on everyone's list.
How Much Exercise Do 55+ Adults Need to Remain Fit?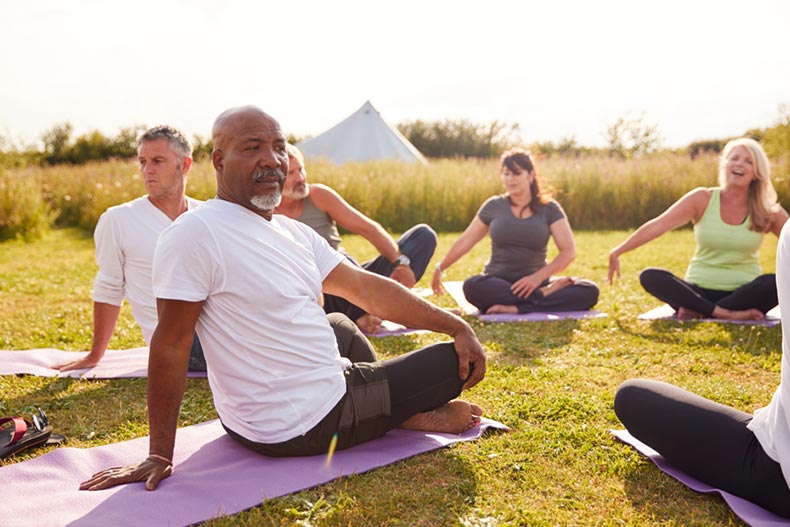 According to the CDC, "As an older adult, regular physical activity is one of the most important things you can do for your health. It can prevent or delay many of the health problems that seem to come with age. It also helps your muscles grow stronger, so you can keep doing your day-to-day activities without becoming dependent on others."
So how much physical activity do active adults need to stay fit and healthy? Well, a good rule of thumb is to aim for at least 150 minutes of moderate-intensity exercise per week or 30-minutes of activity per day, 5 days a week.
Some enjoy mixing up the routine with longer exercise days sprinkled throughout the week. For example, a single tennis game can go a long way in helping you reach your movement goals for the day. Alternatively, if you're someone who likes to stay active and challenge yourself, 75 minutes of a high-intensity activity such as hiking, jogging, cross-fit, or running is sufficient.
Aim to work in at least two days of muscle-strengthening activities and three days of balance-related exercise. The fun amenities of 55+ communities include great resources for getting in your daily workout. Fitness centers and group exercise classes are common favorites of 55+ adults. These are ideal for those who are just starting to incorporate strength training into their routine. Other activities like swimming provide restorative exercise options that can greatly benefit balance and joint health.
Staying fit has never been easier with on-site amenities to keep you accountable while enjoying your day.
The Benefits of Exercise in Aging Adults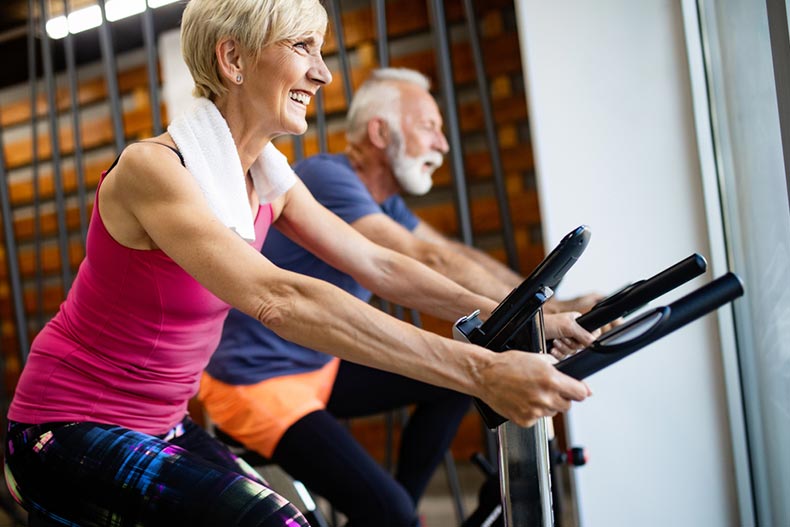 The benefits of exercise rise exponentially as we age. Exercise is essential in building bone density, promoting a healthy digestive system, and improving our overall mood and wellness. Leading an active lifestyle has even been shown to improve insulin sensitivity, heart health, and body composition, as well as decrease blood pressure and cholesterol levels. That's a great reason to get up and get moving!
In addition, physical activity is a great tool for holistic pain management due to the release of helpful endorphins, which combat pain. Many 55+ communities are ideal for those who want to prioritize a healthier lifestyle since they help active adults stay fit.
Staying fit is the best way to keep your joints and muscles in top working order. Experts suggest that as people age, they tend to lose muscle mass and function. This can lead to an increased risk of injury and chronic pain and joint ailments. However, regular exercise reduces muscle loss and maintains strength as we age. It's no wonder that so many mature adults are actively seeking out communities that support them in their health and fitness goals.
Of course, it's not all muscles and toned abs. Doctors have noted that "regular physical activity is especially important in older adults, since aging—combined with oxidative stress and inflammation—promotes changes in brain structure and function. Exercise has been shown to cause the hippocampus, a part of the brain that's vital for memory and learning, to grow in size, which may help improve mental function in older adults… exercise has been shown to reduce changes in the brain that can contribute to conditions like Alzheimer's disease and dementia."
Putting the Fun Into Fitness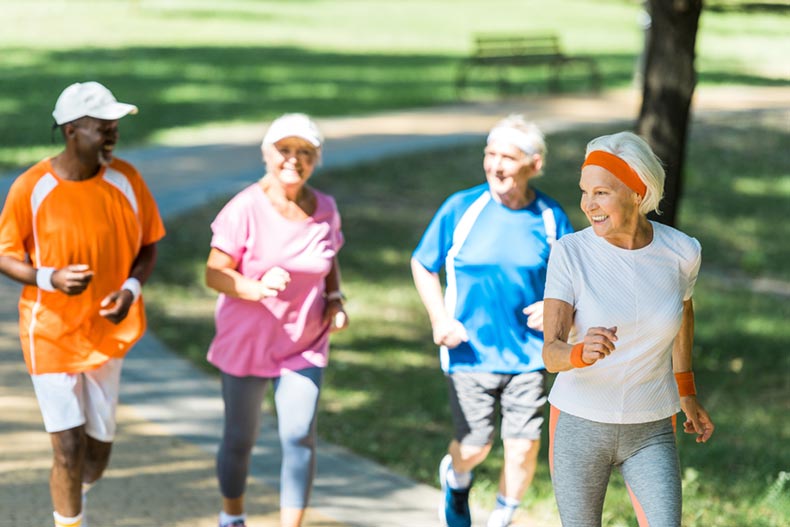 Getting your daily movement in doesn't have to be boring! Gone are the days of tedious exercise tapes. Take your neon leggings and sweatbands on the walking trails instead. In fact, when we enjoy the activities we do, we're more likely to get the most benefit from them.
Active adults stay fit by taking advantage of the myriad of fun amenities offered at 55+ communities. From lush greenspace for yoga, walking, and biking to fitness classes, tennis, and even horseback riding, there's no end to the adventures you'll find.
If you enjoy being part of a fitness community, you'll love connecting with like-minded gym-goers during structured classes. Solo pursuits such as nature walking trails are ideal for disconnecting and prioritizing mental health and wellness.
Studies demonstrate that a varied exercise routine is one you can stick to. We tend to get bored and lose motivation when we try to hold ourselves to the same routine week in and week out. Mix it up with a blend of different, fun activities, all within walking distance of your home.
Let Your Community Help You Stay Fit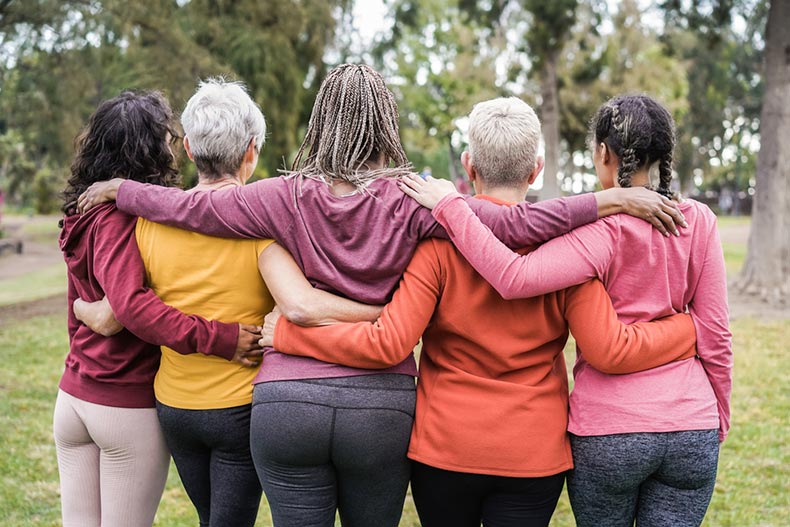 Best of all, these fun amenities in 55+ communities are accessible and inclusive. Variety ensures there's a way to stay active for every member of the community. As we age, many of us begin to feel the effects of old strains and sports injuries. Others might simply find traditional gyms inaccessible for their unique needs.
The beauty of a curated community is that residents are prioritized first and foremost. Plan your adventures for the week and stay active alongside like-minded residents.
Your most active years yet are just beginning with lively, vibrant 55+ communities for health-conscious adults. A myriad of fun amenities are helping active adults stay fit. This variety guarantees your retirement is anything but boring. Of course, when it's time for a rest day, lounging poolside is still one of our personal favorite activities. So grab a gym bag and a margarita and start enjoying a thriving lifestyle.
If you're ready to find a 55+ community that emphasizes active living, visit 55places today!