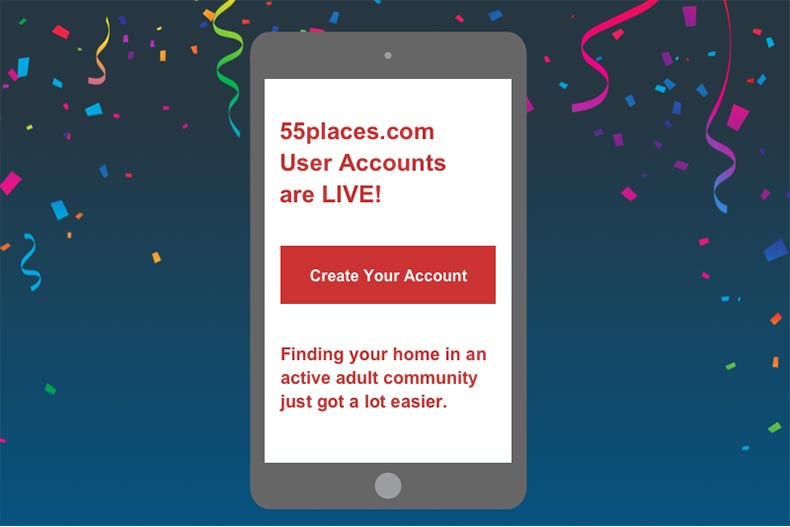 At 55places.com, we're always trying to figure out how to improve the process and make it easier for you to find the ideal community and home. That's why we introduced our rating and reviews system, which lets buyers and residents provide valuable feedback and allows our users to share their unbiased experiences. That's also why we created our Partner Agent program, which ensures you're always working with a talented real estate expert who knows the local active adult market better than anyone.
Today, we're so excited to introduce User Accounts to the site.
55places.com is proud to introduce User Accounts, making it easier than ever to keep track of your favorite active adult communities and homes. Now, you can sign up for your own account on the site, start saving active adult community favorites, and receive personal updates about changes and new listings.
Whereas before you could search for a community or home, User Accounts allow you to save them as favorites and you can easily and quickly come back to them whenever you want.
You'll also be able to stay up to date with the newest community news and latest homes to hit the market by keeping track of your 55places.com newsletter subscriptions. And you'll be able to leave comments and reviews easily without needing to reenter your information each time. You'll get the leg up you deserve in your search to find what you're looking for.
Want to get started? Here's how to sign up for your very own User Account.
Create An Account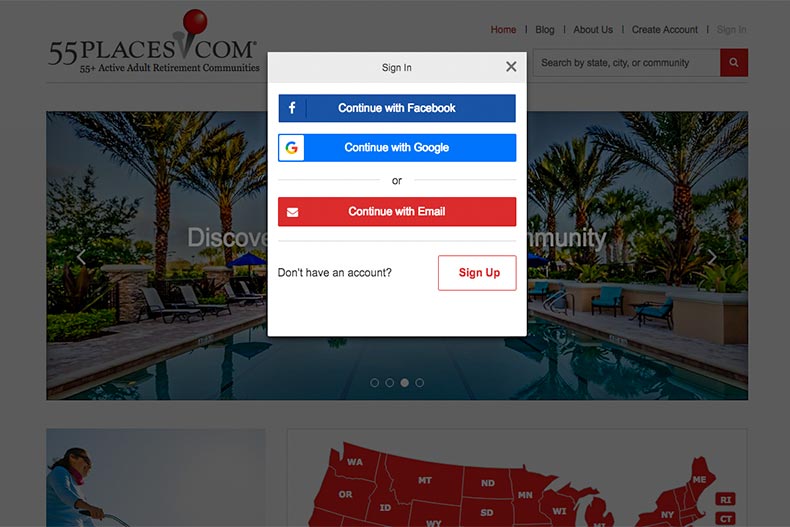 Up in the top right corner of 55places.com, you'll see a login area where you can create your User Account. Follow the instructions to sign up for your new account using your preferred way: Facebook login, Google login, or manually entering your first name, last name, and email. And if you ever forget your password, just click the Sign In button and you'll be prompted to retrieve it.
Or, you can click here to sign up for your User Account
Check Your Email
After signing up, you'll receive an email so that we can verify your email address. Click on the verification link in that email and you'll be taken to your 55places.com User Account dashboard where you can begin keeping track of all your favorites. Please note that if you don't click the verification link within 48 hours, the account will be deactivated and you'll have to sign up again.
Update Your Account
Once you're logged in, you can visit your personal dashboard. There, you can take a tour of all the new features available. You can also click Account Settings to update any of your pertinent information or change your password. And you can peruse your Saved List, which is where any communities or homes that you've saved will be located.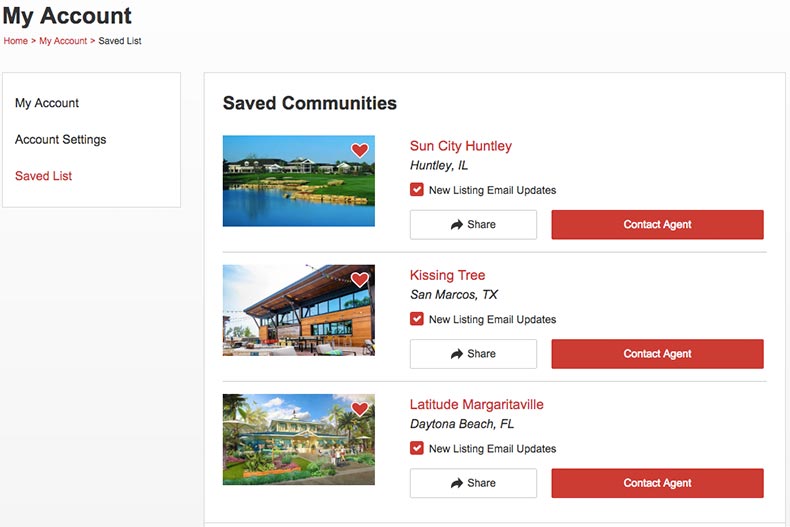 Users can save communities to get updates whenever there's a new listing.
Start Saving Your Favorites
Now that you're logged in, start searching 55places.com for active adult communities and homes. If you ever come across a community that you'd like to save, either because you want to come back to it later or because you like what they have to offer, just select the heart on the community page to save it and receive new listing updates.
On your Saved List, you'll be able to keep track of the community, get email updates about new listings there, share it on social media with your friends, or contact a 55places.com Partner Agent to take a closer look. That community will remain in your Saved Communities until you remove it.
Same goes for a home listing. If you want to save a specific residence that you've got your eye on, select the heart on the listing and it will remain in your Saved Homes until you remove it. You'll be able to easily check the listing for updates, receive email updates, share it on social media with your friends, or contact a 55places.com Partner Agent to schedule a tour. If the home goes pending or the listing is removed before you've made a decision, you will be notified.
Sign Up for Your 55places.com User Account Today
Whether you're looking to buy a home right now or just want to keep an eye on the active adult communities that call to you, signing up for a User Account right now will make your search go so much smoother. We'll be adding more features in the coming weeks to make the experience even better. Sign up today and get one step closer to finding the right community or home for you.