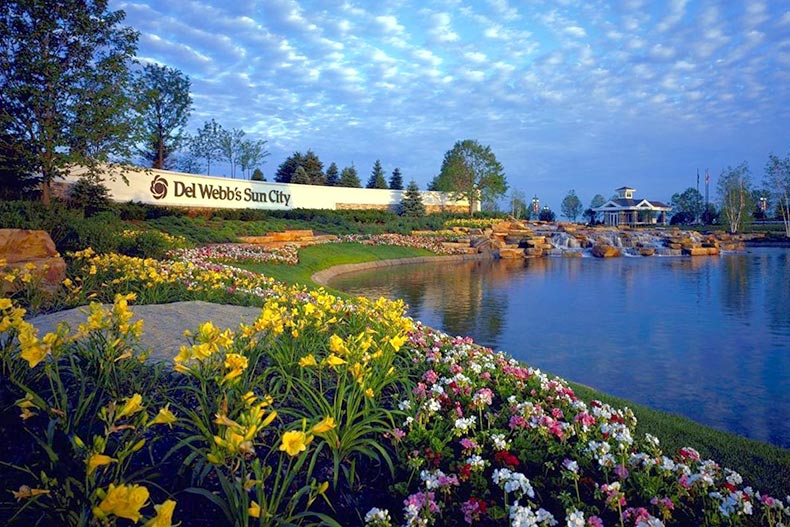 The 55+ community Sun City Huntley from renowned active adult homebuilder Del Webb is the largest active adult community in Illinois with 5,489 single-family, attached, and condominium homes across more than 2,300 acres. As one of the best-selling and most popular active adult communities in the country, active adults flock to Sun City Huntley year after year to enjoy the world-class amenities, social activities, and low-maintenance homes.
Take a closer look to learn more about why residents love Sun City Huntley so much.
1. An Abundance of Resort-Style Amenities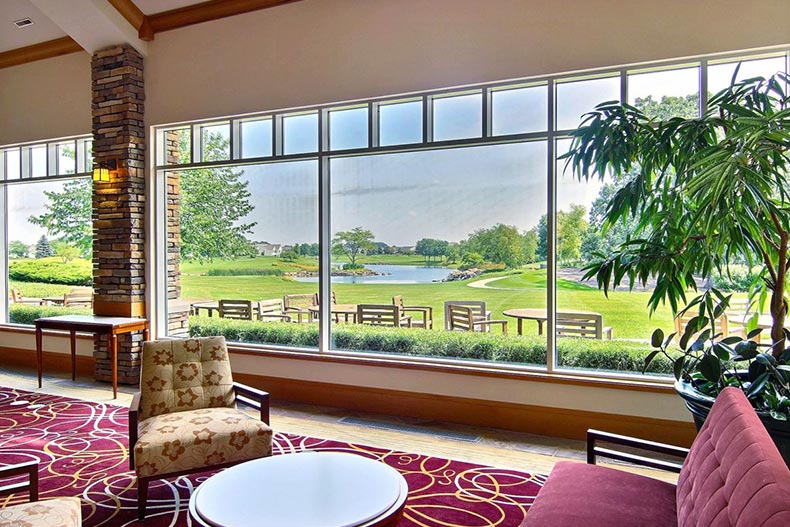 The range of luxury amenities offered by Sun City Huntley is the most extensive offering of amenities at any 55+ community in Illinois. With the 94,000-square-foot Prairie Lodge, 20,000-square-foot Meadow View Lodge, and 4,800-square-foot Millgrove Woodworking Shop, residents can enjoy amenities such as state-of-the-art fitness centers, indoor and outdoor pools, restaurants, a performing arts theater, a ballroom, and much more.
The outdoor amenities feature the 18-hole Whisper Creek Golf Course and athletic courts for tennis and pickleball. The grounds of the community include an extensive network of walking and biking trails that weave around a 19-acre fishing lake, scenic ponds, and parks and greenspaces.
2. The Biggest Clubhouse in Illinois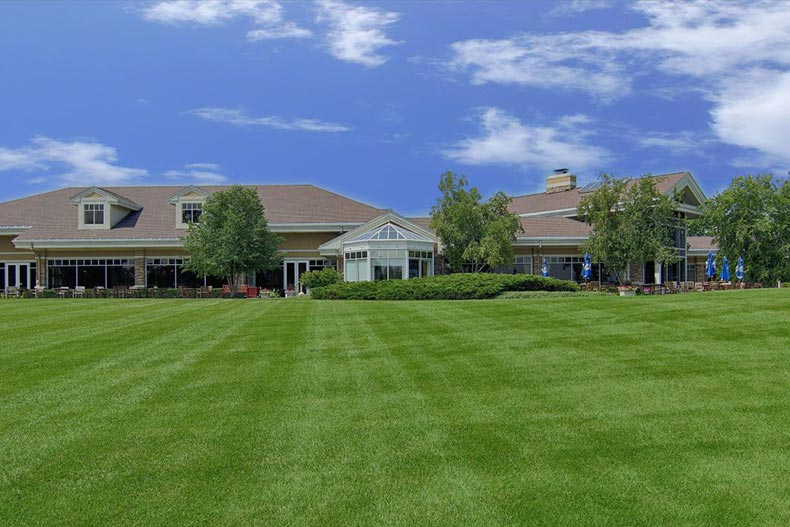 The 94,000-square-foot Prairie Lodge draws many prospective homebuyers to Sun City Huntley, and for good reason. The expansive clubhouse earns the distinction as the largest clubhouse of any 55+ community in Illinois.
The amenities at the clubhouse include a restaurant, a performing arts theater, a ballroom, a library, game rooms, arts and crafts studios, a computer lab, and multipurpose gathering spaces that host activities, clubs, and classes. The clubhouse also boasts a state-of-the-art fitness center, an indoor lap pool and spa, an indoor walking track, and aerobics and dance studios. Outside, the clubhouse offers a resort-style pool and spacious patio.
3. An Active Physical and Social Lifestyle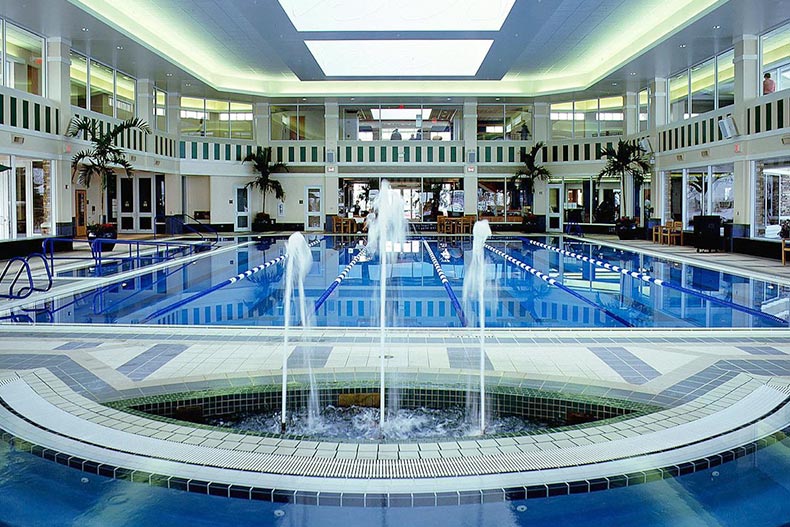 With an impressive offering of clubs, activities, social events, and things to do, there's never a dull moment at Sun City Huntley. The abundance of activities, clubs, and classes means that every resident can get involved with the community, whether they want to enjoy their pastimes, try new hobbies, or meet like-minded neighbors.
Members of the community can participate in hands-on clubs such as pottery, fishing, sewing, woodworking, and gardening. Those who want to sharpen their mental acuity can get involved with book clubs, history clubs, current events discussions, rotary clubs, and singles events. Homeowners can also participate in one of the community's many musical groups, including orchestra, concert band, and choir, or pass the time playing games and cards with their neighbors.
Residents of Sun City Huntley who want to enjoy an active physical lifestyle can choose from a range of physical activities. Active adults can spend time on the courts with tennis, pickleball, bocce ball, and volleyball, and even join a softball league. Some of the indoor activities residents can enjoy year-round include table tennis, fitness classes, water aerobics, and yoga classes.
The many activities, clubs, and social events offered at Sun City Huntley keep residents socially, mentally, and physically active. However, as one resident recently wrote in their review of the community, "it's all about the people. We have more friends and more laughs after four years than we had after 25 years in our old neighborhood."
4. More Than 50 Floor Plans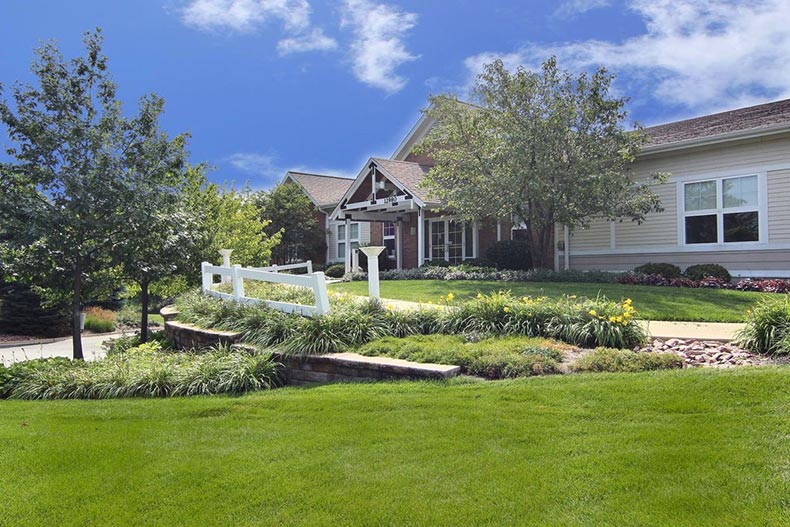 At Sun City Huntley, interested homebuyers can find plenty of homebuying options. With 56 floor plans to choose from, active adults can find the home style that best suits their needs and preferences. Additionally, buyers can explore a range of home prices to fit any budget, since the prices tend to range from the mid $100s to the mid $400s.
Most of the properties in the community are single-family homes, which range from 1,130 to 3,070 with one to four bedrooms, one-and-a-half to three bathrooms, and attached two- or three-car garages. The attached homes range from 1,014 to 1,559 square feet with one to three bedrooms, one to two bathrooms, and attached one- or two-car garages.
The condominium homes are some of the most exclusive homes in Sun City Huntley, since they can only be found in the Arcadia Condominium building, a four-story elevator building with underground parking. Ideal for those who want to downsize, the condominium homes range from 1,200 to 1,900 square feet with one to three bedrooms and two bathrooms. Residents of the condos also enjoy a convenient location right next to the Meadow View Lodge.
5. Low-Maintenance Living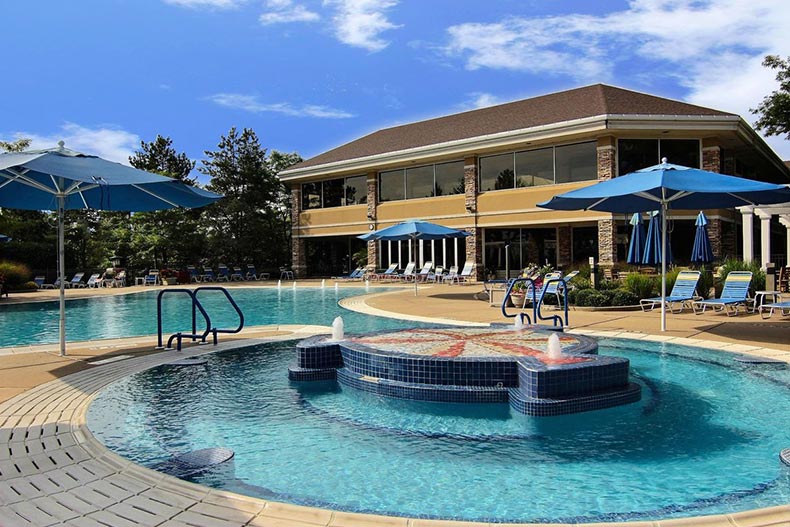 The condominium homes offer the ultimate low-maintenance lifestyle.
Thanks to the homeowners' association (HOA) at Sun City Huntley, many residents enjoy a low-maintenance lifestyle that allows them to spend more time with family or pursue new hobbies. The HOA takes care of all common area maintenance, landscaping, and snow removal throughout the community.
Residents of the attached homes also benefit from exterior home maintenance and lawn care. For those who want to live a lock-and-leave lifestyle, the condominium homes offer the ultimate low-maintenance lifestyle. Many snowbirds take advantage of the low-maintenance attached and condominium homes so they can travel leisurely throughout the year.
6. A Convenient Location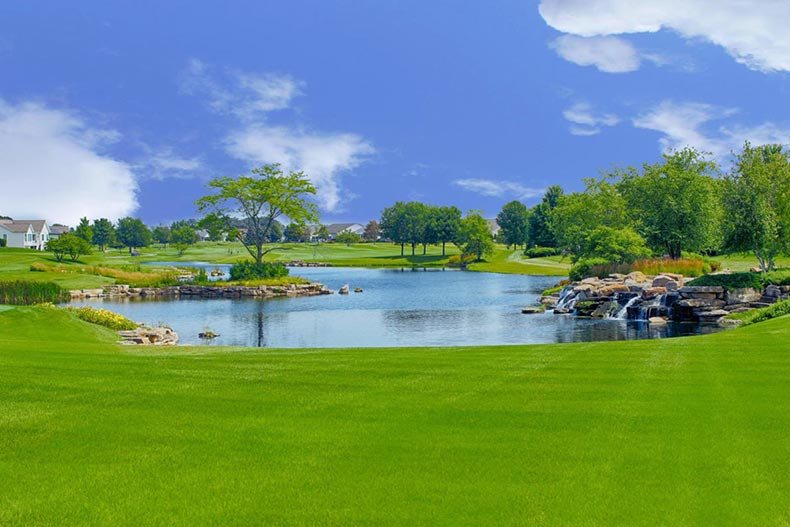 Residents can drive about 45 minutes to the heart of the Windy City.
The location of Sun City Huntley in Huntley, Illinois puts the community about 40 miles northwest of the world-class city of Chicago and all that it has to offer. Residents can drive about 45 minutes to the heart of the Windy City, and those who prefer to take a train can drive to the nearby Milwaukee District West Metra line for convenient access to the Chicagoland area. Residents looking to travel long distances can drive down Interstate 90 for 35 minutes to reach O'Hare International Airport.
The surrounding area also offers plenty of things to do, including shopping, dining, entertainment, cultural attractions, and historic destinations. Residents can also enjoy outdoor recreation at nearby golf courses, nature preserves, and scenic parks, such as the Pleasant Valley Conservation Area and the Hampshire Forest Preserve.