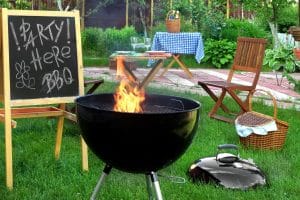 The summer season is the best time to fire up the grill and whip up new and unique dishes that you can show off at your next BBQ. Don't be afraid to try new recipes or switch from a traditional dish into something more festive and creative. Best of all, testing out different recipes might just impress your family and friends with your innovative culinary skills. Check out these six unique dishes to bring to a summer BBQ.
Tortilla Burgers
Buns are overrated. Instead, swap the bun with a tortilla to give your hamburger patty a Southwestern twist that will stand out from the rest. If you want to take it a step further, you can replace the ground beef with ground pork and add cumin, oregano, red pepper flakes, and salt. For a little extra kick, top the cooked patty with pepper jack cheese, fresh salsa or jalapeños, and sour cream for an untraditional burger dish.
Buffalo Chicken Pizza
Who doesn't love pizza? And just because you are grilling rather than baking doesn't mean you have to skip on this all-time favorite. If you're a cooking pro you can make the pizza dough from scratch or, if you're a novice when it comes to cooking, then you can buy pre-made dough. Then all you need are the ingredients: grilled chicken tossed in hot buffalo sauce, mozzarella cheese, and pizza sauce. Top it all together on the dough and throw it on the grill grate and close the lid. Let sizzle for 10 to 14 minutes.
Mexican Grilled Corn
Grilled corn has been a classic staple at many BBQs for years. But instead of the usual grilled corn on the cob with butter, try adding some new ingredients to make it more festive and savory. Popular among street vendors in Mexico, this style of corn is topped with mayonnaise, sour cream, chili powder, cotija cheese (or parmesan cheese), cilantro, and lime. If you want a healthier version of this classic recipe, then you can make this dish a bit lighter by just topping the grilled corn with lime, a dash of salt, and cilantro.
Spicy Grilled Watermelon with Crème Fraiche
Grilling watermelon might sound strange but combining these ingredients will give this dish a sweet and spicy kick that you can add to your BBQ feast. This simple recipe only involves a few ingredients and steps. Cut a small seedless watermelon into wedges and sprinkle both sides with chili powder. Grill the wedges on both sides about one to two minutes each and remove from grill. Squeeze fresh lime juice over the watermelon wedges while they are still warm. Add a scoop of crème fraiche and some cilantro as a garnish.
Ginger, Garlic, and Honey Grilled Baby Back Ribs
Ginger, garlic, and honey, oh my! These Asian-inspired seasonings combined with sugar, salt, black pepper, and soy sauce give these baby back ribs a serious burst of flavor. The secret to these delicious baby back ribs is the fresh ingredients that are pounded together into a paste consistency and spread over ribs on both sides and marinated in a refrigerator for between one and four hours. After all, what summer BBQ is complete without some ribs?
Grilled S'more Banana Packets
S'mores are synonymous with summer evenings and sweet treats. And without having to camp around a fire, you can recreate the same ambiance with these grilled s'more banana packets. All you have to do is slice through the banana peel and carve out a thin strip along the curve of the banana and cut out about a third of the banana. Then, you can stuff the inside of the banana with delicious items like chocolate chips, marshmallows, and graham crackers. You can also mix it up and add peanut butter or Nutella if you wish.
Next, put the strip of banana peel back in place and wrap the entire banana in foil and place it on the grill for about ten minutes. All that's left is peeling back the foil and digging into the warm and gooey deliciousness.