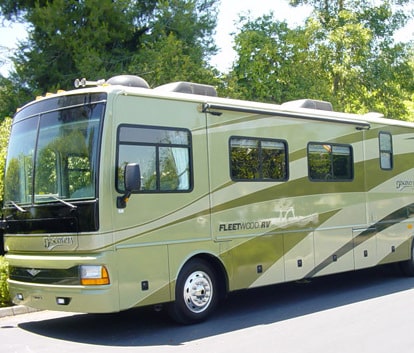 When you think of retirement living, you probably think of days spent playing golf or relaxing poolside. But because that lifestyle isn't for everyone, there are a variety of other options out there to satisfy even the quirkiest of tastes. Here, we've listed a few of our favorite unconventional retirement lifestyles.
1. Travel Like a Nomad
For many Baby Boomers who have spent the large part of their lives working full-time, retirement offers the first real opportunity for travel. While some might just plan a few trips, others choose to take on travel as a permanent lifestyle. One couple from Seattle decided not to stay in one place and sold all of their major possessions and have spent the past year traveling the world on a budget, using services like Airbnb to cut travel costs.
2. See the US by RV
Domestic travel offers a unique opportunity for retired adventurers to pack up into an RV and drive cross-country. With a variety of camps to stop at and endless sights to see, it's impossible to be bored when choosing this unique retirement option. While not as cozy as traveling in hotels, hardcore campers love the opportunity for exploration. For those who still need some supplemental income, "workamping" is an option. Workampers go on the road, traveling from one job to another in different locales.
3. Take a Chance to Sight-Sea
If you've got a lot of spare change saved up, take a cue from one Florida retiree and make your home aboard a cruise ship. For a hefty fee, some cruise liners will allow people to reside on board semi-permanently. Not only are cruise ships a ton of fun, but it gives you an unprecedented ability to see the world, stopping at each exotic port as you go along.
4. Give Back
Always wanted to do some volunteering but didn't have the time for it before retiring? Now's your chance. Second Career Volunteer offers to pay room and board for those willing to volunteer their time to help others. Travel is at your own expense, but volunteers have a wide range of destinations to choose from, as well as volunteer projects to work on. There is something for every interest.
5. Get to Know Your Culture
Whether you're already immersed in your culture or you're someone who wants to know more, there are a variety of retirement communities across the US that specifically cater to different cultures. Aegis Gardens is a feng-shui designed community in San Francisco specifically for the Chinese community, and ShantiNiketan in Florida is specifically designed for Indian American residents. Features include an on-site prayer room and special vegetarian cuisine. Communities like these are far from your run-of-the-mill retirement community, but instead offer a place for the culturally-minded to come together.
6. Unleash Your Inner Artist
Whether you're a career artist heading to retirement or just someone who always wanted an outlet for their creative side, head over to one of Southern California's artist colonies. There's one in Burbank and another in North Hollywood. Unlike traditional retirement activities like tennis and bocce, these artist colonies offer theatre programs and opportunities to critique the artistic projects of other residents. If you're looking for a place to come together with like-minded creatives, an artist colony may be a better fit than a traditional community.