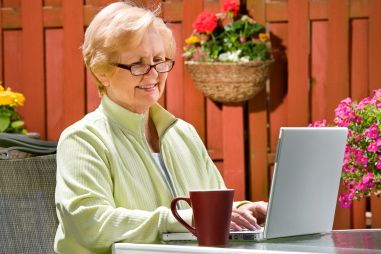 After retirement, many active adults start looking for a way to earn some extra income with a flexible job, or even branch out into a second career. Having a computer and reliable Internet connection makes it easy to work from home in a wide range of fields. But you do have to be careful to avoid scams while searching for Internet job opportunities.
To protect yourself, research online companies before accepting any work from home positions. You can check out the company with the Better Business Bureau or simply Google the company name along with the word "scam." Be wary of any company that wants you to make a financial investment to get started, or any deal that offers a lot of money for a small amount of work.
While there are many work from home opportunities, here are a few ideas to get you started:
1. Writer
Online writing opportunities are usually based on freelance work, although you may be able to find a job writing content for one specific company. As a freelance writer, you can work for many different clients either writing full articles or providing copy about specific products or items.
2. Editor
If you have strong skills in English grammar and usage, but do not enjoy writing, you may prefer to offer editing or proofreading services. Many students, writers or small publications may be looking for editors who can review documents, correct mistakes and offer feedback.
3. Translator
If you are fluent in at least one additional language, you may be able to put those skills to work as translator. Several work from home translation companies make it easy to find work, although you will probably have to pass an online test to get started.
4. Transcriptionist
Typing quickly can bring in some added income when you take a job as a transcriptionist. There are many different types of transcription jobs and the rate of pay can vary depending on the content. For example, medical transcription may pay more since it requires understanding medical terminology.
5. Web designer or web master
If you have web design skills, you can often use them to work from home. Many small organizations need help creating professional websites, but can't afford to staff a full-time web designer. Depending on the job, you may be responsible for the initial set-up or for maintaining the site after it is up and running.
6. Virtual concierge or assistant
As busy people rely on the Internet more and more, they're also beginning to look for personal assistance online. As a virtual concierge or assistant, you may help clients in a number of ways, such as scheduling appointments, researching products or tracking down hard-to-find items. The Internet has made it easy to make money through a vast number of work from home opportunities. With some imagination, confidence and common sense, you can find just the right job to suit your needs.