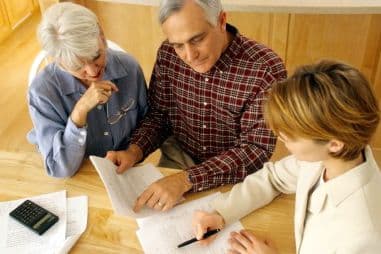 Older adults often assume that they are not eligible for a 30-year mortgage. Legally, however, banks can only offer loans based on financial qualifications alone. This means applicants cannot be turned away based on their age, whether they are 50, 60, or even 90 years old.
The Equal Credit Opportunity Act
In the United States, the Equal Credit Opportunity Act (ECOA) protects adults from mortgage discrimination by not allowing creditors to consider personal factors such as age, race, sex, religion, marital status, or national origin. Age alone cannot prevent anyone from qualifying, even when an applicant's life expectancy is less than the terms of the mortgage.
During the application process, lenders are allowed to ask applicants to give their age (as well as other personal information). However, the lender is not allowed to use that information when deciding whether to approve the loan. It is also illegal for lenders to set different conditions for a loan or mortgage based on an applicant's age or the ECOA's other prohibited factors.
Think About Your Savings and Debt
Of course, qualifying for a 30-year mortgage does not necessarily mean that it is the best option for homeowners. There are several ways to finance (or refinance) a home. Older adults who are approaching retirement may decide to take out a 30-year mortgage, or they may decide that they would be better off with a 15-year mortgage. When possible, many older adults use their savings to buy an affordable retirement home with cash and avoid a mortgage altogether.
Traditional advice from financial planners recommends that adults eliminate as much of their debt as possible before retirement. This would include reducing not just their mortgage payments, but all forms of debt, such as credit cards and car loans. By reducing debt, or ideally becoming debt-free, retirees have an easier time managing daily expenses once they are living with less income.
While most adults understand the value of having little to no debt during retirement, necessity continues to cause more and more adults to carry a mortgage into retirement. According to recent Federal Reserve statistics, the amount of home-secured debt carried by adults aged 65 to 74 increased between 2004 and 2007 to a median amount of $69,000. Homeowners who can afford the higher monthly payments of a 15-year mortgage will ultimately save money by paying less interest over the life of the loan. By paying off the mortgage more quickly, they have a better chance of eliminating their mortgage early into their retirement years, or even before they retire.
Refinancing Options
Homebuyers are not the only older adults who are considering the benefits of a new mortgage. Current homeowners may find that today's low interest rates make refinancing an attractive option. But before refinancing a new 15- or 30-year mortgage, homeowners should carefully consider their financial situation and various options. Important factors include the length of time they plan to stay in their home, how many years it will take to recoup the closing costs of refinancing, and the amount of their new monthly payments.
Whether refinancing or buying a new home, there is no "right answer" that will fit all soon-to-be retirees. The best advice is for homeowners to investigate all of their financing options, consider their personal finances, and make an informed decision. There are benefits and risks to any financing option, but an educated decision is the best investment in your retirement home.