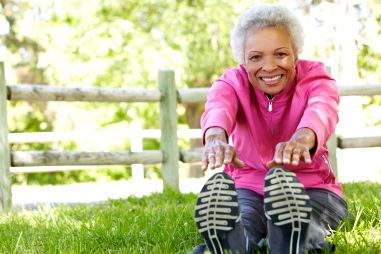 With the New Year right around the corner, many people are turning their thoughts toward healthy resolutions such as improving their fitness. Fortunately there are many exercises which active adults can use to get in shape without putting excessive strain on their bodies.
1. Yoga
Yoga comes in many flavors, but there are many styles of practice which are ideal for active adults. Gentle yin yoga improves flexibility and relieves stress, while more active yang yoga also builds strength and cardiovascular fitness. Anyone can learn to practice yoga, but the key to steady improvement is to work at your own pace and respect your limits.
2. Walking
Walking is a low-impact exercise that easily adapts to any fitness level. To avoid injury, invest in a good pair of walking shoes and increase the pace and distance you walk gradually. Mixing in speed intervals or occasional hills will make your workout more challenging, and walking with a buddy is a great way to stay motivated. Many active adult communities across the country have walking/biking trails through out the community.
3. Pilates
Like yoga, Pilates uses your own body as resistance to build long, lean muscles. This challenging exercise primarily focuses on core strength (belly and back), but regular practice will also give you a great head-to-toe workout. Classes with a trained instructor help you learn the proper form to get the most from Pilates movements without unnecessary strain.
4. Swimming
There are many benefits to swimming, including both strength-training and cardiovascular fitness. Simply swimming laps will certainly keep you in shape, but some facilities also have special resistance pools which let you swim against a current. Try mixing up your routine with different strokes as well. The change will work more muscles and add interest to your workout.
5. Water Aerobics
Water aerobics classes prove that you don't have to be a great swimmer to reap the low-impact benefits of working out in water. In fact, most water aerobics classes are held in the shallow end of the pool and don't require swimming at all. By performing aerobic movements in the swimming pool, you let the water add natural resistance while also taking the pressure off of your joints
. 6. Cycling
While cycling may be challenging, the smooth pedaling motion provides a great low-impact alternative to running or jogging. You can get the same fitness benefits when cycling outdoors or working out on a stationary bike. Although riding outdoors also lets you explore nature while enjoying some fresh air and sunshine.
7. Tai Chi
Practicing tai chi essentially sets meditation to movement. The gentle flow of a tai chi routine gradually improves balance, flexibility, strength and focus. Tai chi is often practiced in a class or social setting, which can make it easier for beginners to perfect their form while imitating those around them.