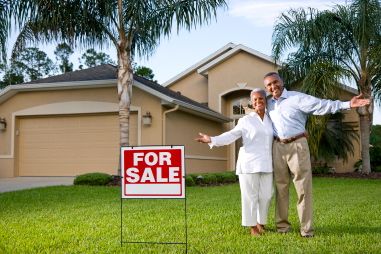 For most homeowners, moving into a new home is dependent on selling their current home. This means that those who have contingency contracts may lose a chance to buy their new home if they can't sell their current home quickly enough. We've rounded up several steps active adults can take to help make the selling process faster and smoother.
1. Clear out the clutter.
Clutter is off-putting, and having too much "stuff" laying around will make your house look smaller. Leaving personal items strewn around draws attention to your belongings and away from your house. When clearing clutter, don't stop with just throwing out junk mail and magazines. Putting knickknacks, accent furniture, and extra area rugs in storage will give your home a more open, spacious feel.
2. Finish those forgotten weekend projects.
Every homeowner has a list of small repairs that they plan to finish "someday". These little items, like chipped paint or squeaky door hinges, are easy for current owners to overlook during day-to-day living, but they are sure to stand out to hawk-eyed potential homeowners. If you want to sell your home fast, you should first look at it with a critical eye. Make those minor repairs or hire a handy man to fix them for you.
3. Stage each room or hire a professional home stager.
Staging is a process used to showcase your home's best features and make it more appealing to potential homebuyers. Read up on staging tips and consider redecorating or redesigning your interior space. If the task seems too daunting, hire a professional home stager for quick, impactful results. For example, depersonalizing your home will make it easier for homebuyers to imagine themselves living there. Essentially, you want your house to look less lived-in, and more like a model home.
4. Clean, clean, clean.
Selling your home is an ideal time to break out the vacuum and scouring pads, or bring in a professional cleaning service. Remember that a grimy oven, a mildewed shower, or even a thin layer of dust will make your home appear neglected. Even when potential buyers are willing to see beyond the dirt, they may consider your home as more of a fixer-upper instead of a home where they can quickly move in.
5. Enhance your home's curb appeal.
Our home's exterior makes the first impression on potential homebuyers, and if you want to sell your home fast, make sure its a good one. Regular maintenance like trimming the hedges and mowing the lawn is essential. You can also enhance your home's curb appeal with small touches like planting some colorful annuals or adding a hanging flower basket to the front porch.
6. Have a pre-sale home inspection.
Savvy homebuyers are sure to want a professional home inspection before buying. Paying for a pre-sale home inspection is money well spent if it helps you sell your home fast. A pre-sale inspection will let you know upfront if there are any repairs that you will need to make. You can then leave a copy of the inspection out for potential homebuyers to review when touring your home. Be sure to include receipts for any new repairs that were based on the inspection.
7. Hire the right realtor.
A good realtor will use a variety of marketing strategies to sell your home fast and get the best price for it. This includes analyzing the market to set the best sale price, advertising your home with pictures on websites or flyers, and planning open houses to bring in many potential homebuyers. When choosing a realtor, be sure to ask specific questions about his or her plans for marketing your home.