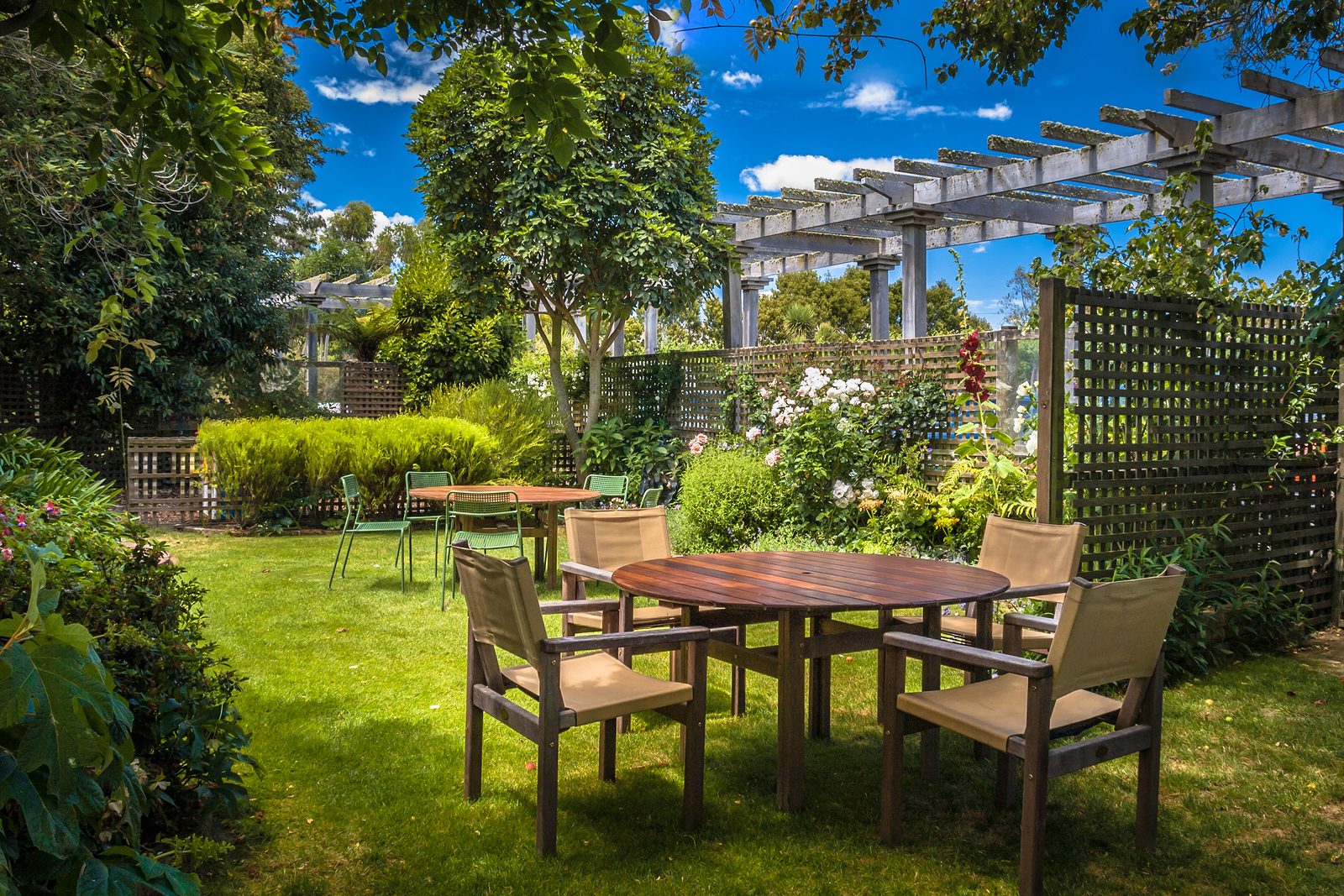 With the summer season fast approaching, homeowners are getting their outdoor spaces ready for entertaining guests and hosting BBQ parties or just setting up a cool hangout spot to enjoy a cool breeze on a beautiful day. But don't let harsh sunrays ruin your outdoor fun. Incorporating a cool shaded area for your perfect outside oasis is crucial during hot summer days. Whether your area is small or large, check out these seven tips on how to shade your outdoor space.
An easy and budget friendly way to keep cool in your outdoor living space is to construct a sail shade, which is made out of synthetic knit fabric and blocks out about 90% of the sun. This extremely light DIY project only requires few simple products such as a triangular piece of fabric with holes cut into each corner and strong rope or twine. All you have to do is attach the rope or twine into the corners of the fabric and tie it to either a pole or the side of the house or a tree and ensure it's high enough that you can sit underneath it. Depending on the size of the fabric you used, this will give you enough shade for a bench, table and chairs, or a comfy outdoor couch.
Similar to a sail shade, a DIY canopy can also be easily added to your outdoor space to provide some cool shade. All you have to do is tie the corners of the outdoor fabric onto four posts that are held down in buckets of cement inside large and sturdy garden planters.
Adding bamboo panels is another way to make your outdoor patio not only look cool, but feel cool too. Thin bamboo panels, which you can purchase at a hardware store, allow for a small amount of sunlight to pass through and into your seating area below. The bamboo panels also give a light, airy feel to your small patio as well as provide a natural look to your outdoor space.
Lattice panels, which come in a variety of sizes, styles, and forms, provide great shade for your outdoor patio. Lattice panels are made out of copper, wood, plastic, or vinyl. Hanging one above a designated seating area allows partial light to pass through to create a cool and unique shaded area with beautiful patterns and designs. You can also add plants that will grow and twine around the patterns of the lattice that offer some added greenery as well as shade from the sun.
Patio umbrellas are probably the most common type of shade for your outdoor space. They are easy to install and some are pretty affordable too. You can purchase one at a hardware store, online, or at big-box retailers. All you have to do is pick the design and style you want. Some umbrellas come with a base that secures it to the ground while others can be inserted into the center of a patio table. You can also add patio furniture around and under the umbrella for a cozy and shaded outdoor sanctuary.
Adding an awning is a convenient way to block harsh sunrays from overheating your patio or courtyard area, which makes it easy to dine al fresco on hot summer days. If you're feeling handy, you can purchase an awning at the hardware store and attach it to the outside wall of your home, but if you want a fancier option like a larger and retractable awning, then leave it to the pros for installation.
Using large or tropical plants to provide shade in your outdoor space is a beautiful and eco-friendly way to keep cool during the summer months. Some options include tropical plants like a hardy banana plant, which can grow two feet per week during warm weather and grow as tall as 18 feet. Ficus plants can grow large enough to cast some major shade over your porch or patio area -- just make sure you keep the soil moist and enough light for it to grow. The South American Arum tree grows large, heart-shaped leaves that come in a variety of colors. Thanks to the large leaves, this tropical plant can give your outdoor living space some shade while adding beautiful pops of color. These tall plants not only block out some of the sunshine, but they also provide some privacy in your outdoor space.