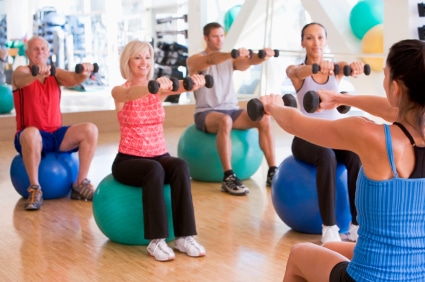 If you've ever wondered if an active adult community could offer enough to actually keep you active, the answer is a resounding yes. Active adult communities are designed with an active lifestyle in mind and they are full of fun activities. Here is a look at eight of the most popular types of activities, in no particular order.
1. Cards
Most active adult communities have at least one card room where residents can gather for a few friendly hands or even for community-wide tournaments. Whether the clubhouse has just one table or a large card room, it's sure to be a happening place. Several card games are popular in active adult communities, including bridge, poker, Euchre, and pinochle.
2. Fitness Classes
Staying in prime shape is a goal of many active adults and community clubhouses are frequently built with state-of-the-art fitness centers or well-equipped exercise rooms. Fitness classes make it even more fun to stay healthy. Active adult communities often host a range of activities like yoga, water aerobics, Pilates, low-impact aerobics, and Zumba classes.
3. Live Entertainment
Many active adult communities have their own performing arts venues where they host concerts, plays, lecture series, and other performances. This might be an indoor theater with a stage and professional sound system or an outdoor amphitheater where residents can enjoy performances under the stars.
4. Hobbies and Crafts
Creativity also gets a workout when community clubhouses include hobby and craft studios. Depending on the community, hobby centers might include special studios for activities like painting, ceramics, lapidary, woodworking, or photography. Sewing and needlecrafts are also popular and many communities have sewing circles, quilting groups, or clubs for knitting or crochet.
5. Sports
When it comes to sports, age-restricted communities often have both intense and lower-impact activities covered. It's common to find courts for active sports like tennis, softball, and basketball. But many residents choose to compete with other activities as well, such as pickleball, bocce ball, bowling or croquet.
6. Travel Groups
Travel is at the top of the activity list for many retirees and active adult communities help support those dreams. Travel groups arrange everything from local outings to cruises or foreign vacations. They give single travelers companionship and keep the prices down by qualifying for group travel rates. Some communities, like VillageWalk of Bonita Springs and Leisure World, even have on-site travel agents to help residents plan their next getaways.
7. Games
While playing cards is a popular pastime at most active adult communities, they aren't the only game in town. Residents often have regular meetings to play popular games like Scrabble, dominoes, chess, or bunko. Bingo is another popular game which is great to play as a community event, especially with a very large group.
8. Social Clubs and Special-Interest Groups
Active adult communities are great at bringing like-minded people together. They often offer a variety of clubs or groups which are geared toward special interests or just toward socializing in general. Singles clubs, Red Hat Societies, and R.O.M.E.O. clubs (Retired Old Men Eating Out) give residents a chance to regularly meet for special outings or events. Meanwhile, special-interest meetings cover everything from support groups to intellectual discussions to hobbies or favorite pastimes.
What are the most fun or popular activities in your active adult community? Did your favorites turn up on our list? Tell us about them in the comments below!