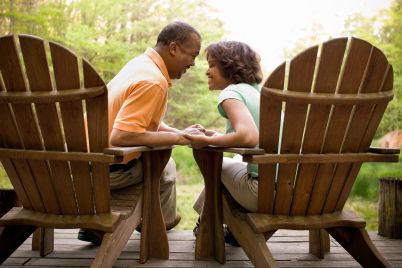 When it comes to moving to an active adult community, there are some couples who are on the same page right from the beginning. However, more often than not, the idea resonates with one person first and the remaining spouse may need a little more convincing. Here are a few suggestions for ways to encourage your spouse to see the benefits of an active adult lifestyle.
1. Take Them on a Tour
An on-site tour is the best way to really see what an active adult community has to offer. If the community isn't local and your spouse is not yet willing to make the trip, start with your own virtual tour. Explore the online information together, browse lists of the amenities and look through photo galleries of both the community and its homes.
2. Clear up Misconceptions About Active Adult Communities
While common perceptions are beginning to change, many people have the wrong idea about active adult communities. Help your spouse learn more with articles which debunk these myths and misconceptions. With all of their social and recreational activities, modern active adult communities are a far cry from sitting on a rocking chair in a retirement home.
3. Showcase the Amenities Which Support Their Hobbies or Passions
Consider your spouse's hobbies and passions and look for a community which caters to them. State-of-the-art fitness facilities, arts and crafts studios, woodworking shops, golf courses, tennis courts, and on-site Learning Centers are just a few of the great amenities found in many active adult communities. And don't forget the wide range of social clubs, classes and community events!
4. Highlight Ways the Community Can Improve Your Quality of Life
If your spouse hates certain chores like mowing the lawn or painting the shutters, be sure to point out that many active adult communities offer low-maintenance living. Lawn care, landscaping, and exterior home maintenance are frequently included as part of the monthly dues, while single-story homes often feature open floor plans which are easy to maintain.
5. Take Advantage of "Stay and Play" Vacation Packages
Many active adult communities offer some form of vacation getaway which lets potential homebuyers visit the community and try the amenities for themselves. This kind of package may include staying for a few nights in one of the community's own homes or at a nearby hotel. They generally feature a tour of the community and a pass to use the amenities.
6. Recruit the Help of Current Active Adult Community Residents
If you have friends or family members who currently enjoy living in active adult communities, ask for their input. Your spouse may be more inclined to listen to the opinions of close friends, especially if you can also arrange a visit to see where they live for yourselves.
7. Request Copies of the Past Few Months of Community Newsletters
Another great way to learn about a community's lifestyle is to look through their recent newsletters. Some active adult communities have their newsletters posted online, but most will be happy to send you a few back issues on request.
8. Get the Kids on Your Side
Having your adult children on your side can be a key factor in getting your spouse to consider moving to an active adult community, especially if the move involves relocating. The reassurance that your kids will come to visit and do their part to stay in touch can make all the difference in planning for where you want to spend the next chapter of your life.