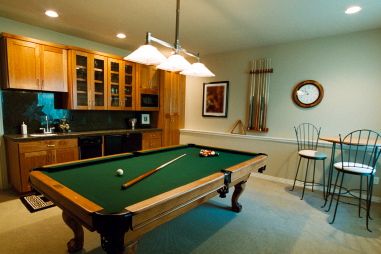 Main-level living is popular with active adult homebuyers for its convenience and easy maintenance. However, a finished basement provides additional living space which can be used in a variety of ways. For many homeowners, it's the perfect place for hobby rooms, guest rooms and storage space. A finished basement also adds to a home's value.
By adding a finished basement, active adults can enjoy the benefits of living in a compact, ranch-style home while still enjoying additional space for their favorite pastimes. Many builders offer finished basements as an option on new construction homes, although some homebuyers prefer to wait and have their basements finished after construction by a general contractor. Waiting can be a way to better customize the space if the builder isn't willing to modify their standard basement design.
A finished basement is a great place for hobbies and crafts, like sewing, quilting, woodworking and ceramics. It's an ideal storage and display area for collections or model train sets, and a basement can even be designed with special features, such as a wine cellar or built-in storage shelves. In some cases, these home studios or home offices can even be used for home-based businesses. Many homeowners use a finished basement to create their own in-home fitness center. The space can be outfitted with cardiovascular and strength-training equipment, as well as open areas for at-home yoga, Pilates or aerobics.
To make a home gym more spa-like, you can even include a meditation room, some massage chairs and a small, one- or two-person sauna. A finished basement is an ideal place for a home theater room. A large-screen TV and surround-sound system brings the movie experience home, especially when you add reclining theater seats and a wet-bar with a popcorn machine for snacks. Opening up the space with game tables also turns your basement into the perfect recreation room for hosting poker night, playing billiards or watching the big game.
When active adults downsize from their family homes, they may also want to use a finished basement to add guest rooms for visiting family and friends. Keep in mind that basement bedrooms must have egress windows for fire safety, even if the basement has a walk-out exit from another room. (And they are a great safety feature in any basement!) Many new homes offer finished basements with egress windows, and they can usually be added to an existing basement by a qualified contractor.
Depending on the design of your homesite, your basement may not be entirely below ground. Look-out basements have walls that are high enough above ground to have large windows that let in plenty of light. Walk-out basements can also be built when the homesite slopes enough to have a doorway exit directly from the basement. Walk-out designs often open onto a patio, combining outdoor living space with your basement recreation rooms.
With some creative thinking, the possibilities for a finished basement are endless. You can create a gallery for your personal art collection or even design a kid-friendly playroom for visiting grandchildren. Be sure to consider the way you will use your finished basement before settling on a layout and you will love the space—and value—you add to your home.