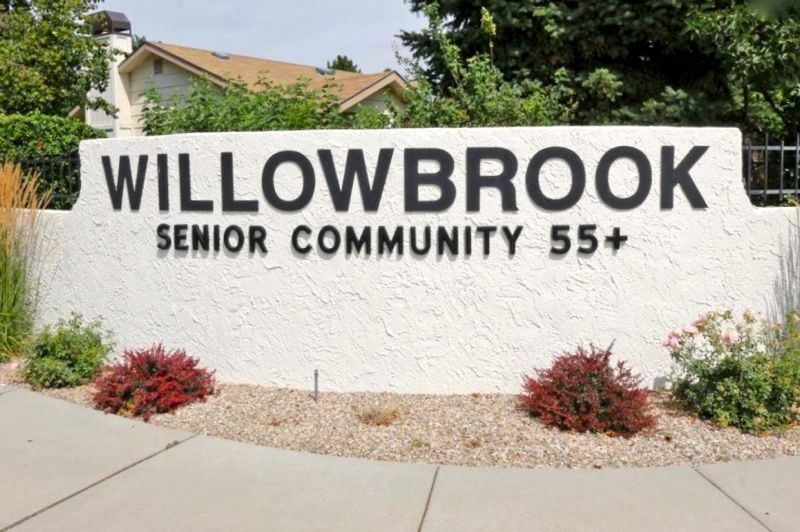 A charming community in Garden City, Idaho, Willowbrook has the perfect small-town neighborhood setting: photo-worthy grounds, scenic ponds and streams, and quaint single-family homes for active adults.
Built between 1987 and 1994, Willowbrook has 231 homes that are available on a resale-only basis. With about 1,062 to 1,791 square feet of living space, these inviting homes have two to three bedrooms, one to two-and-a-half bathrooms, and an attached two-car garage. Many homes in Willowbrook go beyond the typical floor plan. Some have open layouts, large kitchens, sizable master suites, walk-in closets, vaulted ceilings, bay windows and covered patios. And for those who prefer to have all their rooms on one floor, Willowbrook offers numerous single-level housing options as well.
The well-manicured lawns of each home are picturesque, but residents need not worry about the upkeep because their modest homeowners' association fee pays for maintenance, as well as use of all of Willowbrook's amenities. This worry-free lifestyle means residents spend less time doing chores and more time doing what they love, whether it's planning get-togethers with other neighbors, playing sports or participating in one of Willowbrook's many clubs.
Residents have access to the community's clubhouse, a social hub where they can get together in the common area, cook a meal in the catering kitchen, partake in a friendly game of billiards or talk about the latest best-sellers in the library. Outdoors, residents will often be seen chatting and relaxing on the patio.
The friendliness extends well beyond the clubhouse's walls. With just over 200 homes, Willowbrook has a cozy atmosphere, so residents feel like they are a part of a small-town neighborhood, but it's not so large where they feel lost. Residents help plan events like potluck dinners, Friday movie nights, coffee hours, bus trips, holiday dinners, and the Annual Tea and Holiday Party. Plus, Willowbrook has an active Women's Club.
Here, residents are physically active as well, but who wouldn't be with all that the community has to offer? In addition to the exercise room, Willowbrook has an outdoor swimming pool and spa, two tennis courts, a horseshoe pit, a putting green, and walking and biking trails. And when residents want a longer stroll, they can spend a day at the nearby Boise Greenbelt, a 25-mile trail also designed for walking and biking.
Willowbrook is a gated community, so residents feel secluded enough for everyday living, but have easy access to shopping and dining. Residents can walk to Walmart, Albertson's and Fred Meyers for their grocery and shopping needs, as well as the post office and library. The city of Boise is only eight minutes away, and for long-distance vacations, the Boise Regional Airport can be reached by Interstate 84. Willowbrook even caters to its residents who prefer to spend their vacations camping with the on-site RV parking.
For fuss-free living in a secure community, but one that is mere minutes away from the city, Willowbrook in Garden City is a worthy choice for active adults in Idaho.