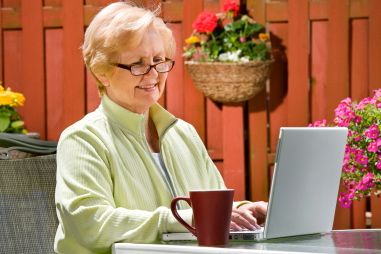 Some people are drawn to active adult communities for their many social opportunities, and others stay away for exactly the same reason. They worry that 55+ communities are filled with social butterflies and cheery activities directors who will be beating down their door to come join a club or take up a new hobby.
While social opportunities are often touted as part of a development's amenities, they are in no way an obligatory part of living in an active adult community. Clubs, social events and classes are available for those who want to make use of them. Those who are less interested in the social side of a development will still find many reasons to choose a home in an active adult community. Here are just a few reasons why you might enjoy living in an active adult community even if you aren't a social butterfly.
1. Low-Maintenance Homes
Active adult communities are designed for older adults who don't want to spend a lot of their precious time on home maintenance. Both interior and exterior features of the homes are often built with an eye toward easy care and durability. Homes often come with included exterior lawn care and maintenance, including beautiful landscaping.
2. Secure Neighborhoods
Many active adult communities are gated, offering homeowners an extra level of security. They tend to have lower crime rates than other neighborhoods and are generally built in safer areas. Because residents are more community-minded, 55+ communities often have active neighborhood watch programs as well. All of this is particularly helpful for snowbirds or frequent travelers who leave their homes empty for long periods.
3. Single-Floor Living
Some active adult communities do offer two-story residences, but it's very easy to find thoughtfully designed single-level homes. This is great for those who want to minimize stairs or simply enjoy the convenience of having all of the main living on one floor. The home designs also frequently incorporate universal design elements, such as open floor plans, which tend to be a great fit for active adults.
4. Beautiful Landscaping
Drive through an active adult community and you are likely to see lush landscaping around every home and throughout common areas. Because landscaping is often an included part of living in an active adult community, every home can enjoy the benefit of a professional gardener. Even when landscaping is limited or not included, older adults tend to have more time to care for their yards and often feature their own lovely gardens.
5. Stable Communities
You can't choose your neighbors, but life among peers does have its advantages. For the most part, homebuyers who opt to live in an active adult community understand that they will be agreeing to live with certain rules and regulations. They often have a lot of equity in their homes or own them outright, and that gives them an added incentive to protect their investment by following the rules and maintaining their property.
6. No Kids
Those who are not interested in an active adult community's clubhouses, sports courts or other amenities may still be happy to live in an age-restricted area. It's not that these adults do not like children, they simply prefer to live in a quiet neighborhood without children playing in the streets or teenagers speeding by at all hours. In active adult communities, grandchildren are welcome to visit, but the neighborhood and its amenities are designed for the adults.