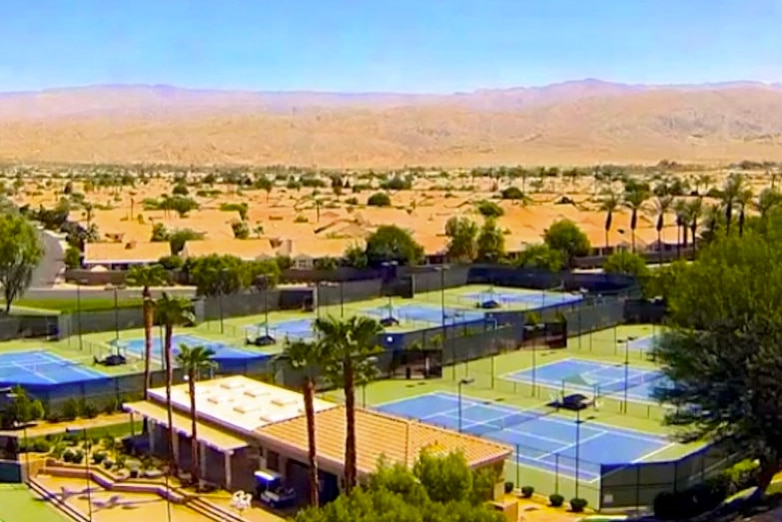 Retirees who want to remain active throughout their Golden Years have endless options to choose from thanks to the exciting amenities and recreational facilities provided by many active adult communities across the country.
One of the more popular activities is tennis, which is a great non-contact sport that helps active adults build their strength and stamina while helping their mental clarity and agility. Many 55-plus communities provide full-service tennis facilities like pro shops, on-site instructors, private lessons, clubs, leagues, tournaments, and multiple tennis courts.
Regional Location
California is a great place to retire if you love tennis not only because the state is home to multiple 55+ communities, but its beautiful year-round climate means that you can enjoy your favorite sport no matter the season. Read on below to find out about which 55+ communities are perfect for tennis lovers in California.
Laguna Woods Village is one of the top 55+ communities in Southern California, mostly thanks to its world-class amenities. This active adult community provides residents with multiple clubhouses and recreational activities spread throughout its 2,100 acres of rolling hillsides in beautiful Orange County.
Aside from the multiple clubhouses, Laguna Woods Village has an active tennis club with about 350 members, an on-site tennis pro, tennis activities director, and a total of ten tennis courts, five of which are lighted for nighttime play. Each court can be used for different matches including doubles set, one-set match, limited playtime, or first-come, first-serve play.
Tennis lovers flock to this beautiful Northern California active adult community because of its rich lineup of resort-style amenities and social atmosphere. Sun City Lincoln Hills has two exquisite amenity centers that offer a total of more than 100,000 square feet of combined recreational and social space.
This active adult community features eleven lighted tennis courts at its Sports Plaza recreational area, which also has several other outdoor amenities. Residents also enjoy the community's tennis pro services that include lessons for beginners and advanced players. Sun City Lincoln Hills also hosts seasonal and annual tennis tournaments that are available for residents to participate in for fun or competitive play.
Sun City Palm Desert in the Palm Springs Area is home to a very active tennis community. It has a tennis club with over 300 members and provides its members with tennis clinics, tournaments, leagues, and daily tennis activities.
In addition to its vibrant tennis club, Sun City Palm Desert also provides residents with ten tennis courts at its 77,828 square-foot Mountain View clubhouse. The massive clubhouse also provides homeowners with a variety of other amenities and recreational facilities like paddleball courts and golf courses that keep Boomers active and social no matter what hobby or activity they are pursuing.
Sun City Shadow Hills is Del Webb's second 55-plus community in the Coachella Valley. It features the latest amenities that cater to the active adult lifestyle thanks to its spacious 35,000 square-foot Montecito and 14,000 square-foot Santa Rosa clubhouses. Each clubhouse offers tennis courts for avid or novice players, making it easy for them to play a game without having to travel too far from home.
The Montecito clubhouse has four lighted tennis courts and the Santa Rosa clubhouse has an additional two lighted tennis courts. Residents who want to play on a smaller scale can practice their speed and agility with table tennis as well. Besides the on-site tennis courts, Sun City Shadow Hills also has a rich lineup of social activities geared around this sport. The community has a tennis club, men's tennis club, table tennis club, paddle tennis club, and a Wii tennis group for those who prefer to play in the virtual world.
Sun Lakes Country Club is a well-appointed 55-plus community in Banning, CA that has 3,300 homes and two 18-hole golf courses spread across 1,000 rolling acres. This established active adult community fosters an active and social lifestyle for its residents and provides fun activities and amenities for tennis fans. With three clubhouses on-site, residents will find multiple tennis courts spread throughout the development.
In addition to all of the outdoor tennis facilities, Sun Lakes Country Club also has an active tennis club that offers a long list of events, clinics, lessons, social events, tournaments, and even a POP tennis club. Residents can play for fun and mingle with other tennis players at events like doubles tournaments, mixers, and parties. Residents who want to play competitively can also join the men's or women's United States Tennis Association (USTA) league, which have resident members on the board.
This 1,255-acre age-restricted community set in the middle of the scenic wine country in Sonoma County has all the amenities and facilities tennis lovers could want or need. Oakmont Village has multiple clubhouses that offer a rich lineup of world-class amenities. Residents will find four courts at the West Recreation Center and another four courts at the East Recreation Center.
This 55+ community also has a vibrant tennis community with about 200 members. The tennis club promotes both athletic and social enjoyment of the sport through social activities, competitive tournaments, fun events, weekly drop-in tennis lessons, on-court instruction, and external competitive tennis matches with other tennis teams. Oakmont Village is also a registered USTA site so that residents can compete in a USTA league.