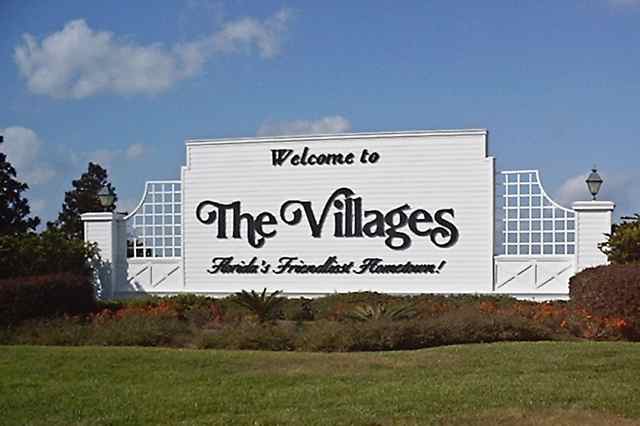 Across the country there are a variety of active adult communities. Some resemble charming, quiet towns while other 55+ communities are more like unique metropolitan cities with their own shopping centers, massive clubhouses, multiple recreational facilities, and golf courses, making them a top retirement destination. A common factor among these active adult communities is that they usually have more than 10,000 residences, some of which continue to build new homes every day.
These top retirement villages provide everything active adults could want or need just a few steps from their home. Retirees don't have to travel far for daily necessities or leave their familiar neighborhood surroundings when looking to have some fun. These are just a few reasons why these age-restricted and age-targeted communities are a major draw for Baby Boomers. Here we list 10 top retirement villages.
The Villages – The Villages, FL
The Villages is a massive and well-known retirement village that spreads across three zip codes and three counties in Central Florida. As the top 55+ community in the country with plans to have more than 56,000 homes upon completion, this self-sustaining town provides retirees with access to 25 neighborhood centers, 17 recreation centers, multiple swimming pools, golf courses, healthcare centers, and shopping centers. Active adults can find new and resale homes in a variety of floor plans that can meet their style and budget.
Bella Vista Village – Bella Vista, AR
Baby Boomers looking for a retirement community in a location other than Florida will love Bella Vista Village in Northern Arkansas. This age-targeted community caters to retirees because of its vibrant and social atmosphere. Active adults can enjoy multiple clubhouses and recreation centers full of world-class amenities as well as several golf courses. There are also more than 100 clubs, activities, and events to keep retirees busy throughout the week. Bella Vista Village will have 36,000 homes at completion, allowing buyers to have a great selection from new and resale attached or single-family homes.
Known as the first active adult community in the country, Sun City in Sun City, Arizona has more than 27,000 homes. Premier builder Del Webb developed this 55+ community between 1960 and 1978 and offers affordable condos, attached homes, and single-family residences available on a resale-only basis. Sun City is a popular retirement village because of its rich lineup of amenities such as 11 golf courses, 19 shopping centers, seven recreation centers, and 30 places of worship. Retirees also love the variety of hobbies and events that keep them social and active. Although this community is large, residents can easily make friends thanks to the 200 clubs available.
Sun City West – Sun City West, AZ
Just two-and-a-half-miles away from the original Sun City Arizona is Sun City West. Del Webb developed this 55+ community in Central Arizona between 1978 and 1997 and offered 16,900 attached and single-family homes, which are available on a resale-only basis. Sun City West is a popular active adult community which combines a low-maintenance lifestyle with resort-style amenities. Residents enjoy four well-equipped recreation centers as well as multiple golf courses, restaurants, grocery stores, banks, pharmacies, retail shops, worship centers, and a hospital.
Green Valley Recreation – Green Valley, AZ
Another top retirement community is Green Valley Recreation in Southern Arizona. Green Valley consists of several active adult and age-targeted neighborhoods and has more than 13,000 homes. Residents living within the deed-restricted sections of Green Valley have access to all of Green Valley Recreation amenities and activities. Baby Boomers can have fun at any of the 13 recreation centers, eight golf courses, and numerous outdoor facilities.
Laguna Woods Village – Laguna Woods, CA
Boomers looking to find their ideal retirement destination on the West Coast can check out Laguna Woods Village. This Southern California age-restricted community consists of 12,736 homes available on a resale-only basis. Retirees enjoy a vibrant and social lifestyle with multiple clubhouses, 36 holes of golf, an equestrian center, and more than 250 interest groups and clubs. Another bonus of this Orange County 55+ community is the gorgeous rolling hillside views, proximity to beautiful beaches, and plenty of popular attractions nearby.
Holiday City at Berkeley – Toms River, NJ
Holiday City at Berkeley is the largest 55+ community in New Jersey with 10,636 homes. Retirees flock to this retirement village in the Garden State to enjoy world-class amenities and a social lifestyle within a welcoming and charming setting. Holiday City at Berkeley is like a self-sustaining town because it also provides residents with community transit, restaurants, bakeries, banks, pharmacies, doctor offices, and retail shops. Homes are also affordable and low-maintenance, making it perfect for active adults.
Villages of Citrus Hills – Hernando, FL
This elegant age-targeted community in Central Florida provides plenty of resort-style amenities, social clubs, and variety of homes that cater to retirees who want an active and vibrant lifestyle. Villages of Citrus Hills will consist of just over 10,000 homes upon completion. Baby Boomers can choose from a variety of single-family floor plans, and some are maintenance-free where the homeowner has the luxury of not having to worry about exterior home maintenance.
On Top of the World – Ocala, FL
On Top of the World is located in Ocala, which is regarded as the "Horse Capital of the World." Construction of this active adult community began in 1981 and continues to this day with plans to have 10,000 homes at completion. This age-restricted community features multiple clubhouses and recreation centers and plenty of outdoor amenities as well as an education center, retail shops, and a town square that serves as the community's entertainment and social hub. Retirees love that these homes are affordable and designed as villas or single-family homes, which gives them more choices to pick their retirement dream home.
Sun City Texas – Georgetown, TX
With plans to have 9,900 homes upon completion, Sun City Texas in Georgetown is a top choice for many retirees. This 55+ community features two luxurious amenity centers full of great indoor and outdoor recreational facilities as well as a long list of clubs, activities, and events to provide a fun and social lifestyle. Del Webb began construction of this active adult community in 1995 and continues to offer innovative, elegant attached and single-family home designs perfect for Baby Boomers.