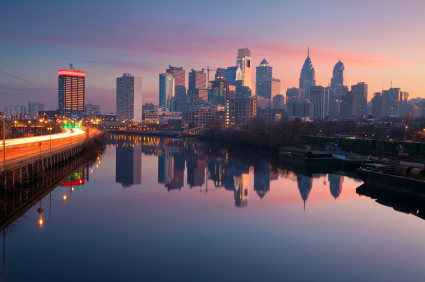 Rich in American history, Philadelphia is one of the country's oldest cities. Philadelphia was the site of the signing of the Declaration of Independence and Constitution, a strategic center during the Revolutionary War, and the temporary U.S. capital during construction of Washington D.C. Today, the city blends historic charm with modern attractions, making it an East Coast hot spot for both tourists and retiring active adults.
Those who visit the City of Brotherly Love today are impressed with Philadelphia's unique culture and beautiful architecture. There are historic sites and nature parks, modern shops and restaurants, eclectic neighborhoods, museums, theaters and much more. Of course, a trip to Philadelphia isn't complete without an authentic Philly cheesesteak or a tasty soft pretzel.
Philadelphia is located on Pennsylvania's southeastern border. With its close proximity to New Jersey, Philadelphia is about one hour from Atlantic City and its East Coast beaches. The city is also within a two-hour drive of both New York City and Baltimore, Maryland. A trip to Washington D.C. is only two-and-a-half hours away as well.
The weather in Philadelphia is relatively warm and mild, while still experiencing all four seasons. Summer months tend to be hot and humid, but winters are cold with some snowfall and occasional snowstorms. The spring and fall periods are often considered the best times to visit as the weather is cool and comfortable.
With so many things to do, visitors and locals can experience many different sides of Philadelphia. Historical attractions include a trip to Independence Hall, The Liberty Bell Center, The Constitution Center or Valley Forge National Historical Park. Museums throughout the city celebrate art, culture, history and science. A few memorable ones include The Franklin Institute, the Philadelphia Museum of Art and The Barnes Foundation.
Nature lovers who visit Philadelphia won't want to miss a visit to Franklin Square, one of the city's original public squares which now boasts mini golf, a carousel, picnic areas and much more. They may also enjoy a trip to Longwood Gardens, the Philadelphia Zoo or the Adventure Aquarium. Sports fans who move to the area will also love cheering for the Philadelphia Eagles (NFL), the Philadelphia Flyers (NHL), the Philadelphia Phillies (MLB) and the Philadelphia 76ers (NBA).
Several colleges are located in Philadelphia and its surrounding suburbs, including the University of Pennsylvania, Drexel University and Temple University. Of course, the city also boasts the usual modern urban attractions including a wide range of shops, restaurants, movie theaters, bars and performance venues.
Active adults who want to live in the Philadelphia area can choose from a wide variety of age-restricted communities. Most of these developments are small with less than 300 homes, yet a few are larger with 500 to 700 residences. Some of the area's larger active adult communities include The Villages at Flowers Mill and Village of Buckingham Springs. Homebuyers who want new construction homes may prefer developments like The Villas at Five Ponds or Regency at Yardley.
With historical offerings and modern day attractions, Philadelphia is a fabulous spot for a relaxing vacation or a beautiful East Coast retirement.