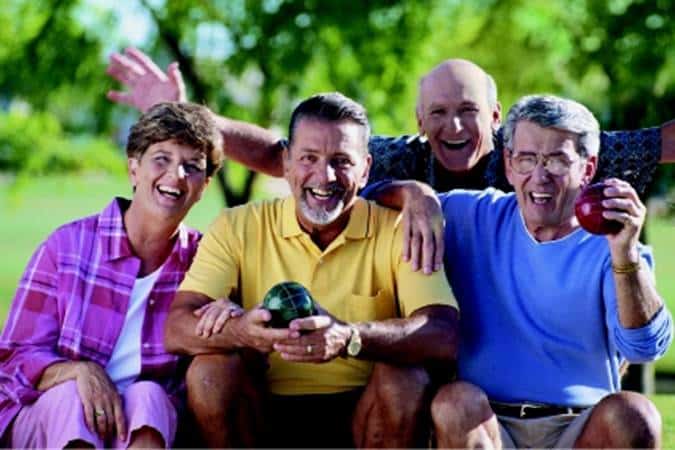 Bocce, a game with roots that go back to ancient times, has taken its place alongside horseshoe pits and shuffleboard courts to become a favorite recreational pastime at active adult communities throughout America. In addition to being fun to play, the benefits of bocce include healthy social interaction, light activity, strategic planning, and friendly competition.
How to Play Bocce
Modern-day bocce is an Italian game that originated during the Roman Empire. The game is traditionally played on a hard surface, though it can be played on packed natural soil or even on grass, making it easily played at a picnic or backyard barbecue. Many active adult communities offer bocce courts, usually on a hard surface surrounded by short walls to keep the balls from rolling off the court.
Bocce can be played by two people or by two teams of two to four people. The rules of the game are relatively simple. In essence, one player (or team) begins by rolling a smaller ball, known as the "jack," onto the court. Turns are then taken as each player (or team) attempts to bowl his or her balls closest to the jack. As with many similar activities, the gameplay is easy to learn, but developing strategies and skillful throwing takes time and practice.
Why is Bocce So Popular?
One of the reasons bocce has become such a popular pastime is that it can be played by those of nearly any age or skill level. In fact, bocce is an official sport of the National Disability Sports Alliance (NDSA) and the Special Olympics International (SOI). By using special chutes and ramps the game can even be modified for those with a wide range of disabilities. Yet, it is equally engaging for players who are in perfect health.
The Benefits of Playing Bocce
While on the surface bocce ball appears to be a simple game, skilled players learn to develop strategies and special techniques for scoring the most points. This makes the game mentally stimulating as well as an exercise in fine-tuning hand-eye coordination. As most courts are outside, players can enjoy the fresh air and sunshine while competing.
The social aspect of the game is another benefit of bocce. Many active adult communities offer bocce clubs and social groups in addition to having available courts. Players can learn from each other as they develop their own skills and strategies. Some friendly competition among individuals or teams also adds excitement to the game.
Play Bocce at These 55+ Communities
If bocce sounds like the game for you, check out some of these communities which feature bocce courts and social groups.