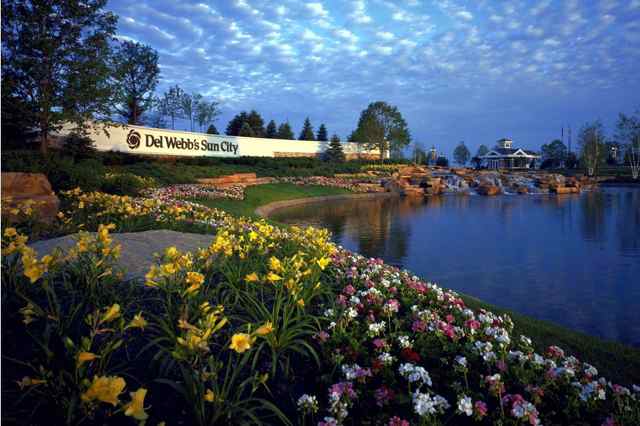 When most people think of active adult retirement communities, they picture warm coastal regions, arid deserts, or lush mountain areas. Yet, not every active adult wants to move across the country to enjoy the many benefits of an active adult community. Understanding this, developers have begun designing communities in less typical locations. The Chicago area, though once an unlikely retirement destination, is now home to over a dozen thriving active adult communities.
Why do active adults choose to stay in Chicago instead of retiring to Florida's sandy beaches or California's wine country? While the idea of a community with many amenities, activities, and social opportunities is often appealing to empty nesters and retirees, some may not like the idea of moving far away from their families and friends. Some of Chicago's active adults, known as "fullbacks", did make the move to a southern retirement home only to later return to Illinois when they realized how much they missed their previous hometown.
In addition to wanting to stay near family and friends, many empty nesters are still working and need to stay near their place of employment. Today, less adults are retired by the age of 55. Those who do retire at a young age, often continue to work part time. As developers noticed this desire for the amenities of an active adult community combined with the need to stay in place, new Midwest retirement communities were born.
Carillon
In 1989, Cenvil, a company based in Florida, began work on Carillon in Plainfield, the first 55 and older active adult community in the Chicago area. They had ambitious plans for Carillon, but after three years of development, the company declared bankruptcy and the land was sold to be used for various planned communities.
Cambridge Homes purchased the largest piece of land and decided to continue with developing an age restricted community. Though it had a shaky start, today Carillon's beautiful golf community offers more amenities than any other active adult community on the southwest side of Chicago.
Sun City Huntley
About 10 years after construction began on Carillon, well-known active adult community builder Del Webb stepped in to design Sun City Huntley in Chicago's northwest suburbs. This sprawling 2,300 acre community now boasts 5,400 homes and more amenities than any other age restricted community in the Midwest. Golf, tennis, and countless other activities center around Sun City Huntley's 94,000 square foot clubhouse. With more than 80 social clubs, there is something for everyone at Sun City Huntley.
Shorewood Glen
Not all Chicago active adult communities are large golf communities like Carillon and Sun City Huntley. However, smaller Chicagoland communities still primarily focus on active living. Del Webb's Shorewood Glen, one of the newest active adult communities in Chicago's southwest suburbs, is a small gated community that is packed with amenities.
Its prime location is right across the street from the developing Shorewood Towne Center, which will soon offer many dining, shopping, and cultural attractions. The active lifestyle, along with modestly priced homes, has made Shorewood Glen a very popular 55 and older community.
The Regency at The Woods
Chicago's active adult communities offer options for those with various budgets. For those who can afford it, The Regency at The Woods of South Barrington offers homes with unsurpassed luxury. This intimate, 156 home, age restricted community is one of the most expensive active adult communities in the Chicago area. The 2,000 to over 2,400 square foot homes come appointed with such luxurious features as granite countertops, hardwood floors, stainless steel appliances and intricate brick and stonework exteriors.
A full-time activities director oversees the activities and events available to residents. As active adult communities have gained popularity, developers have expanded beyond their original tropical or desert locations to offer amenity-rich communities in cities across the country. As this trend continues, 55 and older adults may no longer have to choose between living in an active adult community and staying in their current hometown near their families and established friends.