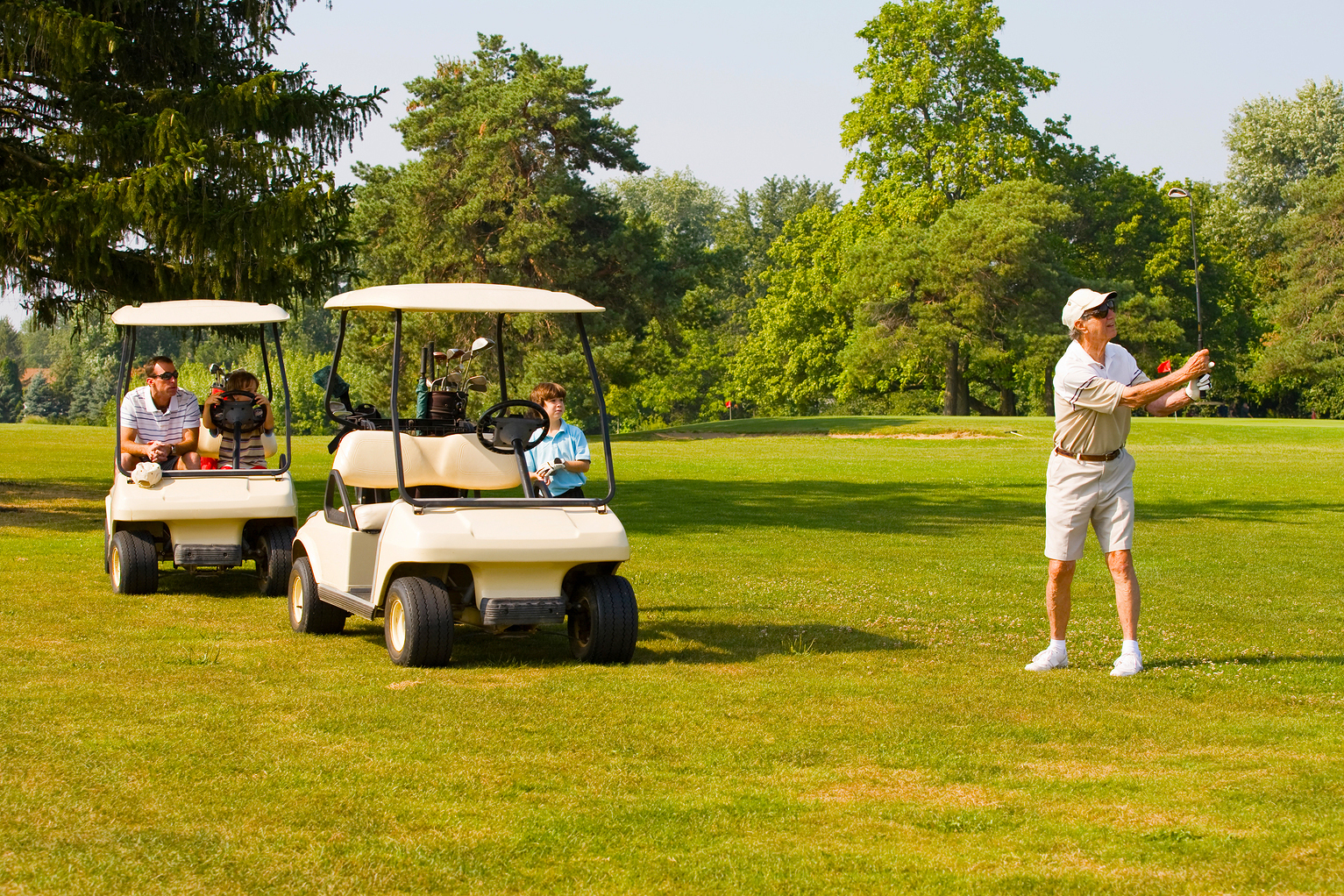 With Father's Day just around the corner, finding a fun activity or event to do on his special day shouldn't be difficult to find. Many active adult communities celebrate the holiday by hosting BBQs, special dinners, or events that bring the entire family together. Whether it's playing a round of golf with your dad or taking him to a sports game, there are sure to be numerous things to do to make his day a bit more special. In honor of Father's Day on June 18th, check out some of the activities and events that are perfect for this special occasion.
Golf
What better way to spend Father's Day then on the golf course? Treating your dad to a round of golf can be great because you get to spend some quality time with him while doing something fun that you can share together. It's also convenient if your father lives in one of the many active adult communities that have a beautiful golf course, like Trilogy at Ocala Preserve in Ocala, FL, which is home to the 24-hole Tom Lehman Golf Course and was named an exceptional hybrid golf course in 2016 by Golf Digest. If you're not an avid player, you can always buy golf lessons or attend a golf session with your dad and a PGA pro who will help you enhance your golf swing.
Camping
Camping is another great way to honor your dad on his special day, especially if he's an outdoor adventurer. Set up a tent together, start a campfire, and roast marshmallows while sharing stories from the past, or just gaze at the stars on a quiet night, which is sure to become a tradition that you can enjoy with the entire family.
Go to a Game
There is sure to be a game around Father's Day weekend that he will appreciate. Many sports venues and stadiums also offer deals or discounts on tickets for Father's Day. Catching a game can be fun not just for adults, but for the grandkids too, which is sure to build lifelong memories for the entire family.
Fishing
What better way to bond with your dad than out on the lake on a boat on a sunny day while catching up on life. Fishing is a peaceful activity that many retirees can enjoy with their grown kids. It can be as simple as finding a local fishing hole where you set up a pole and wait for the fish to arrive. It can also be more extravagant if you want to go out on a boat into open waters to catch some wild fish. Either way, your dad will love the time and effort you spend with him on his special day.
Concerts
With Father's Day being celebrated in June, there is no shortage of summer music festivals and concerts going on throughout that weekend. If your dad loves music or is into a specific band, then check out some of the concerts and festivals going on in your area. Chances are there is at least a cover band or some other type of live performance going on that your dad will love to rock out to with you by his side.
Cooking/BBQs
Treating your dad to a gourmet dinner at a fancy restaurant is great, but what makes it more special is if you cook it for him yourself. Offer to host a BBQ feast in honor of your dad and wow him with your grilling skills. And if you're not a pro at handling the grill or working your way around a kitchen, then take advantage of the BBQ events happening in their community. Some active adult communities host special events for Father's Day like Trilogy at Vistancia, which is celebrating the summer season and Father's Day weekend by having a BBQ event at its Mita Club. Leave the cooking to the community's staff who will provide food and drinks as well as entertainment from special guests the Arizona Cardinals, who will be joined by Big Red and the Arizona Cardinals cheerleaders.