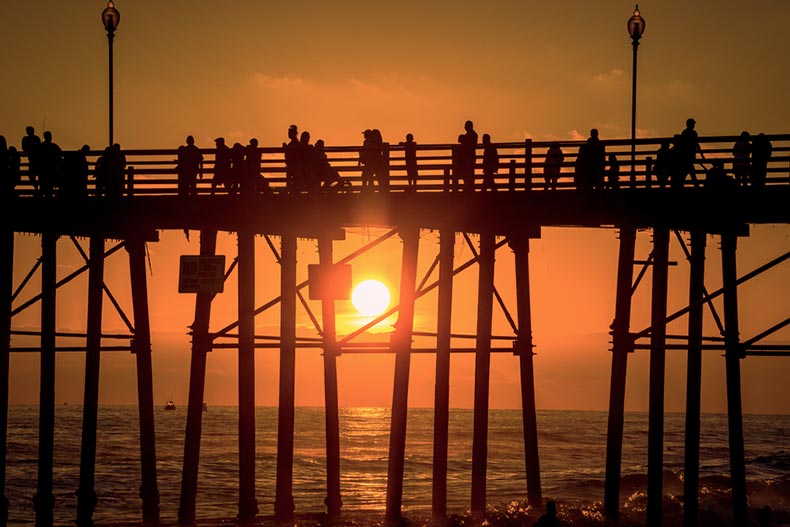 The dream of California living is assumed to be out of reach for many impending retirees. Horror stories of high taxes, housing prices that border on fantasy, and traffic that seems to stretch as far as the state is enough to send active adult homebuyers scrambling to Florida.
The good news is that there is a place along California's coast where none of that is true: Oceanside.
Location
Just a few miles from the Pacific Coast, the city of Oceanside boasts consistently affordable home prices and one of the lowest property tax rates in San Diego County in one of the most bike and pedestrian-friendly cities in the area. Oceanside's location between San Diego and Los Angeles means that traffic is comparatively non-existent.
True to its name, Oceanside sits along the Pacific Coast with many active adult communities being just a couple of miles from sun-drenched days of relaxation in the sand. Oceanside's consistently warm weather means that it avoids the cooler water temperatures of other coastal cities, giving residents opportunities to take a dip no matter what month is on the calendar.
Climate
Of course, Southern California draws active adults and retirees because of the incredible weather, and Oceanside provides one of the best in the entire state. Oceanside experiences little temperature fluctuation, feeling like a comfortable summer day all year long.
The average high in July is just 73 degrees, a far cry from the stifling heat of the desert and, with an average winter temperature of around 60 degrees you can enjoy all that Oceanside has to offer no matter what month is on the calendar.
Attractions
In the mood for more urban attractions? Residents of Oceanside won't have to travel to their larger, better-known neighbors. Oceanside has a bustling downtown area with boutique shops, exciting restaurants, and enough cafes to keep the entire state of California caffeinated. Oceanside also has a popular farmers' market, the Oceanside Museum of Art, and an amphitheater featuring concerts year round.
Activities
Oceanside also perfectly complements the active lifestyle with yoga on the beach and more parks and hiking trails than one would ever need. The avid cyclist will love Oceanside's miles of trails. Whether you want a leisurely ride along the beach in your cruiser or ride into San Diego, Oceanside has the infrastructure to make it happen. In fact, the League of American Bicyclists designated Oceanside as the only bike-friendly city in San Diego County.
Active Adult Communities
Oceanside's active adult communities offer a variety of styles to accommodate any taste. Small, intimate condominium communities are next door to sprawling single-family home 55+ neighborhoods in Oceanside.
Most communities feature a laundry list of amenities from golf courses to woodworking shops, while others take a more minimal approach, offering walking trails or outdoor spaces for gathering with friends. Prices in these communities are typically just a fraction of what is found outside of Los Angeles or in San Diego.
Take a closer look at some of the active adult communities available there. Oceana is a beautiful active adult community situated just four miles from the ocean. Ocean Hills Country Club residents enjoy a large clubhouse, 18-hole golf course, and a vibrant lifestyle. The Peacock Hills community features 920 single-family homes situated in a beautiful neighborhood.