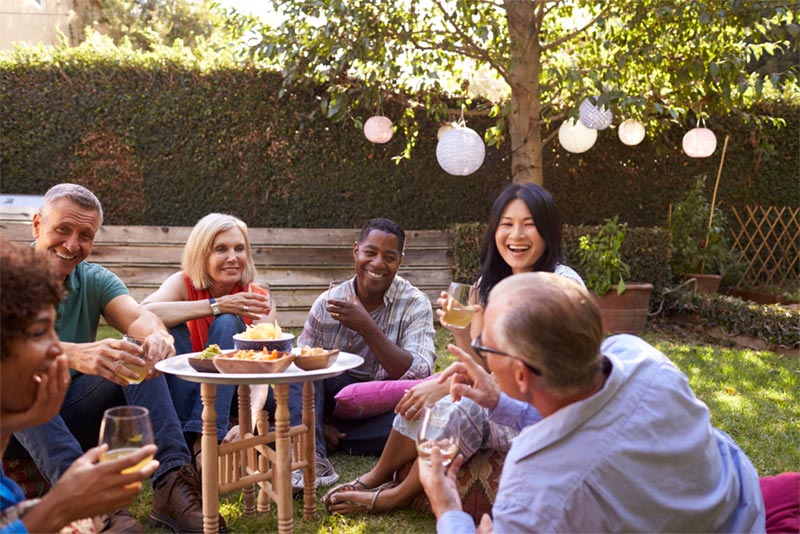 Although active adult communities are often thought to be synonymous with retirement communities, many of the residents in these age-restricted developments are not retirees. As overall health and longevity continue to improve, today's older adults frequently continue to work beyond the traditional age of retirement. Even those who are still working can enjoy the many benefits of living in an active adult community.
Not too long ago, retirement communities functioned more like cruise ships on land. Back-to-back scheduled activities kept residents involved throughout the week. While some of the larger resort-style communities may offer a similar level of constant social opportunities, the expectations of involvement are much more flexible. Special interest classes, social group meetings, and community events are planned with consideration for the schedules of those who are still working full-time jobs.
Shea Homes' Trilogy Communities
According to some of the leading active adult community developers, a significant portion of their residents have not retired. Dan O'Brien, President of Shea Homes' Trilogy Communities at the time, has said in interviews that only 10 percent of Trilogy residents are retired. Approximately 50 percent of the remaining residents are continuing in their current careers and another 40 percent are transitioning into a new field or starting their own businesses.
Trilogy communities are very popular with active adults, particularly in California, Arizona, and Washington. These age-restricted communities focus on active living and total wellness in a resort-style atmosphere. In addition to recreational amenities and fitness centers, Trilogy communities feature tranquil full-service spas and tempting on-site restaurants. Built by Shea Homes, Trilogy communities also offer housing with eco-friendly and energy-efficient designs.
Del Webb Communities
Del Webb, the nation's largest active adult community developer, also reports having a large percentage of residents who are still working. In a 2010 press release, Del Webb creative director Deborah Blake stated, "These days many of our Del Webb communities have about 50% still engaged in the workforce. They're either working part-time, starting new businesses or starting a new full-time career. They want to stay connected. It's an important part of well-being to stay connected and productive."
Further, in Del Webb's 2010 Baby Boomer Housing Survey, 74 percent of the respondents said they expected to be working past the age of 65. As with Trilogy by Shea Homes, Del Webb offers many sprawling resort-style communities designed to support an active lifestyle for those aged 55 or better. Del Webb has also developed a range of age-restricted communities with various levels of amenities and social events. From communities that contain over 10,000 residences to those with less than 100 homes, Del Webb is known for developing spectacular active adult communities that are designed to meet the changing needs of older adults. Today's active adult communities offer such benefits as resort-style amenities, recreational activities, lifelong learning classes, a vast array of social clubs and affordable, low-maintenance homes. They appeal to wide range of older active adults, even to those whose plans for retirement are far in the future.