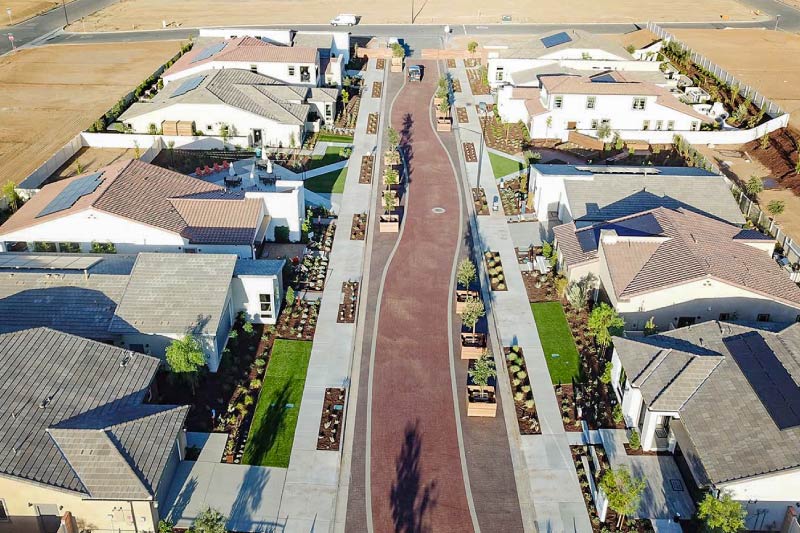 The new master-planned 55+ community Altis welcomed its first residents in June, who are already enjoying the resort-like amenities and beautiful, modern homes. Seventeen new homebuyers moved into the active adult community, which is located in Beaumont, California in the Inland Empire, between Palm Springs and Los Angeles. This new community was recently recognized as a Grand Award Winner for "Best Age Qualified Community" at the 2019 Gold Nugget Awards.
Homes
The award-winning Altis was built by Pardee Homes, and it has the honor of being the first 55+ community they've built. Pardee Homes' vice president Francine Wallace says, "It is our company's debut in the active adult lifestyle community sector, and Pardee has gone above and beyond to deliver a uniquely transformative community that maximizes personal comfort, social connections, and a sense of place."
About 100 residents are expected to move into Altis by the end of the year, and the community will ultimately be comprised of 704 homes in total. Four distinct collections will be featured in the sprawling, modern community, and homebuyers will have plenty of choices when it comes to choosing the size, style, and features of their new home.
Homes sizes will range from 1,473 to 3,094 square feet, with the single-story homes offering two to three bedrooms, two to three-and-a-half bathrooms, and two-car garages. At the Pardee Homes Design Studio, buyers can choose from modern and stylish home options, layouts, and upgrades to customize their home inside and out. A wide range of high-end design and fixture options are available, in addition to the energy-efficient features that come standard with every new home.
Amenities
Future residents of this resort-style community will enjoy a stunning array of amenities and social clubs, keeping them both physically and socially active. The hub of the community will surely be the VuePoint—a massive 16,000-square-foot clubhouse—which includes a 4,300-square-foot pool with a beach entry and stunning tiled water feature. At VuePoint, community members can relax on the sprawling outdoor terrace and enjoy the heated spa as well as an additional lap pool. Here, residents will enjoy unobstructed views of the stunning San Gorgonio Mountain Range.
Other amenities at Altis include an outdoor barbecue area, five pickleball courts, an outdoor kitchen, a large event lawn for live music and shows, and an arts and crafts studio as well as a state-of-the-art fitness center. There's also a great room available for residents to host parties and events. The community will also host a variety of active social clubs, and it has paved many walking and biking trails for residents to use.
Location
Outside of the community, there's plenty to enjoy as well. As 2018's third fastest-growing city in California, Beaumont is thriving as a highly desirable and vibrant city to live in. The city boasts 17 parks and miles of trails as well as many nearby golf courses, making living an outdoor lifestyle easy. This ideal location is only a short drive away from big cities such as Los Angeles and Palm Springs (30 miles east), so residents won't have to go far to enjoy world-class restaurants, entertainment, and shopping.
Altis promises to be a premier resort-like 55+ community, one that residents will find luxurious, welcoming, and comfortable. "This may not be their first time moving into a new home, but there's certainly that extra-special feeling for new residents at Altis," says Francine Wallace.