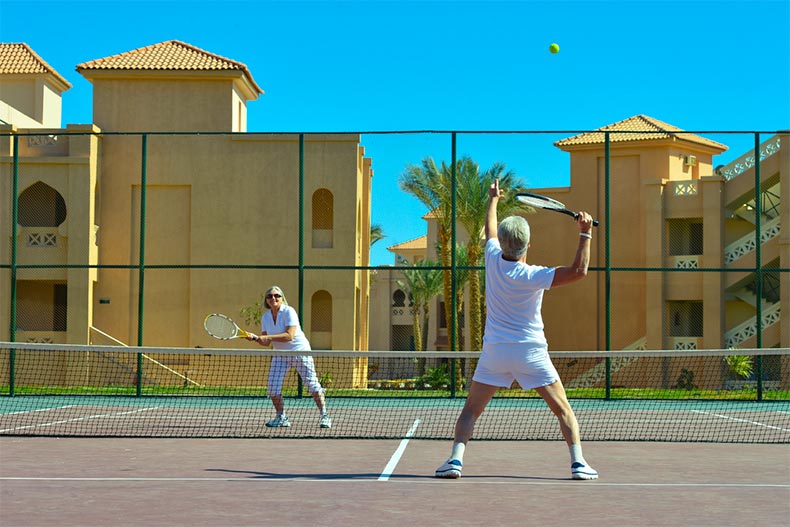 Any discussion about active adult communities invariably leads back to amenities. The features and options available to residents of a 55+ community that help create a lifestyle are an integral part of the experience for many.
But Not Everyone
Truth be told, there are plenty of 55 and older buyers out there who would gladly skip over the state-of-the-art fitness centers, equestrian centers, and community gardens if it meant a lower HOA fee and simplicity of daily life. Some single buyers aren't interested in paying for amenities that cater to couples, and someone who doesn't really care about sports can get pretty resentful about seeing a part of their monthly fees go towards softball fields and tennis courts they'll never use.
So, assuming you still want to find a new construction house in an active adult community, just without all the bells and whistles, how do you go about that?
Why Still Live in an Active Adult Community?
First of all, it's important to acknowledge why someone would still want to live in an active adult community even if they didn't want the amenities that often come with it. The easiest answer is that the low maintenance lifestyle is still pretty attractive, even without the fancy stuff. An HOA that takes care of lawn care, exterior repairs, and community upkeep makes life simple and easy.
How to Cut Through the Clutter
The first and easiest way to eliminate the communities you're not going to be interested in is to think smaller. The bigger the community, the more likely it's being decked out with resort-style amenities, massive clubhouses, and luxury activities. Those looking for a more intimate and lowkey lifestyle should look at communities that come in under 200 homes or so. That will also likely put you in a lower price range, all of which means you're probably going to see less of a premium put on amenities and add-ons.
For example, in Florida, plans for Heritage Landings in Lakeland call for a total of 65 homes and a solid base of amenities but nothing ostentatious. Prices are expected to range across the $200s. Meanwhile, Heritage in Hernando consists of 70 homes and includes nature spaces and trails as amenities, falling back on the ample activities and opportunities in the surrounding region to provide residents with plenty to do (if they want). Homes there range between the mid $200s and mid $300s.
In New Jersey, you might consider a community like Atlantic Hills, which is bigger at 250 homes, and certainly has its fair share of quality amenities, but isn't overwhelming. Plus, prices start in the mid $100s, which means you're looking at an affordable living opportunity.
Ask Your Agent
A trusted real estate agent knows the region and its communities very well. If asked, they should be able to work with you to figure out the specific active adult communities that fit your needs and avoid the ones that will be a waste of your time. They might even know about communities outside of the specific region you are considering and might have otherwise missed. A good agent can also point you in the direction of communities that are close to thriving towns, retail centers, and recreation areas. That way you can still do whatever you want without paying for it inside the community.
Ultimately, the point is that active adult living can be whatever you want it to be. Whether you want to live in a community full of golf courses, a community with a humongous amenity center, or a no-frills community that maximizes value, you can find it.