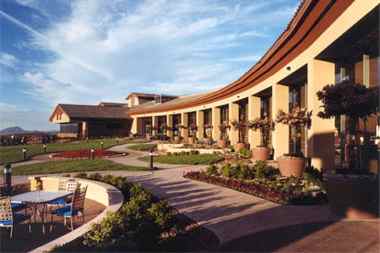 Active adult communities come in a range of sizes and styles, from smaller intimate neighborhoods to sprawling massive resorts. The largest age-restricted communities contain more than 10,000 homes and feature a wide selection of amenities, including shopping centers that make it easy to manage the day to day living. While sprawling resort-style communities are usually found in popular retirement states such as Florida, Arizona, and California, newer developments in Texas, Nevada, and South Carolina are becoming more common.
Sun City Communities
Both North and South Carolina are popular among retirees, yet active adult communities in these states tend to be small or mid-sized. Many offer less than 1,000 homes. However, South Carolina's Sun City Hilton Head, by Del Webb, will include an estimated 8,200 homes upon completion. This impressive location offers a 45-acre Town Center and Amenity Complex, two championship golf courses, an executive golf course, two restaurants, two fitness centers, tennis facilities, a performing arts theater, and much more. Nevada also offers options for those interested in a super-sized community.
Sun City Summerlin, built between 1988 and 1998, is another sprawling Del Webb development. Set at an elevation of 3,000 feet, this community offers 7,779 homes, a wide range of resort-style amenities and spectacular views of the world-famous Las Vegas Strip. Likewise, Del Webb's new Sun City Anthem provides similar amenities, close proximity to Las Vegas, and 7,200 homes. The great state of Texas also has some new communities that will provide between 7,000 and 7,500 homes.
The beautiful Sun City Texas stretches over 5,300 acres, boasts three 18-hole golf courses and an 86,000 square foot clubhouse. Texas' newer development, Robson Ranch Texas, broke ground in 2002 and estimates completion in 2030. Built by Robson Communities, this community features amenities that center on its spacious clubhouse and magnificent 18-hole Wildhorse Golf Course.
West Coast Communities
Out on the West Coast, California features an impressive active adult community with 12,736 homes. Formerly known as Leisure World, this spectacular community now goes by the name Laguna Woods Village. The community was built between 1963 and 1986 by Ross Cortese and offers every type of home, from high-rise condos to single-family models. The amenities include 36-holes of golf, five outdoor pools and spas, hobby and game rooms, and even an equestrian center.
In Arizona, Sun City is America's first active adult community. This sprawling development offers resort living to residents with over 26,000 homes in both attached and detached styles. The original Sun City is not the only large age-restricted community in Arizona. Active adults can also find amenity-rich living at Sun City West (16,900 homes) and Green Valley Recreation (12,360 homes).
Florida Communities
Finally, with its reputation as being a popular retirement state, it's no surprise that Florida offers some impressively sized age-restricted communities. Two of the state's popular communities, On Top of the World and Villages of Citrus Hills, each has plans to expand to 10,000 homes. However, even these spectacular communities pale in comparison to The Villages. With a planned estimate of 75,000 homes upon completion, this Florida landmark is the largest age-restricted community in the world!
While some active adults prefer small or mid-sized communities, the largest resort-style communities offer unparalleled access to fantastic amenities and social clubs with enough variety to match the interests of nearly any resident. Those who are interested in one of these sprawling communities can arrange their own visit to experience the amenities firsthand.