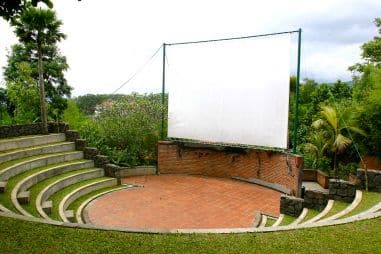 Active adult communities are frequently found in areas with beautiful climates and spectacular scenic vistas. What better way to enjoy a fabulous setting than by attending an outdoor event at a lovely community amphitheater?
What is an Amphitheater?
An amphitheater (or amphitheatre) is an open-air venue designed for outdoor concerts, plays, performances, and other events. Originally, the term amphitheater was reserved for oval or circular structures with stadium-style seating, such as Ancient Rome's famous Colosseum.
Today, contemporary amphitheaters come in a variety of styles and sizes. They commonly have a raised stage as the focal point, which often has a domed back to better direct the sound. Seating can be in a variety of styles and designs. Seats may be directly in front of the stage, curve in more of a semicircle, or wrap the stage on three sides. There may be some portions of covered seating as well.
Amphitheaters in 55+ Communities
At active adult communities, amphitheaters may be small or quite large. They may include an "event lawn" which can be used for additional picnic-style seating or as a setting for outdoor parties. At smaller communities, the amphitheater may simply be an outdoor stage with an open lawn for people to bring their own chairs or blankets.
Community amphitheaters are frequently situated alongside scenic lakes, amid wooded areas, or in a location that offers a clear mountain view. Amphitheaters bring the element of nature into the performance, allowing a setting sun or star-filled sky to enhance the experience.
Amphitheaters are commonly found in communities with temperate climates that allow them to be used year-round. Communities in California, Florida, Arizona, and other retirement hot spots often have their own outdoor theaters. However, amphitheaters can also be found in areas that experience all four seasons, such as Venue at Princeton Parke in Monmouth Junction, New Jersey, or Trilogy at Lake Frederick in Lake Frederick, Virginia.
Del Webb, the country's leading active adult community developer, frequently includes outdoor performance venues in its community designs. A few of the newer Del Webb communities which will include amphitheaters are Del Webb Sweetgrass in the Houston area, Del Webb Naples in Southwest Florida, and Del Webb Orlando in Central Florida.
Even when a community does not have its own amphitheater, there may be one located in the surrounding area. In the Southern Nevada city of Mesquite, city planners are currently discussing ways to bring an amphitheater to the Mesquite Sports and Event Complex.
This would be a fabulous addition to the many recreations that residents at Sun City Mesquite currently enjoy, as it would be located just minutes from the community.
Performances at Amphitheaters
Performances at amphitheaters can vary widely. These outdoor theaters are ideal for concerts, plays, stand-up comedy, and much more. Community amphitheaters may host both well-known performers and local talent, including the community's own performing arts groups.
Sun City Lincoln Hills in California has featured outdoor concerts by well-known performers like Asleep at the Wheel, Mary Wilson, and Sha Na Na. In Nevada, Sun City Anthem's amphitheater has hosted great bands like the Stinson Brotherz and Good Vibrations, a Beach Boys Tribute band.
Enjoying a concert or play under the stars is a wonderful way to appreciate the scenic beauty of a retirement destination. Whether they are small or large, amphitheaters provide further social and recreational opportunities for those who enjoy an active adult lifestyle.