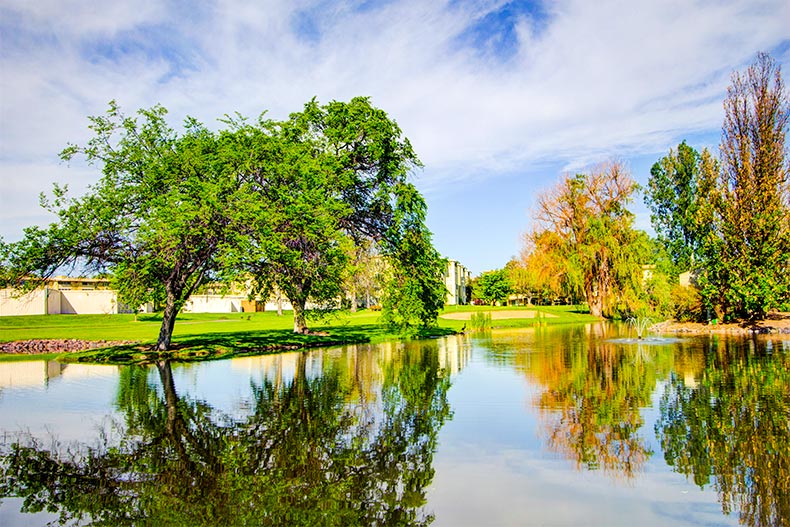 Notably the only active adult community in the city of Denver, Windsor Gardens has long attracted residents with its picturesque location within one of the city's finest neighborhoods. Built between 1962 and 1973, the community is noteworthy for both its reasonably priced homes and also a healthy offering of amenities and lifestyle options.
Residents of Windsor Gardens will find no shortage of unique ways to spend their time. In addition, thanks to its close proximity to downtown Denver, there is an equal number of opportunities awaiting outside the community as well, ensuring that every resident has the means to enjoy a retirement of fun and adventure.
Homes & Real Estate
In terms of home options, Windsor Gardens features both attached townhomes and condo residences that range from 720 to 2,145 square feet. Homes provide anywhere from one to four bedrooms with attached and detached garages. There are 84 four-story and 20 two-story condo buildings scattered throughout the community as well as 48 attached townhomes.
As a resident, homebuyers will pay an association fee that includes full use of Windsor Gardens amenities, including access to a number of educational classes. The fee also covers property taxes and heat. The only fees to be incurred by the community's homeowners are for utilities like electricity, phone, cable, and internet.
Amenities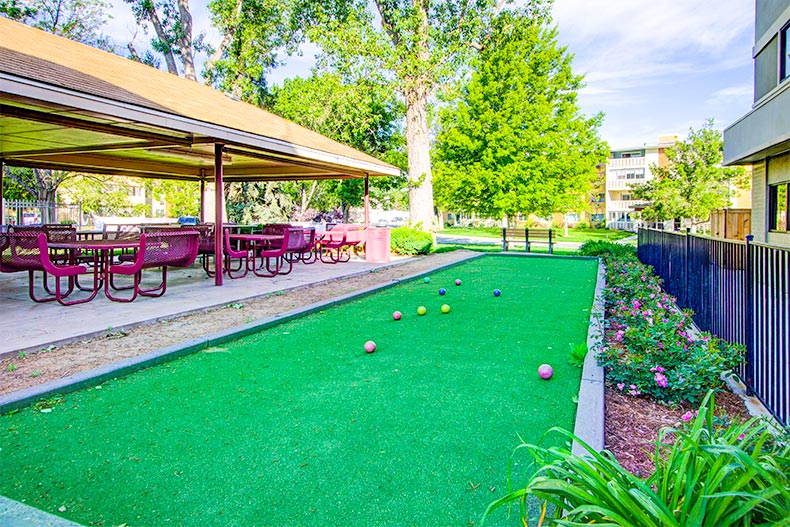 There are plenty of amenities when homeowners want an escape from Denver.
The central hub of the community is the 35,000 square-foot clubhouse, where residents can come to fully immerse themselves in all that Windsor Gardens has to offer. Inside and outside the facility, residents will find both indoor and outdoor pools, perfect for a day of relaxation, a fitness center, hobby rooms, an aerobics studio, a restaurant, a library, and more. Surrounding the building are scenic walking and biking trails that just beg to be explored, as well as a variety of sports courts for activity and competition.
Golfers will take solace in knowing that nearby lies the Emerald Greens Course & Club, which features a 9-hole course, as well as chipping and putting greens, and a pro shop that is stocked with great apparel. As a resident of Windsor Gardens, there are a number of discounted membership options to consider.
Additionally, the community makes sure that residents will always have something to keep them occupied. This is achieved thanks to the dozens of offered clubs to join. Examples of clubs featured include a Marine Corps League, the Writer's Group, the Men's Club, Women's Club, a Colorado Symphony Guild, and more. Should anyone want to start their own club, they'll be highly encouraged to do so.
Exploring Denver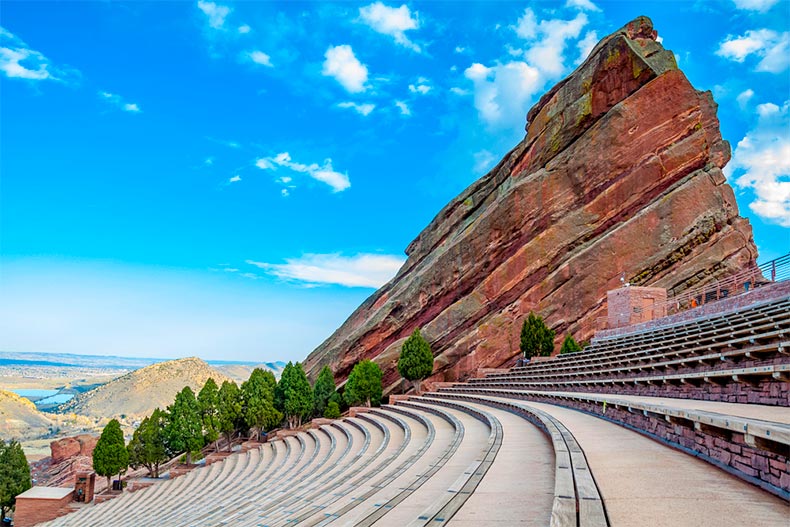 Thanks to its great location, residents will be able to continue exploring outside the community and take full advantage of all the wonders that the city of Denver has to offer. The largest city and capital of Colorado, Denver is a trendy city with plenty of breweries, restaurants, and things to do.
Some of the most popular spots around the city include Union Station, which serves as both a working public transportation station and a highly popular dining and shopping center, and the Denver Art Museum, which showcases over 70,000 works by famous artists like Vincent Van Gogh and Winslow Homer.
Of course, to really embrace the city, one great way to get involved is to take a visit to Coors Field, home of Major League Baseball's Colorado Rockies.
Because this is Colorado, there is no shortage of scenic mountains and trails in the distance, all of which are easily accessible. Red Rocks Park & Amphitheatre is just 25 miles away from the city and is a not to be missed destination. The park is filled with spectacular rock formations, valleys, a natural meadow, and trails. The park is a highly popular spot especially in the summer thanks to its summer concert series, with a number of famous musicians and groups playing here in years past, including the Beatles and U2.
A bit farther away is Rocky Mountain National Park, which features over 400 square miles of natural beauty to uncover, including lakes, waterfalls, and unique wildlife to observe. The park is a true highlight not just in the state of Colorado but in the entire United States in general.
With so much to see and do, Windsor Gardens is a unique and amenity-filled community, whose status as Denver's only active adult community makes it one in a million.