As the coronavirus has spread, the need to quarantine and practice social distancing is imperative, yet it goes against human nature. We are social creatures, after all.
This isolation can be especially hard on active adults who rely on neighbors and community activities to keep them engaged. However, many retirees are at a higher risk of contracting the virus, so staying inside is strongly recommended by organizations like the Centers for Disease Control (CDC) and the World Health Organization (WHO). It's the right thing to do, but not interacting with others can be hard on your emotional well-being.
There's also scientific proof that social contact is associated with health benefits, and it's known to reduce anxiety and stress. The National Institute on Aging reported that social relationships can lower the risk of cardiovascular disease, Alzheimer's disease, and some types of cancer. Creating and maintaining emotional bonds with others can also decrease loneliness, lower blood pressure, and ease depression.
So what can active adults do to stay connected when staying indoors during these difficult times? Luckily, there has been an explosion of social networking apps over the past few years, and they're easy to use. There are apps for playing games with friends, video chatting, and even watching movies together.
Read on to learn about some of the best family apps and the most popular apps for connecting with friends.
Fun Online Games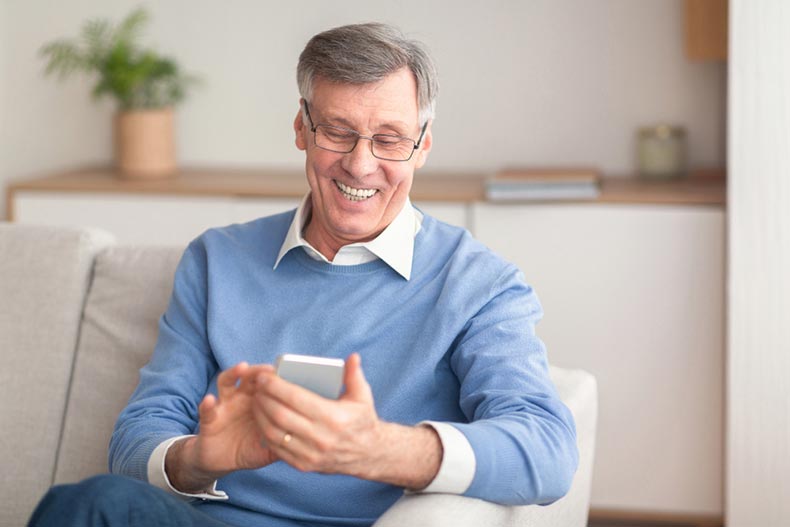 Playing games with loved ones is a fun way to stay connected, and it can lead to friendly competition and lots of laughs. Here are some of the easiest online games to play:
Uno – This free app can be installed on your phone and played with anyone else who also has the app. Challenge friends to this iconic card game and win ultimate bragging rights.
Monopoly – You can download this famous game on any mobile device and create a private multiplayer game with your friends and family. It costs $3.99, and it's available through the Google Play Store or the App Store.
Wheel of Fortune – This classic game is free to download, and it can be played on Apple or Android.
Jeopardy – More interactive than just watching the show from your couch, this free app works on Apple or Android. It also has a multiplayer feature.
Easy Group Video Chats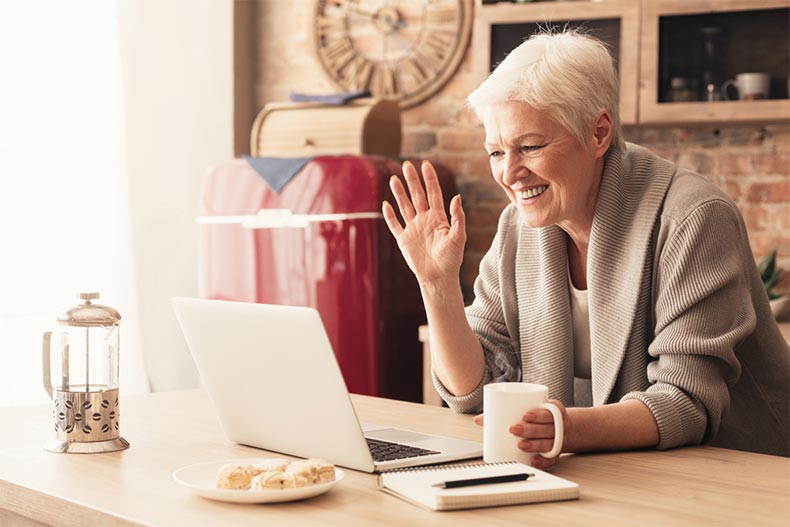 Netflix Party – One of the newer apps on this list, Netflix Party is a Google Chrome extension. After it's downloaded, the user can invite people to watch a movie or TV show together. There's also a chatbox feature that allows everyone to share their comments while watching.
Zoom – Started in 2011, Zoom provides remote conferencing services, and it's commonplace for many companies and social groups. Its popularity has grown by leaps and bounds, and Zoom meetings can accommodate up to 100 people. The free, basic membership allows a 40-minute time limit per session. Zoom is easy to set up, and any user can invite others to join in.
Google Duo/Hangouts – Google's Duo app can be used for video chatting, with a limit of eight friends on computers, tablets, or iOS smartphones. Google Hangouts is better for desktop computers, and it can have 25 people in a group. Anyone with a Gmail account can use either.
Facetime – This is one of the easiest social apps to use, but a Mac computer or iPhone is required. Facetime is built into both, so you don't even need to download the app to receive calls. (It must be downloaded to make them, though.) Up to 32 people can join in on one call, and little ones especially like Facetime because they can add in emojis and filters to make their faces look silly.
The Best Family Apps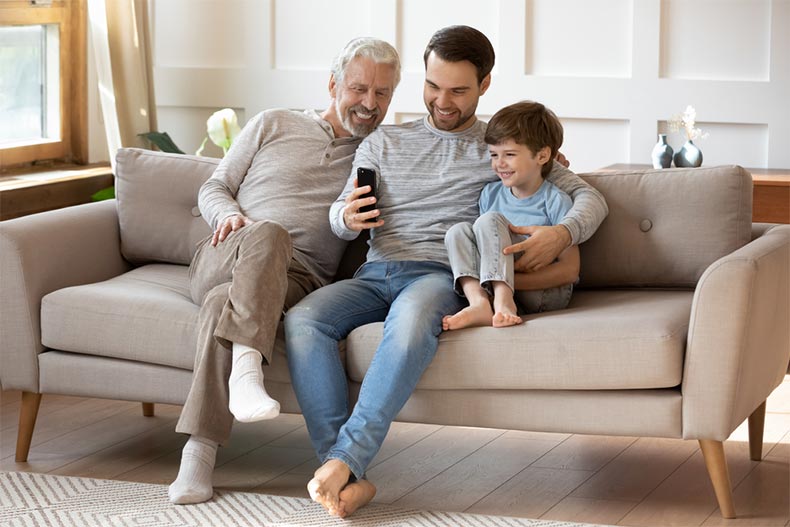 Cozi – This app can help simplify your family schedule. Whether you're compiling a to-do list, organizing a family activity, or scheduling a video call, Cozi can help keep everyone organized and in the know.
Stellar – If you love scrapbooking with pictures of your family's favorite memories, Stellar can help you take regular trips down memory lane. With this app, you can make a picture book of a special event by adding photos and text. Best of all: You can keep what you create private or share it with everyone you know.
FamilyApp – This family-friendly app is a private messenger with an easy-to-use directory and the ability to organize chats into specific groups. It's great for young kids to use, which can help you stay connected to the grandkids.
Other Enriching Activities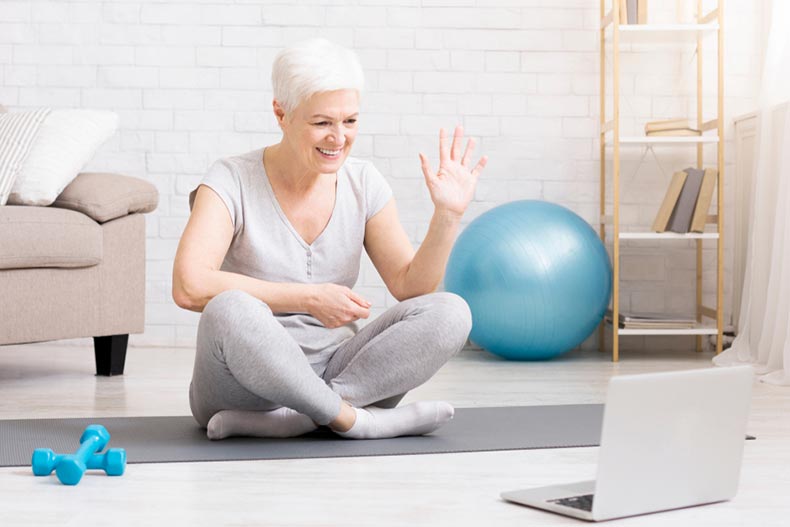 It's simple to join friends in group activities while on video chats. Book clubs are popular among active adults, and you can plan a meeting with just a few emails or text messages. The leader can choose a book and time, and once there are enough participants, the story can be discussed on the video call. Everyone can provide their own snacks and beverages. Need ideas? Oprah's Book Club is a good place for inspiration.
Virtual yoga, meditation, and exercise sessions can also be inspiring, and some health clubs are offering these on their websites. These can also be set up via video chat so friends can do the moves together. There are endless routines available on YouTube as well as websites like YMCA and glo.
Reminders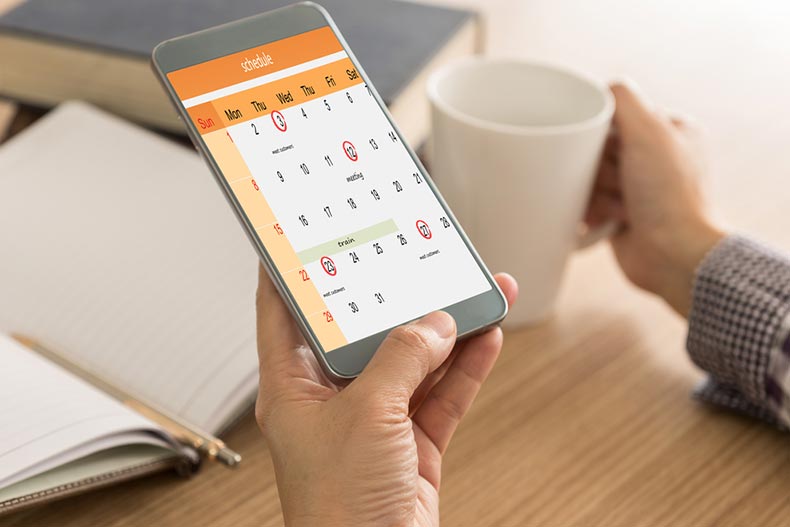 It isn't always easy to remember to stay in touch with all of your family and friends with so much going on in the world, but there are personal relationship apps that can remind you. One example is Garden, which can send you regular reminders to contact certain people. It helps you create a list of contacts, and it asks you how often you want to reach out. It can be daily, weekly, or whenever you like. Garden also allows you to save notes about each conversation, so you can remember if someone had a doctor visit, a new grandchild, or anything else. Cloze is a similar kind of app.
It can take some time to become familiar with these apps, but figuring out how to use them is part of the fun; friends and family can help each other and have a few laughs in the process. Keep in mind that some of these apps do cost money, so be sure to check before clicking. Once you get the hang of it, you can reap the benefits of virtual social interaction with your loved ones.