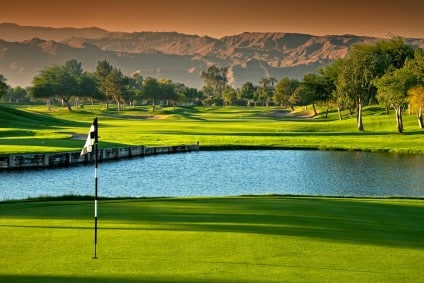 Not long ago, the terms "active adult community" and "golf course community" were practically synonymous. Early active adult communities were modeled after the success of Del Webb's original Sun City development and that usually meant a sprawling community with thousands of homes and a spectacular golf course. Today, trends are changing.
Several new active adult communities are still being built with their own golf courses. They are designed to have a more traditional country club feel, with golf being a focal point of the recreational activities. The golf courses benefit everyone, in the sense that they provide lovely scenery for the development.
Many homes offer views of emerald fairways or sparkling water features, and residents can also enjoy the course views while strolling along walking trails or making use of the amenities at the community clubhouse. Yet, those who rarely hit the links, or don't play golf at all, are more interested in other community features.
Today's active adult communities often boast a wide array of resort-style amenities. There are state-of-the-art fitness centers, luxurious swimming pools, varied sports courts, hobby and game rooms, art studios, outdoor amphitheaters, continuing education centers and much, and much more. In the largest communities, diversity appears to have become the main theme as developers strive to provide a variety of amenities.
With this more balanced approach in mind, a private community golf course may use up too many resources on just one amenity. While active adult communities were once almost exclusively built on a large scale, with at least 1,000 rolling acres of land, a demand for more urban age-restricted communities has grown.
Many active adults want a mix of community amenities while still living in close proximity to urban centers. They value shopping, dining, live entertainment, cultural attractions and a thriving nightlife over a traditional country club setting. This often means that developers are limited to smaller patches of land, which simply do not have room for golf courses. Of course, active adult communities that are built near more urban or suburban areas are often developed close to existing public golf courses.
Residents can enjoy the amenities within their own communities as well as the activities found throughout the surrounding areas. Some golfers even prefer to have their choice of different local golf courses rather than a membership at just one club. From the developers' point of view, there are financial reasons to build smaller active adult communities. Large, sprawling golf course communities take more time to plan and develop.
Many of the largest communities — which boast multiple golf courses, numerous clubhouses, and several thousand residences — take a decade or more to complete. Smaller, more intimate communities can be developed much more quickly offering developers a shorter return on investment.
Golf courses are certainly not becoming extinct in active adult communities any time soon. However, they are no longer the mainstay amenity of the early age-restricted community era. Today, active adults have more diversity when it comes to choosing a home among their peers. They can find rural, suburban and even urban active adult communities, some with golf courses, and some without.