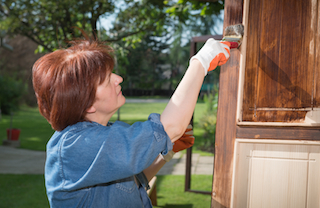 When getting ready to sell your home, you'll often hear about the importance of curb appeal. Potential buyers form their first impression the moment they see your home. Usually this is either the view from the street or an exterior picture of the home. Yet, sellers have a tendency to focus on interior fix-ups and forget about the outdoors. Fortunately, there are some simple, inexpensive updates that will help you attract buyers.
1. Brighten the front door
The front door sets the tone for your home. If it is old and worn, it could give the impression that the rest of the home may not be well maintained. You can easily brighten your front door with a power washer and a fresh coat of paint or by refinishing the stain. Polish or replace the door hardware as needed, and add simple touches like a new welcome mat or a floral wreath.
To avoid problems, be sure to check with your homeowners' association guidelines before changing the color of your front door.
2. Update the landscaping
You don't have to spend a lot of time or money to freshen up your home's landscaping. Start by trimming overgrown hedges and low-hanging tree branches. Weed the flower beds, mow the lawn and use an edger for neat, clean lines. Remove any dead shrubs or bushes and consider replacing them with flowering plants. You can also add color with some bright annuals planted in flower beds, urns or hanging baskets.
3. Replace the mailbox
Whether it's mounted on the side of your house or on a post at the edge of the street, your mailbox is bound to show wear over time. Give it a good cleaning, paint it or replace it. If your mailbox is at the street, consider replacing the pole as well or planting flowers around the base. Replacement mailboxes are generally inexpensive and easy to install. Just be sure to stay within your community guidelines or request approval before upgrading.
4. Repair and upgrade the gutters
Sagging or broken gutters make a bad impression on potential buyers. Fix them yourself with clips and supplies from the hardware store or hire a handyman to make the repairs. While you're at it, you can also upgrade the gutters by adding mesh guards to keep leaves and debris from building up inside.
5. Freshen patios and decks
While fixing up the front of your home improves its curb appeal, you don't want to overlook other outdoor living areas. Use a power washer to give patios and decks new life. If you don't own a power washer, you may be able to rent one from the hardware store. A power washer also makes it easy to remove flaking paint from a deck so you can update it with a clean, fresh coat of color.
These simple, inexpensive updates are a great way to improve the look of your home and attract interested buyers. They will also make your home picture perfect for your online listing.