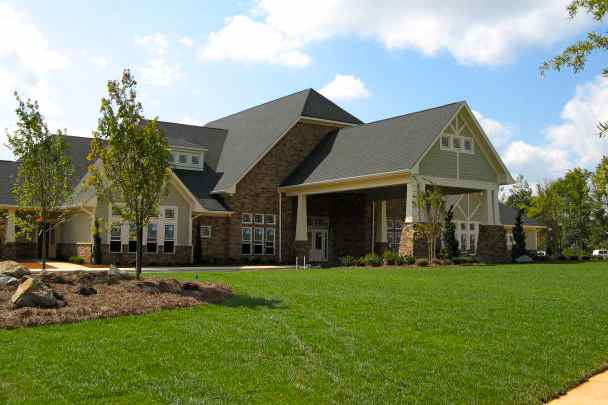 Bailey's Glen, located on Charlotte's north side in the city of Cornelius, is a 55+ community that offers North Carolina residents an attractive alternative in active adult living in the Charlotte area. Built by South Creek Homes, this thoughtfully planned community offers an intimate setting with semi-customizable homes, each designed to appeal to older adults.
Bailey's Glen Amenities
At Bailey's Glen, a spacious clubhouse known as "The Meetinghouse" serves as the social center in this community. The Meetinghouse is a 12,000-square-foot amenity center designed to be the hub of activity within the community. It houses a fitness center with aerobics studio, hobby and game rooms, a resident library, and a ballroom. Outdoors, the amenities continue with a swimming pool, outdoor pavilion with grilling area, and various sports courts. For many active adults looking for homes for sale in North Carolina, the strongest selling points at Bailey's Glen include its smaller, more intimate atmosphere and its flexibility when it comes to letting home buyers customize their homes.
Bailey's Glen Homes & Real Estate
According to Mark O'Brien, the on-site sales manager, Bailey's Glen provides a more upscale, custom feel than other nearby active adult communities. Homebuyers at Bailey's Glen can choose from 18 different ranch-style floor plans and further customize their single-family homes with a variety of available options with the homes for sale. In addition to having thoughtful layouts, the homes at Bailey's Glen offer exteriors with great curb appeal. Smaller homes have garages in the rear to allow for full front elevations, complete with front porches.
Bailey's Glen Area
The location of Bailey's Glen is another strong draw for potential residents. While other area active adult communities are set further out from Charlotte and Raleigh, Bailey's Glen enjoys an upscale location on the north side of Charlotte, surrounded by quaint village town centers. O'Brien says, "Retirees that move from the Northeast and Midwest will feel very much at home, and all residents will enjoy the benefits of this established unique location."
Kristen Haynes, a real estate agent in the Charlotte area, agrees that Bailey's Glen is ideally situated in the Cornelius area. She explains, "The area is ideal for active retirees who like to boat and fish, since it is at Lake Norman. It is also closer to the mountains (Asheville is an hour away), close to furniture shopping in Hickory and High Point, and the huge Concord Mills Mall."
When it comes to active adult living, the Charlotte area includes a relatively even mix of local retirees and those who have relocated from areas across the United States. According to Haynes, many of the relocated residents in Charlotte are from Midwest or Eastern states. She adds, "A third are what we call 'half backs,' or people who left New Jersey, New York, Michigan, Ohio, or Pittsburgh to fly south to Florida, where the weather and taxes are better, but missed having four seasons or grew tired of the oppressive humidity and constant heat."
For Charlotte area active adults, Bailey's Glen offers a new alternative which will appeal to those who prefer an intimate community. It has a great location, lovely homes, and a close-knit neighborhood feel.
Request more information about Bailey's Glen.