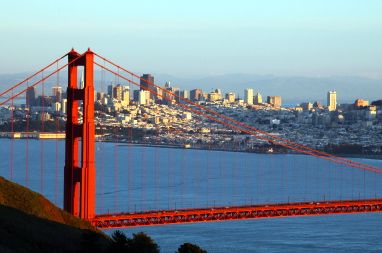 There are many reasons why Northern California's Bay Area is an attractive destination for visiting, or relocating, active adult retirees. Beautiful scenery, fabulous attractions, and world-famous wine country come together to create a spectacular West Coast region. Relocating retirees may find that home prices within the Bay Area are out of reach, but traveling just a bit outside of the area turns up more affordable active adult communities.
The San Francisco Bay Area, more commonly known as simply the Bay Area, includes several counties around the metropolitan areas of San Francisco, Oakland and San Jose. Its southernmost reaches include the technology mecca, Silicon Valley. In the north, the Bay Area encompasses California's famed Wine Country including Napa and Sonoma Counties, as well as the hilly regions of the Santa Cruz Mountains.
Though Southern California is known for its sunny beaches, the more northern Bay Area has a very different climate. San Francisco and other areas along the Pacific Coast are known for having foggy weather and fairly consistent temperatures around 70 degrees year-round. The South Bay region is warmer and drier, while the northern Wine Country and Santa Cruz Mountains receive more rainfall. There are many exciting attractions found throughout California's Bay Area.
In addition to touring the vineyards in the famous Wine Country, active adults will love visiting local landmarks like the Golden Gate Bridge, Fisherman's Wharf and the Santa Cruz boardwalk. Shopping centers, museums, performing arts centers, restaurants, and various area colleges provide an unending line-up of activities which are sure to appeal to active adults. Each of the cities in the Bay Area—such as San Francisco, San Jose, and Oakland—feature their own exciting recreations and cultural attractions.
Some of the area's professional sports teams include the San Francisco 49ers, the Oakland Raiders, the Oakland Athletics and the San Jose Sharks. The Bay Area Music scene also covers a wide range of styles including Classic Rock, Alternative Rock, Punk, Hip Hop and Heavy Metal. While the Bay Area is a beautiful place to relocate, many retirees find the home prices to be more than they can afford.
The region is one of the wealthiest areas in the United States and contains some of the most affluent areas in California. However, more affordable housing can be found not too far outside of the Bay Area. About one hour away from the Bay, retirees will find several impressive active adult communities in popular places like Santa Rosa, Brentwood, and the East Bay area. A few to consider include Oakmont Village, The Villages Golf & Country Club, and Summerset.
A bit farther away, there are additional choices in neighboring areas like Sacramento, Modesto or Stockton. With a temperate climate and so many diverse attractions, it's no surprise that many active adults fall in love with Northern California's Bay Area. Plan a visit to the area and you are likely to make a return trip or even discover your own ideal retirement destination.