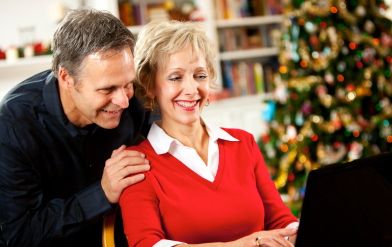 55Places.com is dedicated toward helping active adults find the community of their dreams, and that search just got a lot easier with our new Advanced Search feature. This intuitive search form lets you choose the elements you want in an active adult community and instantly see the results.
To get started, simply click on the "Advanced Search" link which is found below the search box in the top right corner of the home page or click on the Advanced Search icon on the search page. You will be taken to a form page with eight simple questions to help you select the features you want in an active adult community.
As you answer the questions, results will appear at the bottom of the form (scroll down). Once you select a state or states, there's no need to finish answering the questions before looking at the results. With each additional answer, you can see how the results are quickly narrowed down.
Let's take a look at the eight questions given in the Advanced Search form
1. Which state(s) would you like to search in?
This is the only required question. You can select one state or several states. If the state you want isn't there, it means 55Places.com does not currently have listings for that state. Check back soon, as we are always working to expand our listings.
2. What size community are you looking for?
Choosing from the given list of community sizes will let you narrow the results based on the number of homes in the development. If you don't have a preference, simply leave this question at "All Sizes."
3. Is an age-restriction important to you?
This question lets you find results for age-restricted communities, non-restricted communities or both. Age-targeted communities may be geared toward active adults, but they are considered non-restricted communities. If you only want to search for communities that have an age-restriction select "Age Restricted Only".
4. What age of homes/communities are you searching for?
If you only want to find new construction homes, or homes under a certain age, this question lets you narrow down the results to meet your needs.
5. Do you want a gated community?
Here you can limit your search to active adult communities that are gated or non-gated. If you don't have a preference you can let the search bring results for both gated and non-gated communities.
6. What types of homes are you interested in?
This question lets you choose between single-family homes, attached homes (duplex, villas, townhomes, etc.), condos, or all types of homes.
7. What is the maximum you want to spend?
While it's fun to find your dream home, you also want to make sure you can afford to buy it. By selecting a maximum spending limit, you will insure that the results will only come back with residences in communities that fall within your budget.
8. What amenities do you require?
Active adult communities offer a wide range of amenities, and some are bound to be more important to you than others. As you select amenities from the list, you can instantly see how the results change just below the form.
Whether you are actively shopping for a new home or you just want to see what communities are out there, give our new Advanced Search feature a try. You can see just how fun and easy comparing active adult communities can be. Please leave us any feedback in the comments section below!