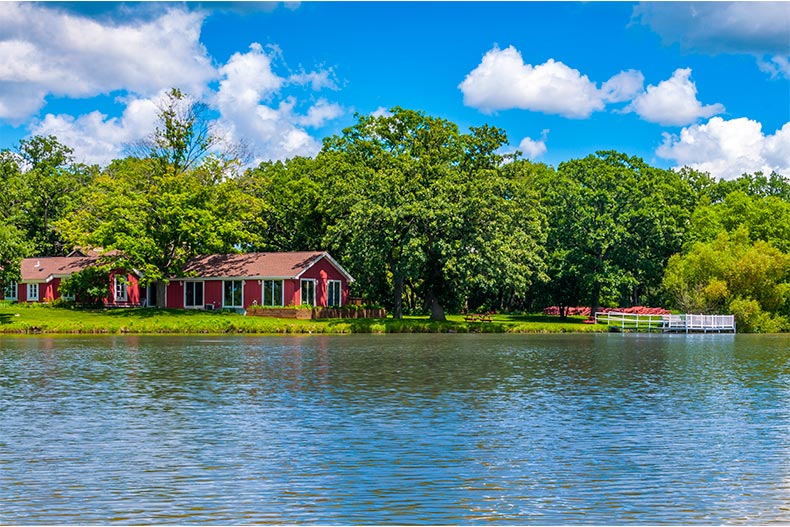 When deciding where to live upon retirement, Illinois is generally not the first state to come to mind. After all, its long winters leave much to be desired. And yet, Illinois' midwestern charm ultimately helps to allure active adults to its borders. Home to Chicago, the third most-populous city in the country, Illinois provides world-class destinations and attractions that are hard to beat. Throughout the state are numerous active adult communities that range from large scale communities to more intimate neighborhoods, many of which offer unique perks and amenities. Read on to learn about some of the best low-priced communities in Illinois.
Saddlebrook Farms - Grayslake, IL
Below $100k - High $200s.
Saddlebrook Farms is an age-restricted rural community in the village of Grayslake. Resting on 720-acres, the community features over 100 acres of lakes, nature preserves, picnic areas, walking trails, and a working farm. Unlike most communities, Saddlebrook Farms is a land-lease community, where residents own their home but lease their land. As a result, residents pay a monthly association fee, but are only taxed for their home and not the land itself.
Though there are 2,000 new and resale homes in the community, Saddlebrook residents still enjoy a close-knit and country feel. Homes are ranch style and feature front porches, making it always easy to meet new friends and neighbors. Residents can also gather together at the Saddlebrook Farms clubhouse ( https://www.55places.com/illinois/communities/saddlebrook-farms#amenities ), a historic 4,000 square-foot cabin overlooking one of the many lakes found throughout the area. Besides the surrounding natural spaces, residents can also enjoy activities such as bocce ball and horseshoe. Its reasonable price and pristine location make Saddlebrook Farms a perfect destination for homebuyers seeking a more outdoors lifestyle.
Sun City Huntley - Huntley, IL
Low $100s - Mid $500s
Developed by Del Webb, Sun City Huntley is a premier 55+ active adult community that boasts truly high-end amenities. At the heart of the community is Prairie Lodge, a massive 94,000 square-foot clubhouse. Inside the lodge, residents will find everything from a state-of-the-art fitness facility, which includes weight and cardiovascular equipment, to a 20-person indoor spa, designed for maximum comfort. Additionally, there are several multi-purpose rooms, a ceramics studio, an arts and crafts studio, and a dance studio. Truly, residents will have no problem finding an activity or club that perfectly suits their interests.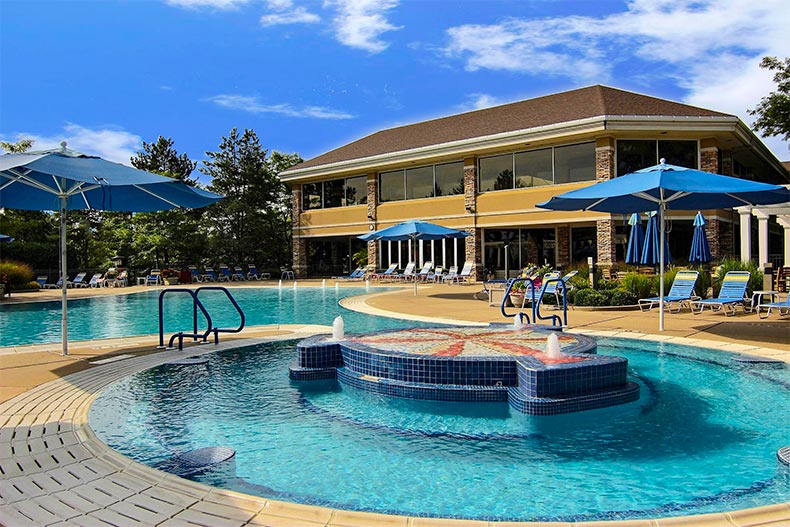 Besides Prairie Lodge, Sun City Huntley features another central hub, Meadow View Lodge. Like its larger counterpart, Meadow View Lodge is 20,000 square feet with its own fitness center, aerobics and dance studios, and an additional outdoor pool.
Outdoors, residents will find even more to explore. Over one-third of the land is protected open space and nature preserves. The several hundred-acre Wildflower Park is found in the center of the community and includes miles of walking and biking trails surrounding the 19-acre fishing lake. A softball field, bocce ball courts, volleyball courts, horseshoe pits and a tennis facility are also available, allowing residents to gather friends and engage in some friendly matches.
Sun City Huntley features over 5,400 homes that are dispersed between nearly 55 different floor plans. Styles include single-family homes, attached ranch townhomes, and condos. Regardless of model and home type, each residence is designed to be low-maintenance, allowing for maximum time spent enjoying everything the community has to offer.
Carillon North - Grayslake, IL
Mid $100s - Low $300s
Situated in historic Grayslake, Carillon North is an active adult community of 361 resale single-family homes and townhomes. Single-family homes range in size from 1,700 to 2,300 square feet and come with two bedrooms, two bathrooms, and a two-car attached garage. Features include breakfast areas/nooks, large-sized living room/dining room combinations, walk-in closets, and garden tubs. The townhomes meanwhile are divided between three, four, and six-unit buildings and range in size from 1,268 to 1,694 square feet.
Amenity-wise, Carillon North hosts over 30 clubs and classes, all of which are developed and implemented by the homeowners themselves. The classes tend to meet at the 10,000 square-foot clubhouse, which itself includes hobby rooms and a ballroom for social gatherings.
Residents of Carillon North will also have access to the adjacent Grayslake Country Club. While it is a shorter than average 9-hole course, golfers will find plenty of natural terrain and ponds dispersed throughout the course, challenging both newcomers and advanced players alike.
Shorewood Glen - Shorewood, IL
Low $200s - Mid $300s
Shorewood Glen is an active 55+ community located in Chicago's southwest suburb, Shorewood. Opened in 2004, Shorewood Glen offers single-family homes and duplexes, with homes ranging in size from 1,269 to 2,450 square feet and include two bedrooms, two bathrooms, and an attached two-car garage.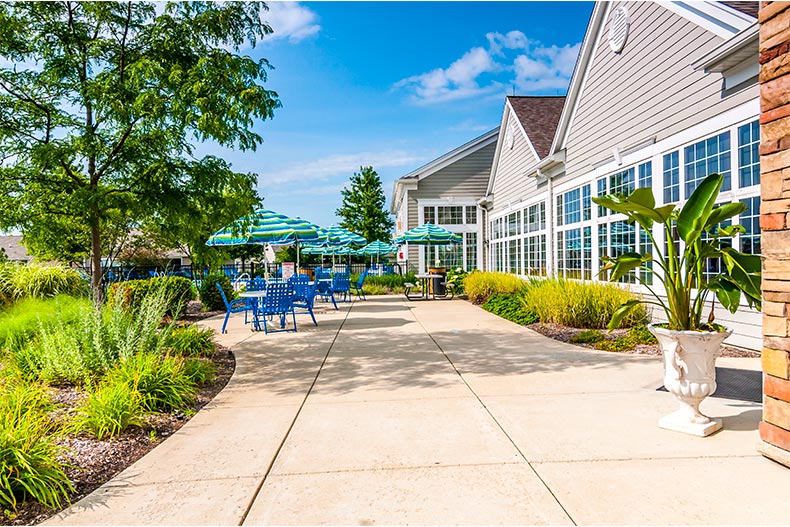 At the center of Shorewood Glen is Lakeview Lodge, a 17,000 square-foot clubhouse featuring a fitness center, an Olympic sized lap pool and indoor spa. The clubhouse overlooks an 18-acre fishing lake as well as an outdoor pool and sundeck, where residents come to enjoy the hot summer months. Surrounding the lake are bocce ball courts, tennis courts, and miles of walking and biking trails.
Shorewood Glen's great location is an additional incentive for exploring the community. The developing Shorewood Towne Center can be found close-by and offers numerous dining and shopping outlets. Of course, if you're really looking to explore, downtown Chicago is just forty-five miles away. A city boasting with history and culture, Chicago is a city of grandeur that makes for a perfect outing when venturing out of the neighborhood.
Regency at Bowes Creek Country Club - Elgin, IL
Low $200s - High $400s
Finally, Regency at Bowes Creek Country Club is a gated 55+ community that is part of the Bowes Creek Country Club master-planned community. It contains 351 modestly priced single-family and attached homes.
Residents of the community have exclusive access to the 10,000 square-foot clubhouse and fitness center. The central perk of the community is the extravagant 18-hole golf course. Showcasing a picturesque backdrop of trees, hills, and lakes, the course is designed for golfers of all levels, meaning everyone can enjoy the same experience. The clubhouse includes locker rooms, a pro shop, banquet facilities, and a 150-foot patio.
For non-golfers, Regency at Bowes Creek Country Club always has new activities and clubs for residents to enjoy. Fitness clubs, movie nights, wine tastings, yoga, and a breakfast club are just a few of the options available.