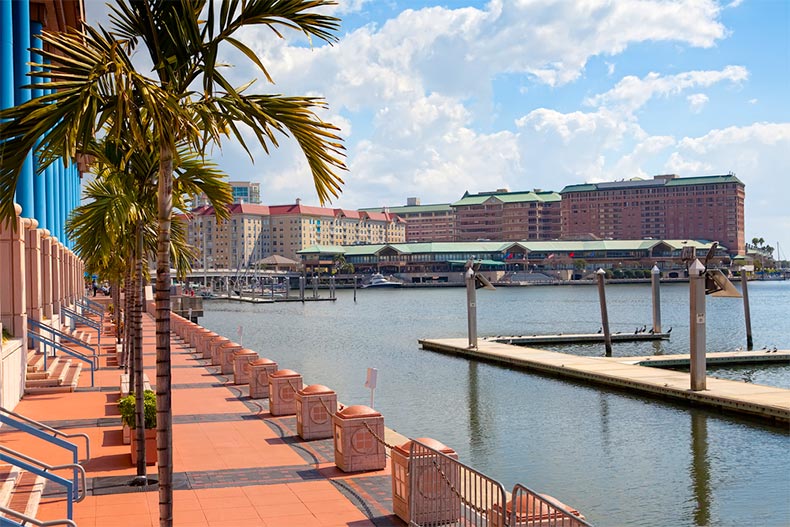 Tampa is one of the most affordable large cities in the U.S. to live in, and its surrounding communities enjoy a cost of living that's even lower. Rampant sunshine and miles of Gulf coastline make this area one of the most desirable relocation destinations for active adults from all around the country. Tampa and St. Petersburg both have a thriving arts and culture scene that includes the Straz Center for Performing Arts, the Dali Museum, and the Museum of Science and Industry. There's also professional baseball, hockey, football, and numerous opportunities for shopping, dining, and outdoor recreation.
Pinehurst Village – Dunedin, FL
Dunedin is a small town just steps from the beach, and it's the spring training home of baseball's Toronto Blue Jays. Pinehurst Village is a cozy condominium community that's less than half an hour from Tampa and Clearwater. There are 240 resale homes, all remodeled since their construction in the 1970s. Each condo has one bedroom and one bathroom with a parking space, and some have upgraded elements such as ceramic tile and stainless appliances. Amenities include five shuffleboard courts, an exercise room, an outdoor pool, and a clubhouse for social functions and group events. For active adults, Pinehurst Village provides a simple, low-maintenance lifestyle that's easy to afford and enjoy.
Summertree – New Port Richey, FL
Summertree is a gated 55+ community in New Port Richey, a town about an hour from Tampa and surrounded by parks, preserves, and acres of natural beauty. The 800 single-family and attached homes are available in six different models, from one bedroom and one bathroom villas to large three or four-bedroom homes. Separate associations govern each neighborhood, but most of the homeowners' association fees paid by residents include cable, landscaping, maintenance, trash, and security. Amenities at Summertree include a golf course, a recreation facility, two outdoor pools, and nine shuffleboard courts. Residents enjoy a dance studio, a library, and lots of biking and walking trails.
Southshore Falls – Apollo Beach, FL
A short drive from Tampa, Southshore Falls offers 866 single-family and attached homes for residents 55+ in three different floor plan models. Most activities start at the Wellspring Club, a 14,000 square-foot clubhouse, with a lagoon-style pool, a fitness center, and plenty of space for clubs and meetings such as gin rummy, meditation, scrapbooking, and line dancing. Southshore Falls is close to the beach, shopping, and the Apollo Beach Manatee Viewing Center, where manatees gather to enjoy the warm water coming from Big Bend Power Station. These homes were all built between 2004 and 2016, offering active adults modern upgrades and affordable, low maintenance living.
Sea Towers – St. Petersburg, FL
The breathtaking view of the Gulf of Mexico and Boca Ciega Bay is just one of the benefits of living in a high-rise condo at Sea Towers in St. Petersburg. Nine buildings house 800 units for 55+ residents, ranging from 485-square-foot studios to two-bedroom condos with over 1,100 square feet. Two outdoor pools are available for swimming and sunning, and there's also a fitness center, a sauna, an auditorium, and a library. Walking trails wind through the property and residents can access a boat dock and a fishing pier. There's lawn bowling, a putting green, and shuffleboard. Sea Towers is in the heart of St. Petersburg, providing active adults with opportunities for art, culture, shopping, and beach-going.
Wellington at Seven Hills – Spring Hill, FL
Over 1,000 single-family and attached homes are in the quiet and scenic 55+ community of Wellington at Seven Hills. Villas, patio homes, and single-family houses are available in properties that range from 1,100 square feet to over 3,000 square feet. The gated community was recently constructed, giving the neighborhoods a youthful, modern feel. There are plenty of activities for residents, including billiards, shuffleboard, and horseshoes. There's a golf club, piano night, and a book club. Active adults can enjoy the outdoor pool, the walking trails, and the social activities hosted in the 15,000-square-foot clubhouse. Spring Hill is a short drive from Tampa, the Tarpon Springs Sponge Docks, and dozens of parks, springs, and hiking trails.