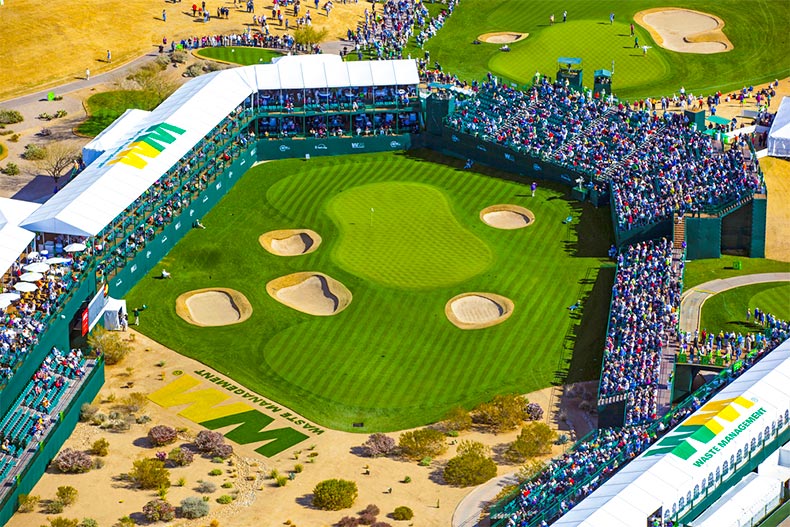 Thanks to Phoenix's great weather, active adults in the area can enjoy a full schedule of events year round, even throughout winter. With blue skies and plenty of sunshine, Phoenix also offers a welcome break for those traveling from colder climates. Whether you're a local or on vacation, here are five of this year's best winter activities in the Phoenix area for active adults.
Barrett-Jackson Collector Car Auction
When: January 12 - 20
For car enthusiasts, a visit to the Barrett-Jackson Collector Car Auction is a must. This world-famous car auction features thousands of the most highly sought automobiles, including valuable collector cars and exotic vehicles.
The auction is broadcasted live internationally every year, and fans can witness this exciting event in person. In addition to watching the auction itself, fans can view rare cars on display, shop in the exhibitor marketplace, watch live vehicle builds, and experience thrilling car rides on a closed course with a professional driver.
The Phoenix Open
When: January 28 - February 3
Nicknamed the "Greatest Show on Grass," the Phoenix Open is the highest-attended event on the PGA Tour, and it's returning to TPC Scottsdale for 2019. Over the tournament's 80-year history, fans have watched golf's most famous players in action, including Billy Casper, Arnold Palmer, Jack Nicklaus, Phil Mickelson, and more.
Thanks to the fan-friendly venue, the Phoenix Open attracts hundreds of thousands of fans every year who come to watch golf's most exciting event. This year, general admission is free to the public on Monday, January 28 and Tuesday, January 29.
World Championship Hoop Dance Contest
When: February 9 - 10
For those seeking a cultural activity in the Phoenix area, the World Championship Hoop Dance Contest is a great option. This annual event held at Phoenix's Heard Museum showcases the athleticism and artistry of hoop dancing.
Every year, the performers blend indigenous tradition and artistic expression as they compete for cash prizes and the World Champion title. Don't miss this special outdoor event at the Heard Museum.
Phoenix Chinese Week Culture & Cuisine Festival
When: February 8 - 10
Experience Chinese culture and cuisine at this annual three-day festival in Phoenix. Now in its 29th year, the Phoenix Chinese Week Culture & Cuisine Festival is returning to delight guests with the sights and tastes of Chinese culture.
In celebration of the Year of the Boar, this free festival will feature live martial arts demonstrations, dragon and lion dances, musical performances, folk and traditional dances, and more. The event will also have a food and beer garden, Chinese tea ceremony, and children's rides.
Scottsdale Arabian Horse Show
When: February 14 - 24
Known as the "Super Bowl of the Arabian World," the annual Scottsdale Arabian Horse Show is the first leg of the Arabian Triple Crown and is the largest Arabian horse show in the world. Since 1955, this event has showcased the beauty of Arabian horses as the world's top owners, breeders, and trainers compete for various prizes. In addition to watching the exciting competition, attendees can take a behind-the-scenes tour, view live animals and horses on display, and explore the shopping expo.