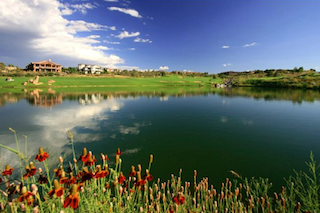 For active adults who are considering an Arizona retirement, the Prescott area may have just the right mix of small-town charm and sunny Southwest appeal. The scenic setting is a great place for outdoor recreations, while the downtown area offers shops, restaurants and other attractions. Although the city enjoys a tranquil atmosphere, it also provides excellent medical facilities and all the services needed for an active retirement.
Climate and Location
Prescott is nestled in Northern Arizona, less than two hours north of Phoenix. At an elevation of 5,368 feet above sea level, the city enjoys scenic views of surrounding Bradshaw Mountains and the Prescott National Forest. Yet, the semi-arid climate offers mild to cool winters and pleasant summers that are not as hot as areas closer to the Mojave Desert. While the city isn't as large as Phoenix or Tucson, Prescott has many appealing features for active adult retirees.
Attractions
The city itself has been nicknamed "Everybody's Hometown" because its small-town atmosphere is reminiscent of so many quiet hometowns across the country. Locals are friendly and welcoming, while historic buildings give the downtown area a timeless charm. Known as Whiskey Row, Prescott's historic downtown area became well-known for its bars and saloons. Today, the area still offers a thriving nightlife, along with charming boutiques, art galleries, coffee shops, restaurants and more. Prescott also features a variety of museums, performing arts venues, and recreation centers.
Parks, lakes and the nearby Prescott National Forest provide many opportunities for outdoor recreations like hiking, camping, biking, horseback riding, fishing, and boating. There are also four golf courses located within the city limits and additional courses in the surrounding towns. Annual festivals and events celebrate Prescott's Old West heritage. Locals and visitors alike can enjoy Frontier Days, The World's Oldest Rodeo, the Bluegrass Festival, the Acker Music Festival, The Cowboy Poets Gathering, and much more.
Active Adult Communties
. The cost of living in Prescott is 7.2 percent above the national average and the housing prices tend to run about 19.2 percent higher than the national average as well. However, the area also offers low property taxes, no taxes on groceries or prescriptions, and no estate taxes. The Prescott area does not have the abundance of resort-style active adults communities that are found in the Phoenix and Tucson areas, but it does have several appealing developments. Larger open-age communities, like the 1,300-home Prescott Lakes or 660-home Hassayampa Village, feature diverse homes and a wide range of amenities. There are also smaller 55+ neighborhoods in the area, including Victorian Estates and The Gardens at Willow Creek.
If you are thinking of relocating to Arizona, don't forget to plan a trip to Prescott. This charming area may just be your ideal retirement destination.