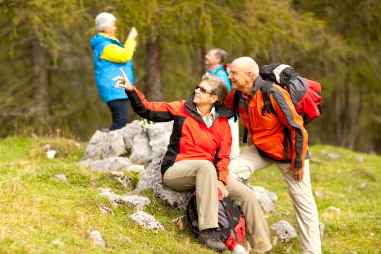 Situated at the foot of the Blue Ridge Mountains, Biltmore Lake is a master-planned community that enjoys a prime location in popular Asheville, North Carolina. Though it is open to all ages, Biltmore Lake is sure to appeal to active adults, particularly those who love the great outdoors. Of course, beautiful scenery is not all that the Asheville area has to offer. The charming town is known for its artistic sensibility, and local residents can enjoy many art and music festivals throughout the year.
Biltmore Lake Amenities
The Biltmore Lake community, which spans 1,300 acres, was built around a stunning 62-acre lake of the same name. This spectacular body of water is the center of outdoor activity, particularly during the warmer months when Biltmore Lake is open for swimming. Residents can also enjoy non-motorized boating, catch-and-release fishing, and other lakeside activities. Miles of trails make it easy to hike around the lake.
In addition to hiking or spending time on the water, Biltmore Lake residents can also enjoy many other outdoor activities. The community offers two tennis courts, two basketball courts, and a softball field. There are numerous golf courses within 30 minutes of the community, as well as nature preserves such as the North Carolina Arboretum or Pisgah National Forest. According to David E. Bluth, an Asheville real estate agent, Biltmore Lake attracts interesting people from all around the country.
"It is a warm, charming and inviting community which includes a serene lake with several recreational activities," he says of the community. "The location is second to none with its proximity to the amenities in Asheville, and the surrounding mountains with their related hiking, biking, golfing activities."
Biltmore Lake Lifestyle
Biltmore Lake is a master-planned community comprised of many smaller, diverse neighborhoods. The community welcomes residents of all ages, and those who call Biltmore Lake home will find a dynamic mix of local residents. A central clubhouse, which feels more like a scenic mountain lodge, is an ideal location for residents to meet and spend time together. Here, homeowners can cozy up in front of the fireplace or enjoy the view from the lakeside terrace. The clubhouse also offers an exchange library.
In Asheville's nearby River Arts District, Biltmore Lake residents can explore many galleries and visit several art studios. Live music is an integral part of the Asheville atmosphere and locals can attend many outdoor concerts and festivals throughout the year. One exciting December event, Warren Hayne's Christmas Jam, has brought well-known musicians together for over 20 years to raise money for Habitat for Humanity.
The Asheville area offers a four-season temperate climate, spectacular mountain and lake views, and plenty of outdoor activities. For nature lovers who enjoy the tranquil beauty of the Asheville area, Biltmore Lake is a welcome retreat.
Interested in Biltmore Lake?
Click here to request more information on Biltmore Lake.