Need to get groceries? There are five Publix and two Walmarts within minutes of that same stretch of road. Shopping centers full of every brand-name retailer you can think of are found at most intersections.
Northeasterners who choose to retire in this Southeast Florida hot spot could probably walk to the nearest deli or Chinese restaurant wherever they live (if it weren't so hot out). To say nothing of the active adult and age-restricted communities, which dot the roads with such frequency it's often hard to tell when one ends and the next begins.
Boynton Beach (and the unincorporated stretch directly to its west) is truly the land of five minutes. And that makes it an ideal landing spot for those looking for a retirement that is low stress and low maintenance.
It wasn't always that way.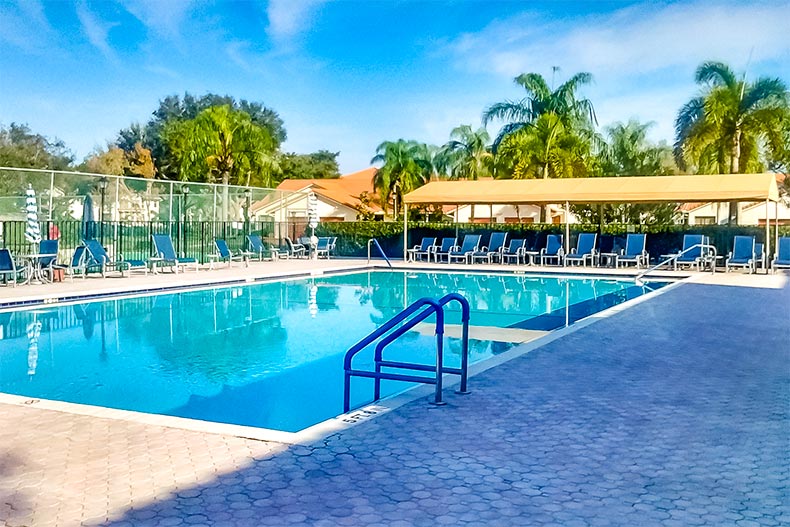 "I knew Ft. Lauderdale, I knew Miami. There was no such thing as Boynton Beach on the map," says Josie Levy, 90. She and her husband Herb moved here in the early 1990s. The city and region were beginning to see a boom in development and 55+ communities were starting to drive the map westward.
Lifelong New Yorkers, the Levys had started looking to Florida as a way to save money in retirement when a friend told them about Sun Valley East, one of the many active adult communities here under construction.
"She said why don't you come down and look at it, which is what we did. We saw it immediately and we fell in love with it." This was so early in development that the clubhouse hadn't been completed and the pool was only just finished. And while both became indispensable parts of their daily lives, it was an often-overlooked home feature that sealed the deal for them.
"A lot of people say, 'I'm gonna move to Florida and never cook again.' So the kitchens are very small," says Levy. "I saw the kitchen, I fell in love with the kitchen. Because I wanted to continue to cook. And nowhere else did I see such a large kitchen."
Located off Boynton Beach Blvd. between Military Trail and Jog Road, Sun Valley East was towards the western edge of what you could do in Boynton Beach at the time. Things have certainly changed since then and now the community is right in the middle of everything. Though to be fair, quite a few communities here feel like they're in the middle of everything.
"It sure has changed," says Levy. "They built everything that could be built… From what I read, we're going west. They're building west and west and west. And the further they build, the more expensive they get."
She's not wrong. Whereas many of the older active adult communities here have homes in the $100s, the newer communities located west of Jog Road and Florida's Turnpike are looking to higher price points. Homes in Valencia Cove start in the $400s and rise up to the $900s while homes in the newer Valencia Sound community can be found in the $400s to $800s range. To be fair, these prices are backed up by massive clubhouses and state-of-the-art amenities.
That's not to say that there aren't affordable options among the newer construction, but as developers run out of land to build on, they're trying to make the most of it. Given how popular Boynton Beach has gotten in recent years, and the influx of commercial developers as well as residential ones, this is a prime location for those who want in.
Plus, they will quite literally run out of room to grow in Boynton Beach soon enough. After US-441, the Marshall Loxahatchee National Wildlife Refuge gives way to The Everglades and there will be no development there.
All of this development does have a cost for locals, chiefly in the form of traffic. Especially in the winter when the snowbirds descend on the city.
"It's crazier in the winter," says Levy. "But after a while, the people who are snowbirds…find it more difficult so they decide to live here permanently because that travel back and forth is a pain."
Still, even when the streets are more crowded, there is no shortage of places to go and things to do. Weekend mornings you're always going to find an open table at local haunts like Flakowitz's or Bagels &. Golfers looking for tee times will find plenty at one of the dozen or so golf courses in the region. Wherever you are, you're minutes from the beach or just a short drive from all of the action in Delray Beach and West Palm Beach.
Of course, as Levy will tell you, you could also do nothing at all.
"I think it's one of the greatest places to live…because you can take from it whatever it is that you want. I usually have a mahjong game in the afternoon. I usually play golf once a week. I usually bowl, I have a league on Friday morning. And if I have nothing to do it's just as good too."
When people come to visit, Josie loves to tell them to go to The Boys Farmers Market. Less a traditional farmers market and more a Trader Joe's-esque grocery store, The Boys is an intense shopping experience.
Usually packed, you have to maneuver yourself and your cart dexterously through a sea of people in order to get around. But somehow this compact building packs just about everything you could possibly want to eat or drink under its roof, which means all of that weaving around people can pay big dividends if you're willing to deal with it. In the end, you get exactly what you wanted.
That's Boynton Beach in a nutshell. Everything you need and want well within reach, so long as you don't mind waiting in line for a little bit. And you know what they say about those who wait, right? Besides, even if that doesn't sound like something you want to do right now, you've got plenty of options.
Probably just five minutes away.