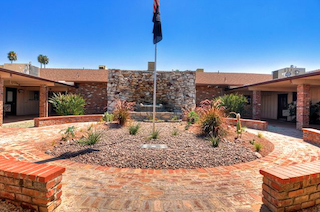 Nestled within California's Inland Empire area, in Menifee, Sun City has the distinction of being the first active adult community of its kind in the region. The 4,762-home community was built by Del Webb and the Presley Company between 1962 and 1981 with a diverse mix of homes and social amenities. Today, Sun City provides an ideal retirement retreat for active adults age 55 and older.
Sun City Amenities
At the heart of the community, Sun City's Civic Hall brings residents together with an exciting line-up of activities. The clubhouse contains a fitness center with cardiovascular and strength-training equipment, a spacious billiards room, table tennis, a card room, and ten indoor shuffleboard courts. Residents can also relax in the indoor jacuzzi or explore creative pursuits in arts and crafts rooms, which include a woodworking shop and specialized studios for ceramics and lapidary.
Outdoors, Sun City's beautifully maintained grounds feature additional recreations. There are two swimming pools, tennis courts, bocce courts, horseshoe pits, and lawn bowling. Neighbors can gather on the outdoor patio or enjoy a show at the outdoor amphitheater. An RV parking area is available as well.
When it comes to parties and special events, Sun City residents can make use of two spacious facilities: North Town Hall and Webb Hall. Each of these clubhouses offers a 500-person ballroom complete with stages and catering kitchens. Webb Hall also features two additional meeting rooms that work well for many different club activities.
Clubhouse facilities provide plenty of space for group meetings, and Sun City has over 40 social clubs and special-interest groups that meet regularly. There are fitness clubs, creative groups, hobby clubs, and groups for sports. Just a few of the diverse groups include the Agriculture Club, the Art Guild Club, the Computer Club, the Friendship Club, the Hula Dancers Club, the Merchant Marine Veterans, and the Wii Game Club.
Sun City Residences
Homes at Sun City were built between 1962 and 1981, in both single-family and attached designs. Attached homes offer low-maintenance living with models that include one or two bedrooms, one or two bathrooms, and a one-car garage or carport. For those who want a bit more privacy, Sun City's ranch-style single-family homes provide main-level living in a variety of sizes. Models feature two or three bedrooms, one or two bathrooms, and a one-car garage or carport.
Both attached and single-family homes typically include a lanai or patio for outdoor living space, as well as a separate outdoor storage facility. Two-bedroom homes usually include an en suite master bedroom. Kitchens frequently offer breakfast nooks, while some single-family homes may also have a large "leisure" room in addition to the family room and dining room area.
Active adults who settle in Sun City enjoy the full social calendar and on-site amenities, as well as the prime Menifee location which gives them easy access to hot spots like Los Angeles, Orange County, and San Diego.
For more information on this community click here: Sun City - Menifee, CA