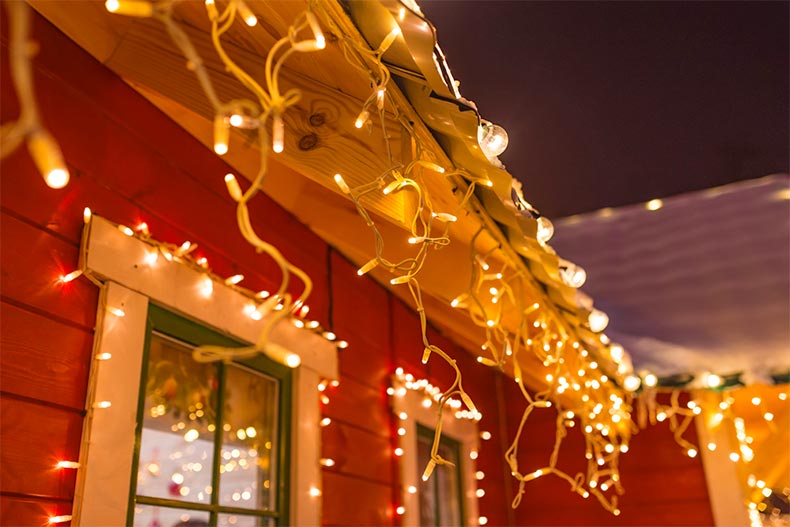 With the holidays just around the corner, people all over the country are now embracing the spirit of the season. One of the most popular traditions this time of year is putting up holiday lights around the house. Though a popular activity, the question arises for many active adults living in age-restricted communities whether or not they too can put up lights around their home.
In almost every case, the answer is yes. Most active adult communities will be more than happy to have its residents get in the holiday mood and put up their decorations. However, there are a few things to consider prior to putting up your decorations. Since each community is different, it is important to make sure to check with your community's homeowners' association (HOA) prior to putting up your lights.
Depending on how strict your HOA is, your community may have certain guidelines to adhere to when it comes to putting up lights. An example of this might be how long each home can have their lights on. While some residences might like to put up their lights early on in the season, an HOA might make it mandatory to have a specific start and end date. This is often done to ensure that nobody keeps their lights up for too long, which might attract complaints from fellow neighbors. After all, nobody wants to still see their neighbors holiday decorations up in April, right?
Another thing to keep in mind is that your HOA might limit the number of lights and decorations each home could display. It's no secret that some homes decide to go full out in their holiday displays by putting up as much as possible. With so many decorations up at once, there comes the risk of sensory pollution.
Sensory pollution can be caused by a number of factors, including loud noises and brightness. If your holiday decorations are too bright or cause a lot of noise, it may be disruptive to those around you. To avoid any issues, HOAs might limit the number of lights and/or decorations each home can put up as well as the hours that they can be lit. The last thing any person would want is to be bombarded with holiday music while they're trying to sleep.
While there are potentially a lot of rules to adhere to, these rules are made in order to make sure that everyone in the community can enjoy the holidays as much as possible.
But living in an active adult community means more than having to follow guidelines when it comes to holiday decorations. Holiday decorations are first and foremost meant to be a fun way of showcasing your holiday spirit. One fun thing you and your neighbors can do is hold a contest around the community to see which home has the best decorations and display. Doing so is a great way to meet people around the neighborhood while also getting to share with others all the fun that comes during the holidays.