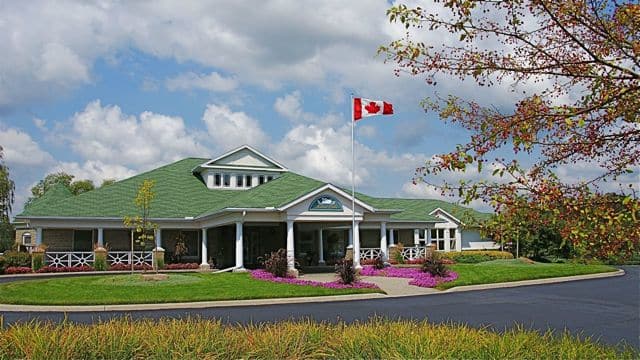 Just as many Americans are planning for an active retirement, our neighbors to the north are also seeing an increased interest in active adult communities. Though many Canadian snowbirds choose to winter in the warmer, southern portions of the United States, other Canadians enjoy resort-style living year round without crossing the border.
Though it is not as prevalent as in the United States, both age-restricted and age-targeted living is available for Canadians aged 55+. This is not to be confused with the independent and assisted living retirement communities that are found throughout the country. While many of those communities offer accommodations for younger retirees, they are geared more toward transitioning into senior living. To find resort-style active adult communities, prospective residents may need to look to the Ontario area.
Ontario has several age-restricted and age-targeted active adult communities with the same resort-style amenities offered in American communities. Many of these communities feature waterfront living in luxury homes built with energy efficient and environmentally friendly designs. Here are just a few of Canada's amenity-rich active adult communities:
1. Bellantrae Golf and Country Club, Bellantrae
Stretching over 418 acres, this master-planned golf community is designed to blend with the area's natural beauty. In addition to the challenging 18-hole golf course, residents have access to the recreation center, which features many amenities including an indoor salt-water swimming pool. Special interest classes and community events are held throughout the year.
2. Wellington on the Lake, Picton
Situated in Prince Edward County, Wellington on the Lake sits along the shores of Lake Ontario. This scenic community offers peaceful living, away from the bustle of a big city. Community amenities include a heated outdoor pool, fitness center, tennis courts, big screen TV room, and woodworking studio.
3. Stonecroft, New Hamburg
Located in New Hamburg, between Kitchener and Stratford, Stonecroft includes 490 homes built with energy saving features. The community recreation center provides a wide spectrum of amenities and activities. The surrounding area includes shopping centers, golf courses, and other recreational attractions.
4. Brighton by the Bay, Presqu'ile Bay
With its quality homes and varied amenities, this waterfront community has many features to support an active lifestyle. The Sandpiper Centre is the ideal spot for a game of cards or visiting by the fireside or in the comfortable library. Its location beside Presqu'ile Bay gives residents plenty of opportunities for sailing, fishing, and other outdoor recreations.
5. Foxboro Green, Stratford
Adjacent to the Foxboro Country Club, this active adult community enjoys a picturesque country setting that is only minutes from the twin cities of Kitchener and Waterloo. Like other active adult communities, the recreation center offers resort-style features including a swimming pool, tennis courts, exercise room, and hobby rooms.