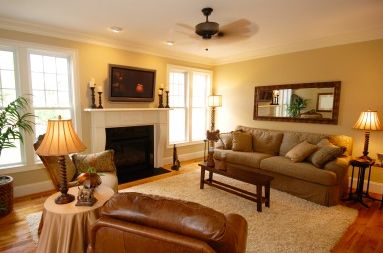 Anyone involved in real estate knows that we are currently in a buyers' market. There are many homes for sale, and, while they are selling, they aren't selling quickly. This makes it a great time for those looking to buy, but a frustrating experience if you have a home that just won't sell. If you want to generate interest, it's time to give staging a try.
While you may have already cleaned, repaired and de-cluttered, staging your home takes your preparation to the next level. A staged home looks more like a magazine set-up than a home that's been lived in. It has design appeal, yet is neutral enough to let potential buyers imagine themselves—and their belongings—in your home.
When you are ready to try staging your home, your agent may be able to recommend a staging expert. Someone who is a professional home stager is trained in home design but also understands what it takes to make a home more appealing to buyers. After assessing your home, a stager should be able to give you an upfront estimate for how much the job will cost. Often a stager can make a big improvement for less than $1,000.
If you want to save some money, you can try staging your home yourself. Generally speaking, you can get started by following just three simple guidelines.
1. Keep it neutral and impersonal
Tone down any wild wall colors by repainting with light, neutral shades. Lighter colors will reflect the light and make rooms feel more spacious. Removing personal items like family pictures will make it easier for buyers to imagine themselves owning the home.
2. Clear out clutter and excess furniture
Keeping knickknacks, furniture, and other decorative items to a minimum will make a home feel more open. It lets buyers see the potential space instead of focusing on your belongings. Rearrange your furniture to make sure that it's easy to walk from one room to the next, and put excess items in storage.
3. Add magazine-style touches
Once your home is more neutral and sparsely furnished, it's time to bring in some thoughtful touches. Take a look at some home magazines and see how the rooms are pictured. Try setting a bowl of fruit on the kitchen counter, adding fresh flowers to the front hall, and setting the dining table with attractive dishes and cloth napkins.
To get more ideas for staging your home, pick up some interior design magazines or watch some of the popular TV shows about selling real estate. Exterior curb appeal will bring buyers through your front door, but a staged home may be the final push to help them make an offer.