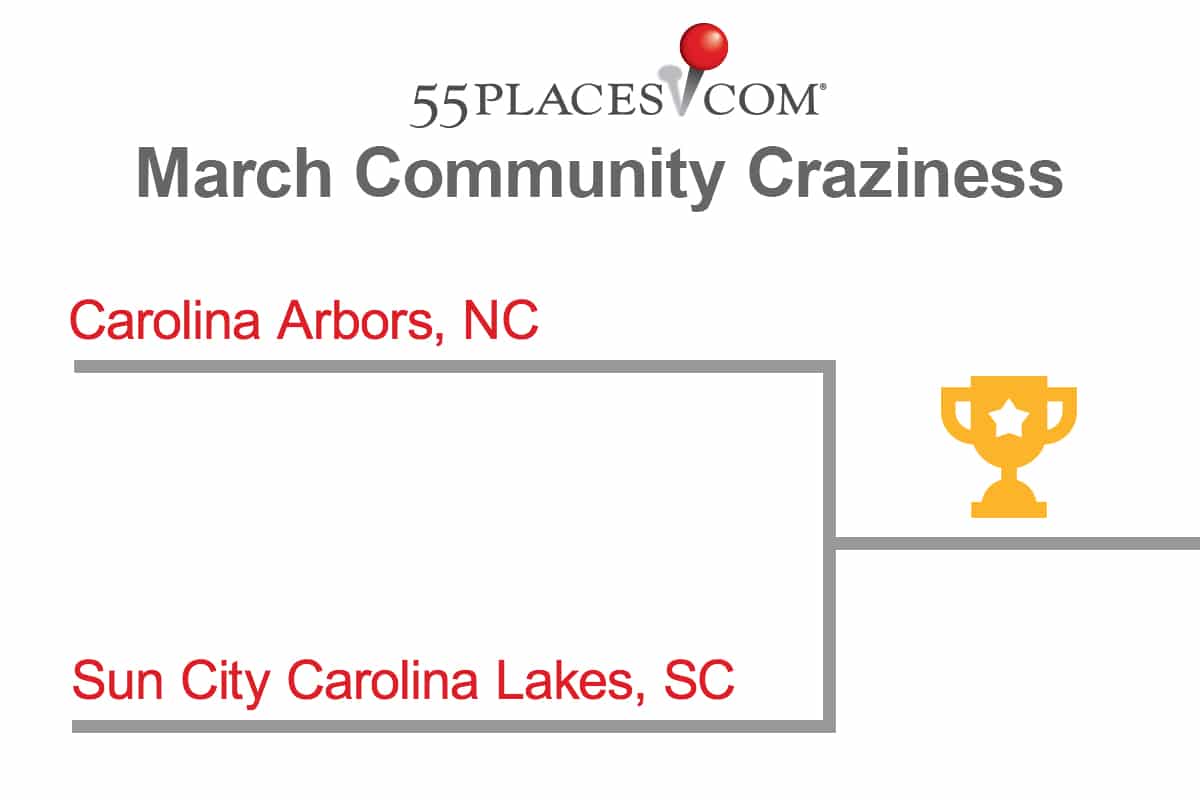 Welcome to the first annual March Community Craziness competition. Think that your community is a cut above the rest? Are your community's amenities simply too good to ignore? Has moving to your community changed your life? Each day we will feature at least one community matchup. When your community (or a community you know well) is featured in a showdown, cast your vote by clicking on the poll below.
After you vote, you can tell us what sets your community apart by leaving a review on the community page. In the event of a tie, the winner will be decided by whichever community has the highest number of unique pageviews. The contest will be in the bracket-style and will work just like any other major sports contest, with the winner of each round facing off against the winner of the next round.
Which is Your Favorite Community: Sun City Carolina Lakes, SC or Carolina Arbors, NC?
Disclaimer: Reviews are subject to approval and may be edited for clarity and accordance with company policy.
Carolina Arbors is an exciting Del Webb community for active adults aged 55 or better in Durham, North Carolina. Situated in the center of the Triangle Area of Durham, Raleigh, and Chapel Hill, Carolina Arbors is nestled near shopping, dining, golf, world-class entertainment, universities, and the finest medical centers. Carolina Arbors features world-class amenities in a 34,000-square-foot clubhouse that caters to active adults' needs.
Sun City Carolina Lakes is a Del Webb active adult community near Charlotte in Fort Mill, SC. This 3,160-home community includes two large clubhouses, an 18-hole golf course, and desirable low-maintenance homes. Sun City Carolina Lakes is spread across 1,512 acres of rolling hills and lush forests of pine, maple, oak, and purple plum trees. It is located near the North Carolina and South Carolina border in Fort Mill/Indian Land. Downtown Charlotte is just 25 miles north, but with everything that this community has to offer, you might never feel the need to leave. With world-class amenities, scenic views, shimmering lakes, and over 130 clubs, this active adult community is the ideal place to call home.