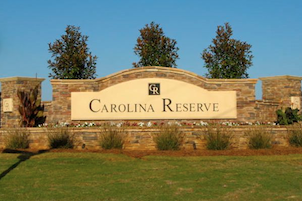 If you are researching South Carolina retirement communities, you should add Carolina Reserve to your list of potential new places to call home. Carolina Research is a brand new community with an ideal location just 30 minutes from Charlotte. Built by Lennar Homes, Carolina Reserve is a brand new, open-age community with plans for an amenity center which is sure to appeal to active adult homebuyers.
Set in Indian Head, South Carolina, this development will feature two distinct neighborhoods for a total of 400 single-family homes. Although not a traditional South Carolina Retirement Community, Carolina Reserve is within close proximity to shops, restaurants and other services which makes it perfect for active adults that like to explore the areas surrounding their neighborhoods.
Development plans for Carolina Reserve include the construction of two distinct neighborhoods: The Enclave and The Meadows. The 200 single-family homes in each of these neighborhoods will provide standard luxury features such as staggered kitchen cabinets with crown molding, granite countertops, recessed lighting, hardwood floors, and ceramic tile floors in the bathrooms and laundry room. Open floor plans, patios and porches are found throughout the community. There are differences between the two neighborhoods as well.
Homes in The Meadows feature smaller floor plans perfect for those looking for alternatives to living in one of the many South Carolina retirement communities nearby. These homes feature single-level living with floor plans ranging from 1,686 to 2,776 square feet. They include two to four bedrooms, two to four bathrooms and two-car garages. Several models also come with a den. Homes in The Meadows also come with full lawn care services, which make them a great option for retirees who want affordable, low-maintenance living.
Carolina Reserve's other neighborhood, The Enclave may be better suited to homebuyers with families. The two-story homes are larger than those in The Meadows and lawn care is not included. Available floor plans range from around 2,200 to over over 3,200 square feet. They feature four to five bedrooms, two-and-a-half to three-and-a-half bathrooms and two-car garages. Some of the four bedroom models also have separate dens. Although Carolina Reserve is still in its early stages of development, future plans include a two-story clubhouse, scheduled to be open in 2014.
This spacious facility will include many of the amenities homebuyers are used to finding in other South Carolina retirement communities. There will be an outdoor swimming pool area, a fitness center, hobby and game rooms, and plenty of space for residents to socialize with their neighbors. When completed, Carolina Reserve will include 400 single-family homes (200 in each neighborhood), yet it will also have 70 acres of open space. Walking and biking trails will also wind throughout the community, providing the perfect way to explore the community during a morning jog or evening stroll.
While Carolina Reserve is located in South Carolina, its close proximity to Charlotte, North Carolina, lets residents enjoy a suburban lifestyle with easy access to urban attractions. For day trips, residents can also visit nearby areas like Charlotte and Greenville, which are each within two hours of Carolina Reserve. Carolina Reserve may not have an age-restriction, yet its affordable homes and prime location will appeal to many active adult homebuyers.