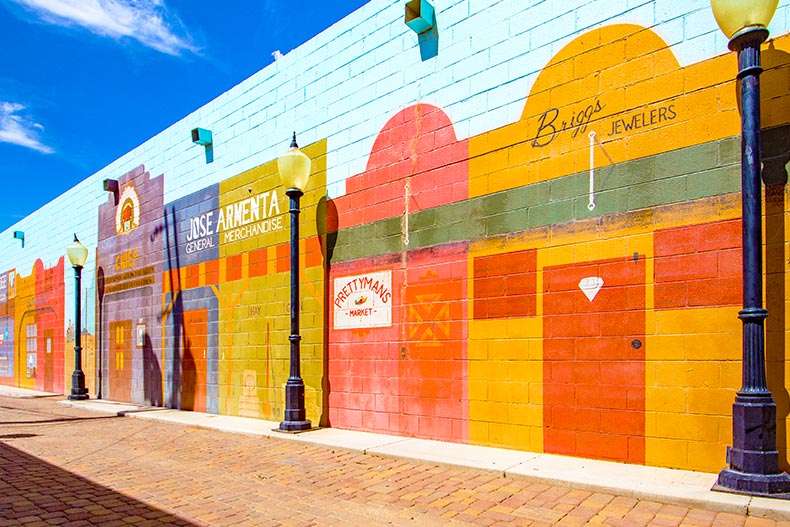 Ever since Del Webb opened the first Sun City, the Phoenix area has attracted a wide range of retiring active adults. Casa Grande, located midway between Phoenix and Tucson, has become one of the area's popular destinations. Its beautiful climate, diverse attractions and rich culture have made Casa Grande an ideal location for several spectacular active adult communities.
Location
The city of Casa Grande is situated approximately one hour south of Phoenix and 90 minutes northwest of Tucson. This prime location falls at the intersection of Interstate-8 and Interstate-10, in an area that is locally known as Arizona's Golden Corridor.
History
In 1879, Casa Grande was founded as an agricultural and mining town which was established alongside the Southern Pacific Railroad. The city was named for the Hohokam Indian Ruins which are located just 20 miles away. Today's modern city has evolved to feature many facets including manufacturing, retail, entertainment, and tourism.
Climate
Much like the rest of the Phoenix area, Casa Grande has a dry desert climate. Summers are very hot with daytime temperatures over 100 degrees. November through March offers much more comfortable weather with days in the 60s and 70s, though the winter nights can be cold with temperatures in the mid-30s. Many snowbirds flock to the area in the cooler months but stay away during the heat of summer.
Attractions
With an eye toward tourists and winter visitors, Casa Grande has plenty of social and recreational attractions. Those who love arts and culture can enjoy a variety of annual festivals which feature arts and crafts made by local artists and Native Americans. Community theater is offered by the Casa Grande Valley Players, and the Casa Grande Valley Historical Museum showcases interesting facts about the area.
Shopping & Dining
Shopping and dining out are prime recreations in the Phoenix area. Casa Grande offers both through a wide range of retail centers which feature both local specialty shops and well-known chains. Bargain hunters particularly love shopping at the Outlets at Casa Grande. Meanwhile, the sprawling Promenade at Casa Grande offers something for everyone, even a multiplex movie theater.
Activities
Casa Grande's additional recreations include four golf courses, a bowling alley, an archery range and rodeo facilities. When the weather is nice, nature lovers can find plenty to do in the city's outdoor areas. Casa Grande has more than 18 city parks, many featuring picnic areas, tennis courts, softball diamonds, and playground equipment.
Communities
With so much to do, and such a great location, it's no wonder that active adult communities have been developed in Casa Grande. These lovely age-restricted developments include larger communities, like the 1,292 homes at Mission Royale, and more intimate neighborhoods like Villa de Jardines, which has just 120 single-family homes. For homebuyers who want an even bigger community, Robson Ranch in nearby Eloy will offer approximately 4,600 homes upon completion. There's also Ironwood Village, a gated, tight-knit community with energy-efficient homes and extensive green spaces.
Active adults who are thinking about buying a home in the Phoenix area would do well to consider the nearby city of Casa Grande. This small gem has a fabulous location, great attractions, reasonable prices and its own scenic charm.